Steakside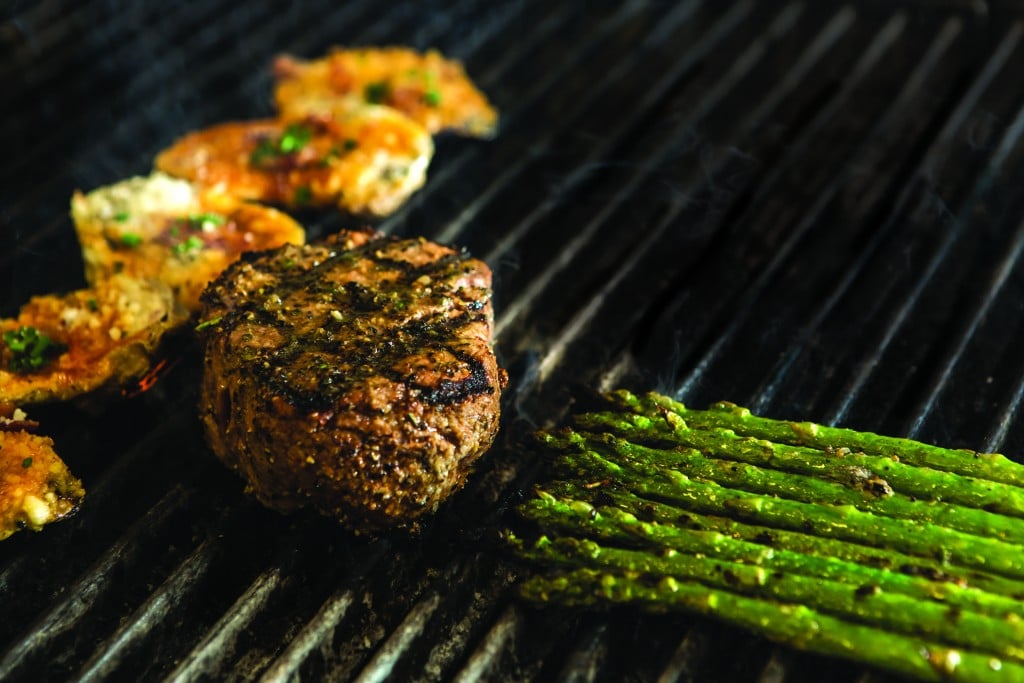 We love a well-cooked steak. We love places where we can celebrate our carnivorous nature, and we love a restaurant that pays attention to what makes a steak great. Not all of the restaurants on this list are, strictly speaking, steakhouses. Nor are all of the good steakhouses in Louisiana represented here. This is a list of restaurants around Louisiana where you can get a great steak; some are upscale, and others are casual.
---
NEW ORLEANS
LA BOCA
The Argentines eat a lot of beef. Per capita they rank second in the world for consumption behind Uruguay, because apparently every country has to be first in something, and Uruguay decided it would be "eating beef." The Argentine love of beef is on display at La Boca. The restaurant offers standards like a strip, ribeye and T-bone, but you can also order a skirt, flank or true hanger steak prepared with the attention you'd expect from a fine-dining restaurant. The fillet is served on the bone, and the grilled sweetbreads are crisp on the outside and meltingly tender on the interior. A great selection of wines from Argentina and elsewhere cements La Boca's place on our list. The restaurant is located at 857 Fulton St. Call (504) 525-8205 for more information.
---
There's no menu at Charlie's Steakhouse. Steak is your only option apart from the typical accouterments such as onion rings, potatoes au gratin, creamed spinach or a perfunctory salad. In true New Orleans fashion, the steaks; T-bones, fillet and only recently a strip steak come on a sizzling platter that continues to cook the meat as you dine. Charlie's was shuttered by Katrina, and until new owners came on board it was one of the most-missed restaurants in the city. You can find Charlie's at 4510 Dryades St., and you can call (504) 895-9323 to find out more.
---
Crescent City Steakhouse is the original New Orleans steakhouse. Opened in 1934 by John Vojkovich, the restaurant was the first to serve steaks still sizzling in butter at the table. All of the steaks at Crescent City are prime, even the fillet, which is unusual. Also unusual are the privacy booths which can be closed off with curtains that line one wall of the restaurant. Whether they're being used for romantic purposes or by some of the many politicians who patronize Crescent City Steakhouse is an open question. You won't go wrong ordering a steak at Crescent City, but the porterhouse, which comes in sizes for two or three – is always a good bet. Just be aware that "two or three" translates to "three or four" for most appetites. Crescent City Steakhouse is located at 1001 N. Broad Street. To make a reservation call 504 821-3271.
CAJUN COUNTRY
Landry's Steaks and Seafood
Landry's Steaks and Seafood is, its website is quick to tell you, "not the chain." The New Iberia restaurant is a family operation that's been serving good steaks and good food generally in the area for years. Not too long ago New Iberia-born chef Alex Patout left New Orleans and his namesake restaurant to return home and take over executive chef duties at Landry's. Patout brings a professional approach to food that was already good. You can tell from the restaurant's name that steaks are not the only option on the menu, but the beef is among the best in Acadiana and the fact that you can also get great seafood at Landry's is lagniappe. The restaurant is located on Hwy. 90 at Jefferson Island Road in New Iberia; if that address isn't precise enough, call (337) 369-3772 for directions.
---
The Cypress Bayou Casino, in Charenton, is located on land owned by the Chitimacha tribe, and though the surroundings are what you'd expect from a casino, Mr. Lester's Steakhouse is far more than a buffet catering to folks playing slots. Insulated from the noise and action on the casino floor, the dining rooms are spacious and the staff is well-trained. The open kitchen puts out some fantastic food, and while steaks are the main attraction, this is South Louisiana, so you won't go wrong with seafood either. Charenton is not far from New Iberia, but if you're not from the area, a GPS might be a good idea. Enter 832 Martin Luther King Road, Charenton, into your device to find Mr. Lester's, or call (337) 923-7408 if you get lost.
---
The Harlequin Steakhouse is an institution. The Lake Charles restaurant opened in 1956 and is still managed by the Hunter family. Though it moved to its current location at 501 West College St. in 2004, there's still a sense of tradition at the Harlequin that's reflected in a menu that hasn't changed much over the years. The beef at the Harlequin is choice, with the exception of the strip "elite," which is prime. The porterhouse may be the best deal on the menu; it's designed for two, and comes with two salads and two sides to share. Call the Harlequin at (337) 310-0077 to find out the daily specials.
BATON ROUGE
STROUBE'S CHOP HOUSE
Like a number of the restaurants on this list, Stroube's Chop House is not just a steakhouse. The menu extends to seafood, pork, poultry and lamb, but for most customers beef is the ticket. You can order fillets of varying sizes, a strip or a ribeye, but the real choice comes when you decide on a sauce. Feel like an au poivre? They've got a pink-peppercorn version. How about mushrooms? They've got a couple of options, including one with blue cheese and another with portobellos and balsamic-glazed onions. If you're interested in surf-and-turf, order your steak with jumbo lump crabmeat and hollandaise sauce. Because it's not just a steakhouse, the sides are more than you might expect as well; the creamed spinach is made with smoked gouda, the mac and cheese features truffles and lobster, and there's bacon and blue cheese in the grits. You can find Stroube's at 107 3rd St., and you can contact the restaurant at (225) 448-2830.
---
Ruth's Chris Steakhouse may have been born in New Orleans, but the original location on North Broad Street never reopened after Hurricane Katrina, and the restaurant group – no longer locally owned – moved its headquarters to Tampa, Fla., after the storm. It's still an iconic steakhouse, and the Baton Rouge location is certainly worthy of inclusion on this list. Ruth's Chris popularized the New Orleans sizzling platter-style of serving steaks and prides itself on consistency at each of its hundreds of venues worldwide. The key to Ruth's success is consistently excellent food. It starts with great beef, of course, but Ruth's has all of the trappings of the classic American steakhouse as well. It has a club-like décor, a wine list that shames most fine-dining restaurants and outstanding service. People come to Ruth's Chris for business, to celebrate or just to have a good piece of prime beef and the traditional accompaniments like creamed spinach, au gratin potatoes or a classic Caesar salad. Ruth's Chris is located at 4836 Constitution Ave., Baton Rouge, and you can contact the restaurant at (225) 925-0163.
---
Doe's Eat Place is a casual restaurant that serves great steaks. The family-owned business started in Greenville, Miss., near the turn of the last century and the Delta-style hot tamales on the menu are a link to its past. Doe's ages and cuts its own steaks, and the portions are generous. You can order an 8-ounce petite fillet, but the next-smallest options are pound-and-a-half T-bone or porterhouse steaks. Ribeyes start at two pounds, and the smallest sirloin you can order is two-and-a-half pounds. Sides are limited to excellent renditions of slow-cooked green beans, macaroni and cheese, mashed sweet potatoes or sautéed mushrooms. You'll find Doe's Eat Place at 3723 Government St., Baton Rouge. If you want to learn more, call 225 387-5331.
CENTRAL LOUISIANA
MARINER'S

Chef Stephanie White
Though the restaurant's name implies that seafood is the focus, Mariner's restaurant is a great place to get an Angus steak. It's one of the only places on this list where you can order the classic chateaubriand and prime rib is available on Friday and Saturday. The Cajun surf-and-turf is a ribeye topped with crawfish étouffee and blackened shrimp, and steak Oscar is a fillet served over an English muffin topped with lump crabmeat and either hollandaise or béarnaise sauce. Mariner's is on 5948 Hwy. 1 Bypass, Natchitoches. Call (318) 357-1220 for more.
---
Tunk's Cypress Inn is, again, not just a destination for steaks, but folks in the Alexandria area know that the ribeye, bacon-wrapped fillet and prime rib are among the best in central Louisiana. Tunk's is a casual spot that's nevertheless capable of putting out some excellent food, and the views of Lake Kincaid are a bonus. You'll find Tunk's at 9507 La. Hwy. 28 West, in Boyce, and the restaurant can be reached at (318) 487-4014.
---
If you're in the vicinity of Marksville and you're looking for a steak, Legend's Steakhouse in the Paragon Casino is a good bet. There's something about casinos and steakhouses; they seem to go together, and that's certainly the case with Legend's. Regulars recommend the bone-in ribeye, and Legend's is the sort of place that engenders regulars. Visit Legend's Steakhouse inside the Paragon Casino, Marksville, and call 1 (800) 946-1946 to make a reservation or to learn more.
---
NORTH LOUISIANA
2JOHNS STEAK AND SEAFOOD

2Johns Steak and Seafood in Bossier City is one of the restaurants on this list that are not strictly steakhouses. The two Johns in question are owner John Montelepre Jr. and his son, John Montelepre, III, who manages the restaurant. There's more to the menu than beef, but the fillet au poivre, prime ribeye and Kansas City strip deserve recognition in this list. Chef Josh Wilkinson has earned a devoted following for his consistently excellent take on modern American cooking, and he applies a fine-dining approach to the prime beef at 2Johns. The restaurant is just across the river from Shreveport, at 2151 Airline Drive, Suite 1500, and the phone number is (318) 841-5646.
---
Superior's Steakhouse is among the more popular restaurants in Shreveport due in part to a see-and-be-seen bar that attracts the young set. The restaurant is also popular because it turns out some fantastic food, including some of the best steaks in North Louisiana. Steaks include the standard fillet, ribeye and porterhouse, but you can order the first two bone-in, and the restaurant also serves a flat-iron skirt steak. The dining room is large, and it can get loud at times, but service is good, and there's an excellent wine list. Superior's address is 855 Pierremont St., Shreveport, and the phone number is (318) 219-4123.
---
Monroe's Warehouse No. 1 Restaurant overlooks the Ouachita river, and the scenic views are just a part of the restaurant's charm. Like a few other restaurants on this list, Warehouse No. 1 is casual and family-friendly, but if you're after a steak in Monroe, you won't find many better options. The restaurant is known as much for its seafood as for the steaks, and while there's a section of the menu devoted just to beef, there's always the option to top a fillet with crabmeat or shrimp and the mixed grill platter adds fried catfish to the mix. Warehouse No. 1's address is 1 Olive St., Monroe, and the phone number is (318) 322-1340.
---
If you feel we've left a place out, please let us know: info@louisianalife.com. For your subject line use Guide to Steaks. All recommendations are subject to be published, as edited, in the Letter to the Editor section.