Stephen Naegle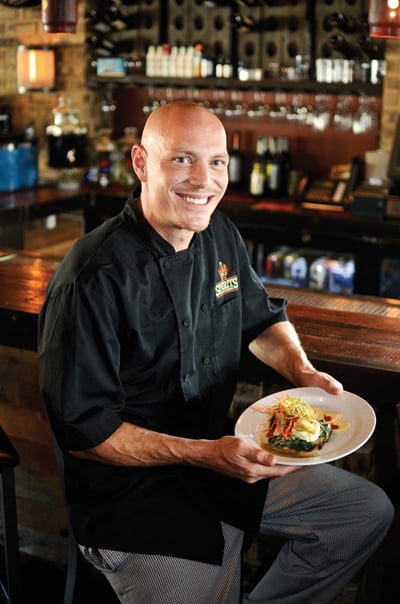 Born and raised in Colombia, South America, Chef Stephen Naegle is from a large Hispanic family where everyday centered around the kitchen. Stephen's restaurant experience began as a humble steward in Mexico City, where his strong work ethic, love of food and raw talent eventually brought him to Tallahassee, Florida to B. Merrills and then a unique restaurant concept called BoneFish Grill. With only three locations, the restaurant began to grow nationally, and he eventually helped open 62 locations across the U.S. as the Regional Culinary Director.
He then worked with Chef Don Bergeron in Baton Rouge before finding his home at Spirits Food and Friends in Alexandria. Owners Lee and Tracey Gwinn put their trust in Stephen to create inspired dishes that fuse his colorful culinary history with the familiar tastes that this area loves. Chef Naegle explains that, "Louisiana culture is much like my Hispanic culture, where the dinner table is the heart of it all. And Lee and Tracey have big hearts. The community really embraces them and their restaurant."
Tracey's Chicken was inspired by its namesake and restaurant co-owner. "We talked about different ingredients and her favorite combinations, and then I created it for her. I wanted to make her dream dish." As a result, Tracey's Chicken has become one of Spirits' most popular menu items.

---
Tracey's Chicken
1 6-ounce chicken breast
3 artichoke hearts (steeped in white wine)
1 tablespoon sundried tomatoes
(rehydrated with olive oil and water)
1 teaspoon chiffonade fresh basil
2 ounce chevre goat cheese
2 cups sautéed fresh spinach
2 ounces lemon butter (see below)
Season chicken with salt and pepper. Grill chicken until internal temperature reaches 165 degrees. Top chicken with (in order) sautéed spinach, goat cheese, artichoke hearts, sundried tomatoes and basil. Ladle lemon butter sauce all over chicken
Lemon Butter Sauce
2 cups white wine
1½ cups lemon juice
½ cup heavy cream 40 percent
Salt and pepper
1 pound of cubed cold butter unsalted
Reduce white wine and lemon juice halfway. Add heavy cream, salt and pepper and reduce by 1/3. Slowly add cubed butter to make sauce
One serving.
---
Spirits Food & Friends
1200 Texas Ave., Alexandria
(318) 445-4491
www.spiritscenla.com