Stopping in Broussard & Arabi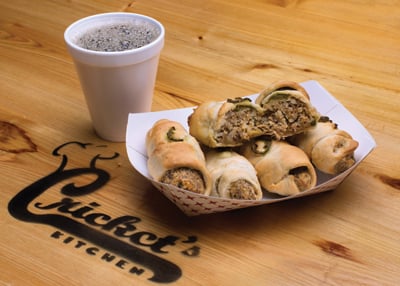 When outsiders think of Cajun Country food traditions, they tend to think of the usual suspects such as gumbo, crawfish and boudin. While these are all legitimate Cajun food traditions, one of the best every day food institutions in the Lafayette area is the plate lunch. The search for the best plate lunch will take you to mainstays, but a newcomer is generating a lot of buzz with the locals.
The stretch of Highway 90 that runs south from Lafayette through Broussard and into New Iberia is dotted with oil services companies, oil consulting companies, every oil industry-related type of business is accounted for. Last spring, Jonathan "Squints" Vannoy opened the doors of Cricket's just off the highway in the midst of the swarms of oil field workers who demand early breakfasts and rib-sticking plate lunches. Cricket's opens early at 6 a.m., serving quick breakfasts that include their increasingly popular boudin kolaches. For the uninitiated, kolaches are Czech stuffed pastries, and boudin is a sausage casing stuffed with rice, meat and spices. Cricket's boudin kolaches are links of boudin that are wrapped with cheese, rolled in pastry dough and fried. The crispiness of the outer pastry shell provides a textural balance for the gooey melted cheese and the core of piping hot rice and meat. If you want more crispiness than a kolache, you can try the same thing but in egg roll form, which is also pretty amazing (but a bit heavier and more deep-fried).
Squints brought me back into the kitchen for a tour of his roux-based bulk food preparation. There were three giant bubbling cauldrons of that day's offerings: pork stew, meatball stew and chicken and sausage gumbo. He was busy loading meatball stew into a giant funnel to be placed in thick, two-gallon bags for orders. Apparently, the secret is out. I got to test all of the entrees and sides, but the best were his roux-based specialties. The roux of the stews is a Cajun dark brown (not the tomato-heavy red Creole roux one sees east of here) and is thick enough to coat the rice underneath, but thin enough to be more gravylike than stewlike. Cricket's is some of the best gravy over rice I've ever had. The menu rotates daily; get there early because it gets packed quickly until it closes after lunch service. And if you're wondering where the name comes from, Cricket is Squints' favorite hunting dog.
Information, 1069 Freman Road, Broussard, (337) 364-7300.

---
Old Arabi Eats
If you drive down St. Claude Avenue past all of the hip bars in Marigny/St. Roch and the growing crop of restaurant offerings in the Bywater, go over the bridge and through the Lower Ninth Ward, you come to the sleepy little town of Arabi. Given the small-town feel, it is hard to believe that it is only a few minutes outside of New Orleans. Arabi is also home to one of the best hidden gems in the New Orleans area, Old Arabi Eats. It's like a country café with a bohemian undercurrent, with park benches for booths and quaint bistro tables. Since opening its doors in fall of 2013, it has become known for its small menu. For dinner there are three of each of apps, entrees, and sandwiches – including the highly touted burger. One of the hallmark menu items here is the chili. In a region known for its soups, few people understand how do make proper chili, but OAE does a great job. It was smoky and spicy and delicious, featuring poblanos, serranos, beef and pork. The mussels and salad were also great, but the stars of the show were the chili and fantastic burger. The burger was straightforward and excellently prepared (medium-rare). The next time you are in New Orleans or just passing through, it is well worth the trip to OAE for some refined, eclectic cuisine. Information, 7005 St. Claude Ave., Arabi, (504) 563-0131.