Stops in South Louisiana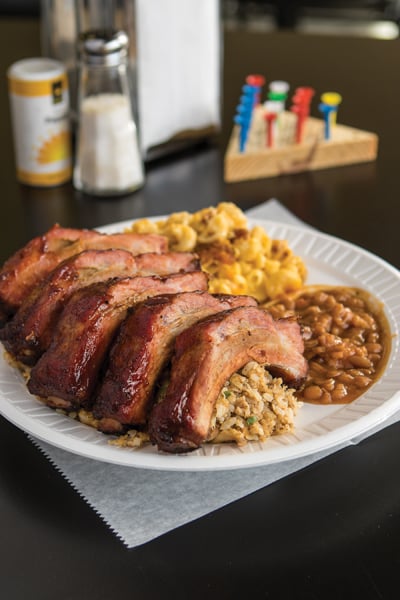 If someone were to ask where they could find the Southeast's best example of a classic Reuben sandwich, Metairie would probably not come to mind. However, one stop at Kosher Cajun, and any doubts about the sandwich supremacy of Joel Brown's family establishment are quickly put to rest. Since 1987, Brown and company have served both classic and creative kosher fare to not only greater New Orleans' sizable Jewish population, but to hungry locals, tourists, and even international heads of state, as well.
What began as a part-time deli in a former strip mall hair salon has since expanded into a full service restaurant, wine cellar, and Judaica gift shop in an otherwise unassuming building off of Severn Avenue. A number of synagogues are located within walking distance of the deli, giving nearby families a kosher option otherwise unavailable to them in a region known for its pork boudin and shellfish platters. While sampling the Brown family's numerous menu options – including the aforementioned, divine Reuben and homemade pickles – patrons can peruse a small grocery in the back, full of hard-to-find Jewish and Israeli products. But the Kosher Cajun's deli is the real draw for visitors who include Senator Joseph Lieberman and Israeli Prime Minister Benjamin Netanyahu among their ranks.
The interior itself is unassuming, and if it weren't for the shelves of Hebrew prayer books and religious tzchakes, could be confused for any other run-of-the-mill local shop. But glancing over Brown's menu options, guests will immediately realize they're about to taste fare that gives the most revered of New York's delicatessens a run for their money. The chopped liver and whitefish salad appetizers are worth a try alone for their uniqueness in the region, but if diners really want a taste of the Old Country, this Jewish boy can't recommend their matzoh ball soup highly enough. Light, fluffy dumplings in a homemade chicken broth with fresh vegetables. Simply the best – outside of my own mother's cooking, of course.
One would do best to also try a few of their signature sandwiches. Along with the classic Reuben, Brown's J&N Special is a great Southern twist on an East Coast staple. The traditional, shaved hot pastrami and corned beef on rye is topped with tangy mustard, a sinus-clearing horseradish sauce, and homemade coleslaw. Pair that with a side of latkes – a sort of deep-fried potato hashbrown – and you'll leave all the happier. Brown also offers versions of classic Louisiana fare with kosher twists, shining examples of Southern Jewish dining. There's also gumbo made with chicken, as well as the shrimp poor boy butterflied and fried Alaskan whitefish.
Make sure to pay a visit to the Kosher Cajun if you're in the area, just remember not to do it Friday night or Saturday – Brown and his family will be taking a break from satisfying foodies to celebrate Shabbat. 3519 Severn Ave., Metairie, (504) 888-2010.
---
Ronnie's Cajun Boudin & Cracklin House
If you're interested in making a 180-degree turn from kosher fare, eaters might consider trying one of Ronnie's Cajun Boudin & Cracklin House locations in either Baton Rouge or Hammond. Monday through Friday, Ronnie's offers full plate lunch specials that showcase some of the best in Southern cooking. Tender, slow roasted BBQ ribs and chicken, smoked-to-a-tee brisket, and their strange but delicious signature cracklin mac and cheese are just a few of the dishes patrons can get Monday through Friday at either establishment.
Ronnie's doesn't just offer their own cooking, they also provide processing for wild game and deer. A little extra work is well worth the five boudin and sixteen sausage varieties available for customers, many of which are guarded house recipes. With hunting season in full swing, it might be time to make a trek into the wilderness, or, at the very least, cozy up to any outdoorsy friends. 9830 Florida Blvd., Baton Rouge, (225) 216-7151 or 43106 S. Airport Rd., Hammond, (985) 318-7191