Stormtracker Steve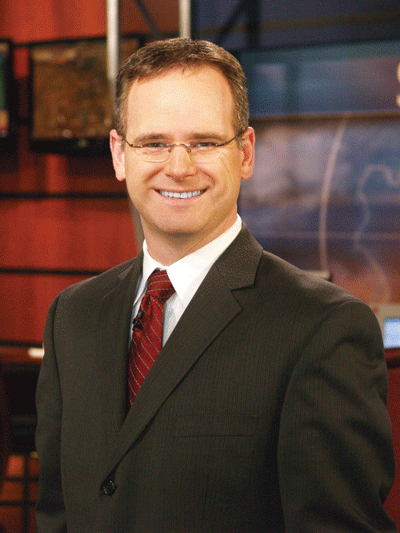 On Dec. 3, 1978, an F-4 tornado barreled through Bossier Parish. The rubble that lay along its path included the rental house that 5-year-old Stephen Parr and his family had been set to occupy, so instead, the military family diverted to Barksdale Air Force Base housing.
Nearly 30 years later, Parr returned to track these destructive storms as chief meteorologist at KSLA News 12 in Shreveport. Like the weather he forecasts, unexpected changes guided his journey back.
Although Parr entered college as an electrical engineering student, he quickly switched to the business school. He immersed himself in soccer as a player, coach and part-owner of a soccer store.
"It was all because I separated my spine from my hip," Parr says of the injury that led to a role in the soccer movie The Big Green. A Disney movie crew watched his club team play. "Our announcer didn't show up, so I just grabbed the mike because I wasn't going to be playing." He was cast as the announcer for the movie's championship game.
As he finished his marketing degree, he performed in college plays and commercials. He developed a weekly highlight show for the Dallas Burn professional soccer team. When the season ended, Parr, then 26, stood at a crossroads.
Parr says he had to take his shot or else wonder "what if?" He mailed more than 50 tapes of his soccer show to television stations across the country. He received only two replies: a "no, thank you" and an interview for a news photographer position in North Texas. He got the job, and the door to television news was unlocked.
A one-man band gig led Parr to East Texas. He filmed news segments and performed live on-air stand-ups.
Then he was offered the backup weatherman spot. After a week of training, he discovered his niche where television and science merge. Six years later, upon completion of his master's degree in geosciences, he became KSLA's chief meteorologist.
The station's weather coverage in the Ark-La-Tex region extends over an area the size of West Virginia. It ranges from DeQueen, Ark., south to Natchitoches. It stretches from Longview, Texas, eastward to Ruston. When "Stormtracker Steve," as Parr is known, monitors severe weather, it "takes over the entire newscast."
"It's a year-round challenge," Parr says of northwestern Louisiana's severe weather. Tornado Alley is active in the spring through early summer, and the lesser-known Dixie Alley is active late fall through early winter. Tornados have touched down every month except September.
Parr posts to a live video blog during severe weather. Viewers seek personal advice about their homes. "I'm talking people down, telling them, 'Don't jump,'" he says.
Most days, though, viewers depend on him for the basics. He compares his forecast with the official high temperature, and gives himself a letter grade daily. A miss of 1 degree is an A, two a B and three a C. Over the past year, he averaged a solid B. "Precipitation," Parr says, "is pass/fail."
It's 5 o'clock: showtime on the set, the glitziest part of station. It houses the news desk, the weather center and a cozy nook for the morning show. Trails of wires diminish the elegance of the glossy black tile floor.
Only four people man the studio: the anchorman, a reporter, a camerawoman and Parr. They fill commercial time with script changes and banter. Anchorman Pat Simon tantalizes viewers with "a violent twist to our next story" before a commercial break. Parr can't resist: "Is it a tornado? Just a little vortex humor."
With rimless glasses, Parr, now 38, looks every inch the professional whom viewers rely on for weather and science sidebars. On the green screen, he accurately points to invisible locations that magically appear on the video output. His "Rod Sterling voice" accelerates with enthusiasm as he becomes less scientist and more performer.
A tornado's tortuous path defies logic. Parr says his route led him to discover what he wanted to do and what makes him tick. "My path has made sense every step of the way."