Summering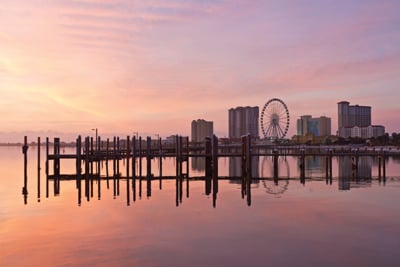 Louisiana is blessed with many of life's greatest pleasures. Remarkable art scenes, abundant wildlife experiences and culinary magic are all a part of what makes the Pelican state exceptional. Unfortunately, there is one category that the state can't check off — a killer beach town. Fortunately the Boot state has great neighbors, and just like when you need to knock on the neighbor's door for that proverbial cup of sugar, Louisiana can always rely on its neighbor to the east, Florida — specifically Pensacola — for its hopping downtown and pristine beaches. Let's take a trip down I-90, shall we?

"Party Fox"
Let's start at the heart of the matter. It's called Palafox, but really it should be called Party Fox. Part of it is street and part of it is place, but all of it is fun. Every city has its main drag and Palafox holds its own. This showcase of downtown is more Magazine Street than Bourbon Street, which suits this laid-back, bay town perfectly.
Restaurants, music venues and bars stream through this main artery of the 458-year-old city. The strip comes alive heading into the weekends and the town shuts down the street once a month for Gallery Night, a block party with an artistic flair. If you like to rock out with your dock out, walk down to the bay and sip cocktails on the porch at Jaco's Bayfront Bar and Grill overlooking the marina.

Walkabout
Pensacola is more than one street, however. Just west of Palafox, travelers can find the Five Sisters Blues Café on West Belmont for real Southern cuisine with a Creole kick. A quick Uber ride to the east gets you to McGuire's Irish Pub, a steakhouse that brews its own beer. When you need to walk off all of this grubbing and pubbing head to the hills — East and North Hill that is, beautiful tree-filled neighborhoods that don't disappoint.
The Beach
Let's not kid ourselves. When you're thinking about Pensacola you're thinking about the beach. The waves, the sand and the quest for the endless summer is alive in Pensacola Beach, just a short drive from downtown across the toll bridge.
You're greeted by the crush of summertime fun with countless bars and retail shops at the ready on the Pensacola Beach Boardwalk. Pro-tip: If you don't want to deal with the crowds just keep driving out past Portofino Beach Resort and the white sandy beaches will be all your own. Naps are encouraged.

---
DO
Pensacola Little Theater
A downtown theatre group, that's operated since 1926, that will forever have my heart since seeing its spectacular production of "The Rocky Horror Show."

Pensacola Blue Wahoos
The local AA baseball team plays throughout the summer in front of large crowds in Blue Wahoos Stadium, a venue that looks out onto Pensacola Bay.

Pensacola Museum of Art
It has a permanent collection that includes names like Warhol and Picasso, has hosted a comprehensive exhibit of Salvador Dali and has an upcoming show featuring…Legos.
---
Good Bets
Fests for the rest of us
Debuting in 1973, the Great Gulf Coast Arts Festival has called Pensacola home. The festival, held in Seville Square, features more than 200 artists specializing in woods, crafts, printmaking, painting, ceramics and myriad other mediums. The fest takes place during the first weekend in November, a weekend that kicks off a shipload of events including the Blue Angels Homecoming Show, Foo Foo Festival, Pensacola Marathon and the Frank Brown International Songwriters' Festival.
The Foo Foo Festival is a young, scrappy 12-day behemoth Nov. 2 through 13 that connects all of the aforementioned festivals, creating a unique two-week cultural event. Foo Foo Fest hosts events all over the city, from downtown to the historic Belmont DeVilliers Neighborhood, up to the First City Art Center, stretching all the way out to the state line for some music at the rambling, ever-so-popular Flora-Bama Lounge and Oyster Bar. Don't sleep on this event.

---
Beer Here!

Pensacola Bay Brewery
Take a left off of Palafox onto Zaragosa Street, find the big white church, look to your right and walk into an awesome craft brewery.
What it lacks in size it makes up for in quality beer. Their "Li'l Napolean" IPA is the best beer in town. It's cash only, folks, but there is an ATM on site.

Gulf Coast Brewery
Still a new kid on the block, this brewery is east of town on East Heinberg Street. The ski lodge feel created by the interior lends itself to a casual vibe. The Mindbender Double IPA is a powerful affair and if that doesn't entice you, two more words — ping pong.

Hopjacks
My favorite bar in the city, Hopjacks, has more than 110 beers on draft and a delicious line of hot pizza pies. Sure, World of Beer just a few blocks down Palafox offers a bevy of beers as well, but Hopjacks has a dive-ier, more collegiate feel than its polished, franchised counterpart.

---