Sweet Versatility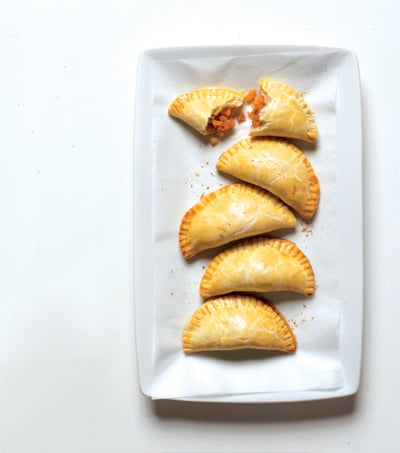 The sweet potato is a remarkably versatile vegetable. It can be fried, boiled, baked, steamed, pureed, made into bread, pancakes, fritters, waffles and puddings, served as a soup and, or vegetables or turned into a wide variety of desserts. Thanksgiving dinner in the South is unimaginable without sweet potatoes appearing on the table at least once, and often twice — first with the turkey and then again in a pie.
Louisiana has long been a major producer of sweet potatoes. I have some reproductions of colorful crate labels that probably date from the 1930s, when Louisiana began calling sweet potatoes "yams" to differentiate them from sweet potatoes grown elsewhere.
The labels have brand names such as Chanticleer, Bunny, Bull Frog and Magnolia. My favorite is the one for Bunny, the brand belonging to Aryon G. Boudreau in Sunset. The label depicts a demented looking rabbit eating a "yam" in the field under a full moon.
The marketing of sweet potatoes as yams is responsible for the confusion about the difference between the two. Actually, a true yam is an entirely different root vegetable. The terms yam and sweet potato are used interchangeably, though some make a slight distinction. Not the Louisiana Sweet Potato Commission, though, which continues the tradition of calling a sweet potato a yam. I'm OK with "candied yams," but "yam pie" just doesn't sound right.
Whatever you call them, in addition to being delicious, sweet potatoes are a healthful food that provides vitamins, A, C and B-6, as well as potassium, calcium, iron and magnesium, and are a good source of fiber.

---
Spicy Sweet Potato Turnovers
To make filling: Wash and peel sweet potatoes, then cut into pieces and boil until softened. Drain and mash potatoes, then measure 1 cup of mashed potatoes and combine with ¼ teaspoon coarse salt, ¼ teaspoon freshly-ground black pepper, ¼ teaspoon allspice, ¼ teaspoon ginger, ¼ teaspoon cinnamon, ¹⁄8 teaspoon chipotle chile pepper (or to taste) and 1 tablespoon cane syrup. Cool before proceeding.
To make crust: Combine 1 cup all-purpose flour and ¼ teaspoon salt in mixing bowl, then cut in 3 tablespoons cold butter and 2 tablespoons lard or shortening with 2 knives or a pastry cutter until mixture is crumbly. Turn out onto a lightly-floured surface, knead a time or two and flatten into a disc. Wrap in plastic wrap and refrigerate for 30 minutes or overnight.
To assemble: Preheat oven to 350 degrees. On a lightly-floured surface, roll out dough to a thickness of ¹⁄8-inch. Using a 4-inch cutter, cut circles of dough. Combine leftover dough and roll out again, then cut more circles. You should have 8 rounds.
Fill each pastry with 1 tablespoon filling, moisten the edge with ice-cold water, then fold pastry over to make a half circle. Using the tines of a fork, press the edge to seal. Place on an ungreased baking sheet and repeat until all the pastries are filled. Beat 1 egg yolk with 1 tablespoon water to make egg wash. Brush each turnover with egg wash and bake until lightly browned, about 15-20 minutes. Cool on a rack.
Makes 8 turnovers.

---
Sweet Potato And Apple Soup
This is a simple and quick soup that combines the flavor of sweet potatoes and unpeeled apples. An immersion blender that allows you to puree the soup in the pot is a great time saver.
Cook 1 medium onion (chopped) in 4 tablespoons butter over medium heat until softened, about 5 minutes. Add 2 cups chicken stock or broth, 2 cups water, 4 small or 2 large sweet potatoes (peeled and sliced) and 2 unpeeled apples (cored and sliced). Bring to a boil, reduce heat and cook until sweet potato is softened, about 10-15 minutes.
Puree soup, in batches, in a blender or use an immersion blender to puree soup in the cooking pot. Season to taste with coarse salt.
Makes 4-6 servings.

---
Sweet Potato Fudge
This is a moist and chewy, fudge-like confection, reminiscent of some Indian sweets.
1 cup all-purpose flour
1 teaspoon baking powder
½ teaspoon salt
1 teaspoon cinnamon
½ cup unsalted butter, softened
1 cup light brown sugar
2 eggs
1 teaspoon pure vanilla extract
1 cup peeled and finely grated
sweet potato
1. Preheat oven to 350 F. Grease and flour a 9-inch baking pan.
2. In a small mixing bowl, whisk flour, baking powder, salt and cinnamon to combine. Set aside. In a mixing bowl, beat butter until light, then add brown sugar and beat until creamy. Add eggs and vanilla and beat until combined. Add dry ingredients and beat until just combined. Fold in grated sweet potato.
3. Turn batter into the prepared pan, smooth top with a rubber spatula and bake for 20 minutes.
4. Cool on a rack. When cool, cut into small squares.
Makes about 16 servings.

---
Sweet Potatoes Glazed With Madeira
With its toasty, caramel flavor, Madeira, a fortified wine from the Portuguese island of the same name, offers many possibilities as an ingredient in a number of dishes. Madeira is made in a variety of styles; for this recipe, a rich, sweet version is the best choice.
2 small sweet
potatoes
2 tablespoons
butter
1 cup Madeira
Large pinch salt
1. Wash and peel sweet potatoes. Cut each potato in half lengthwise.
2. Melt butter in a heavy casserole. Add sweet potatoes, flat side down. Add Madeira and salt. Cover casserole and simmer for 20 minutes. Turn potatoes and simmer until they are cooked through, about 20 minutes.
3. Transfer potatoes to a serving dish. Reduce liquid in pan until syrupy, then pour over the sweet potatoes.
Makes 4 servings.

---
TIP
I prefer small sweet potatoes to the monsters that often are on display.
The smaller ones are often difficult to find, but some Louisiana farmers continue to grow them. Be persistent and request them where you shop.
---