Take a Louisiana Staycation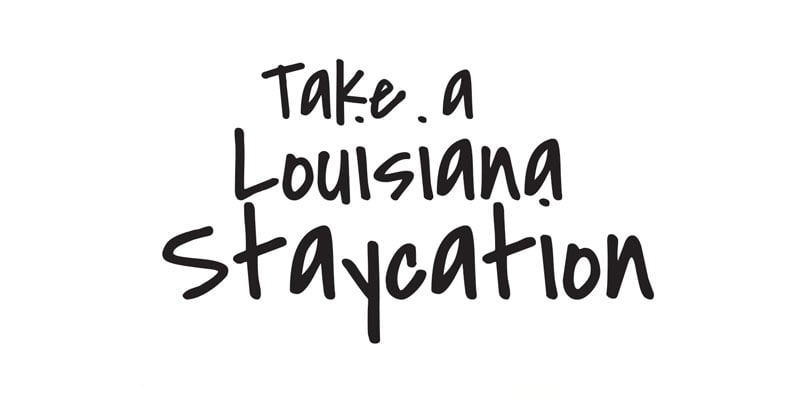 Lt. Gov. Billy Nungesser, who heads up Louisiana's tourism, routinely travels the state encouraging residents to vacation in their own backyard.
"I guarantee them they will not be disappointed," he said.
At one occasion a young girl asked Nungesser where he was going on his "staycation." He spoke of Toledo Bend a top U.S. fishing destination and Natchitoches, the oldest city in Louisiana. Putting action to his words, he booked a family vacation to both places. His family had such a good time, they talked about it for weeks.
Tourism is big business, Nungesser explained, drawing $1.8 billion in state and local tax revenue and attracting millions of visitors. In 2019, 54 new hotels will be under construction, adding to the current 100,000 hotel rooms throughout the state. This year will also see 400 festivals.
With all the unique places to visit, Nungesser asks, why travel anywhere else?
---

1. PARK YOURSELF HERE
Louisiana is home to twenty-one state parks, and even in winter the parks offer endless activities, from kayaking on bayous and swamps to hiking and mountain biking. Many parks feature cabins, including ones right on the water, such as in Poverty Point Reservoir State Park where visitors can fish from their back porch. Birders love discovering wintering species this time of year, including bald eagles at South Toledo Bend State Park. And speaking of Toledo Bend, this man-made reservoir straddling Texas has been named, for two consecutive years in 2015 and 2016, the No. 1 Bass Lake in the Nation by Bassmaster Magazine and has been the site of the Bassmaster Elite Series Tournament for five years! So get out fishing gear, hiking boots and tents and head outside.
2. LET'S GO TO THE BEACH
We may not rival Florida, but that doesn't mean we don't have exceptional beaches, not to mention surrounding marshlands and bayous perfect for fishing and hunting. And this year, new sand will be installed at State Park beaches, Nungesser explained, making them even more appealing. Holly Beach, for instance, offers 30 miles of breathtaking sand and water, plus you can camp right on the beach! The beach at Cypremort Point State Park faces Vermilion Bay and offers cabins and a fabulous fishing pier. The cabins at Fontainebleau State Park sit right on Lake Pontchartrain and Grand Isle, our Gulf of Mexico barrier island overlooking Caminada Bay, is a quick trip from New Orleans.
3. DISCOVER A NEW TREASURE
For the first time in years, The Cabildo in New Orleans hosted new exhibits for the city's tricentennial. Both the Cabildo and its neighbor, the Presbytère, own warehouses of artifacts, Nungesser said, many items that have never been exhibited before. He hopes to change that, bringing more out into the light. In addition to New Orleans' more popular museums, there are dozens of hidden gems in Louisiana's historic small towns, Nungesser said, from the Louisiana Sports Hall of Fame in Natchitoches to the Charenton Heritage Museum that highlights the Chitimacha's Native American history and culture. Nungesser hopes visitors will take the time to discover them and "make these small museums in Louisiana giant stars."
4. FESTIVALS
Not many states can boast having more than 400 festivals each, and Louisiana keeps adding to the list. There are world renowned music festivals such as the New Orleans Jazz and Heritage Festival and Festival International in Lafayette, food festivals that run the gamut from gumbo to beignets and film festivals that increase every year. "If you can eat it, shoot it, catch it, or dance to it," Nungesser said, laughing, "we have a festival celebrating it in Louisiana."
Of course, Carnival begins this month throughout the state, offering balls, parades and accompanying events until the big day on March 5. To plan a unique Carnival experience this year visit www.MardiGras.LouisianaTravel.com
---