Take Flight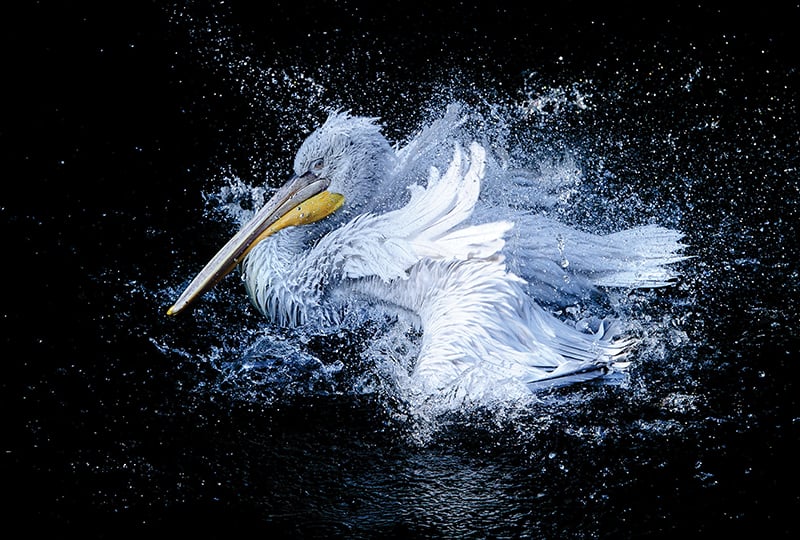 Hundreds of species head south for the winter down the Mississippi Flyway, an avian highway if you will, pointing birds down the Mississippi Valley to South and Central America and Mexico. Come springtime, when North America warms up, some of these migratory birds will fly across Texas and into Louisiana while others fly 600 miles straight across the Gulf of Mexico. When they arrive in Louisiana, the birds are hungry, tired and thirsty, looking for a safe place to land and refuel.
Louisiana, like other states along the Coastal South, remains a top migratory path and every year hosts more than 400 different species, colorful songbirds like scarlet tanagers and indigo buntings or the regal bald eagles and white pelicans. Both visiting and resident birds may be found throughout the state. It's only a matter of knowing where to look.
We've broken the state into regions, detailing the best places to go birding and what species you may find, plus a few visitors' tips. Grab some binoculars, a Louisiana bird checklist and greet the dawn. These birds are early risers.
---
New Orleans to Baton Rouge
Jane Patterson, president of the Baton Rouge Aubudon Society, teaches a birding basics class at LSU's Continuing Education, ending with field trips where Patterson helps students identify the many bird species found in the Baton Rouge area.
"People are so amazed that there are so many birds out there," she said.
While New Orleans and Baton Rouge may be large cities, there are numerous spots within and surrounding that offer great birding opportunities. Some of the best, Patterson said, are Baton Rouge's parks, many of which incorporate nature trails.
Bluebonnet Swamp Nature Center, for instance, offers a mile of gravel paths and boardwalks through both a cypress-tupelo swamp and a hardwood forest where birders have spotted migratory birds and year-round species, including white ibis, prothonotary warbler, great crested flycatcher and the nesting ruby-throated hummingbird.
Greenwood Community Park adjacent to the Baton Rouge Zoo is one of Patterson's favorites as it includes grasslands, a small lake and a forested area, three habitats in one which call for a diverse selection of birds.
The mix of hardwood trees and pines within the Tunica Hills creates a nice birding spot at the Mary Ann Brown Preserve outside St.
Francisville. Operated by the Nature Conservancy of Louisiana, the preserve offers two miles of nature trails, picnic tables and a pavilion. Some of the birds you'll find at Mary Ann include red-shouldered hawks (bottom left), white-eyed vireo, Kentucky warbler, hooded warbler, summer tanager (top right) and barn swallows.
The preserve is located near Oakley Plantation (a Louisiana state park also good for birding) where John James Audubon began painting his "Birds of America" series, a collection of 435 life-size prints of America's birds.
Outside New Orleans there are numerous preserves and parks. The Fischer Wildlife Sanctuary in St. Tammany Parish, for instance, consists of 86.5 acres of floodplain within the Honey Island Swamp system. It's perfect habitat for nesting birds such as the barred owl and yellow-crowned night heron (bottom right). Neotropical migratory birds found here include the Tennessee warbler and the chestnut-sided warbler.
Other great birding sites include Bayou Sauvage National Wildlife Refuge, Big Branch Marsh near Lacombe and the Jean Lafitte Barataria Preserve.
Special events
In November, the white pelicans (top left) head south for the winter, following the Mississippi River until they find a special spot with ample food, explained Patterson. They feed collectively, scooping up fish as they travel, and usually remain in Baton Rouge for up to two months on the university lakes.
"They can number in the thousands," said Patterson. "That's a big favorite of everybody, birders and non-birders alike."
Sherburne Wildlife Management Area on the eastern ridge of the Atchafalaya Basin has an observation tower that's optimal for sighting wood storks, herons, egrets and spoonbills, Patterson explained. Her Audubon group hosts tours of the area the first week in August when water is low in the crawfish ponds.
"We go out and gawk at the wading birds," Patterson said.
The first weekend in May is another opportune time to view breeding birds along the Whiskey Bay corridor, she said, including Mississippi and swallow-tailed kites.
"We usually do a guided tour the first weekend in May," she said.
The annual Feliciana Hummingbird Celebration will be Sept. 15 this year in St. Francisville while the Great Louisiana BirdFest happens in the spring at the Northlake Nature Center across from Fontainebleau State Park and includes birding field trips and workshops.
Where to Stay & Eat in New Orleans and Baton Rouge
The 2,800 acres of Fontainebleau State Park rolls through different ecosystems, from forests containing six miles of nature trails to the shores of Lake Pontchartrain. It's a haven for birders, where hundreds of species have been spotted. The park includes new lakefront cabins, some right on the water, and both Mandeville and Covington sport a lively culinary scene.
---
Southwest
Migratory birds heading south for winter across the Gulf of Mexico may enjoy a tailwind to ease their journey. In the spring, however, the long flight with unpredictable weather makes for a harrowing trip.
"In the fall the birds always have a northern wind," said Will Nidecker, tourist guide at the Creole Nature Trail and wildlife biologist.
"They can use that to surf on, like a surfer would. Coming back in the spring, it's a different thing."
When birds arrive on the Louisiana coast in spring, they drop to rest, drink and refuel. One of the best places to view these visitors is along the Creole Nature Trail, a 180-mile loop that stretches around Lake Charles and includes Gulf beaches, marshes, lakes, bayous and wildlife refuges.
Anne Taber Klenke works as tourism director at the Lake Charles/Southwest Louisiana Convention & Visitors Bureau satellite office which doubles as "Adventure Point," an attraction offering interactive displays and guides to the Creole Nature Trail. Like Nidecker, she routinely travels the Trail in search of birds and other critters.
"I see amazing things there — crested caracaras, great blue herons," Klenke said.
Her favorite spots are the Jetty Pier in Cameron, where a variety of shorebirds and pelicans can be found, the Pintail Wildlife Drive and Boardwalk and the fields along Lionel Derouen Road north of Cameron Prairie National Wildlife Refuge where sandhill cranes rest during the winter months.
"I was there in mid-February and they were everywhere," Klenke said of the cranes that usually visit in October and late March.
The Lacassine National Wildlife Refuge west of Lake Arthur contains a 16,000-acre wetlands known as the "Lacassine Pool," a great place to spot wintering waterfowl, including the pintail duck. The best way to enjoy "The Pool" is to drive the three-mile loop that's open daily from dawn to dusk, stopping at the observation tower for a wide view of the marshes.
On the east side of Calcasieu Lake, Bobby Jorden of Grosse Savanne Eco-Tours offers guided tours into the company's 50,000 acres of private lands. Jorden has a background in natural resource conservation management and explains the ecosystem of the reclaimed rice fields now flooded and teeming with bird life. Bird species include egrets, white ibis (left), blue herons, great blue herons (facing page), eastern kingbirds, red-wing blackbirds, least bitterns and black-bellied whistling ducks. In the spring and fall, migratory birds visit; the best time to see them is in spring when the birds are nesting. Jorden has a knack for getting birders up close, enough to witness the tiny gazes of baby egrets.
Special events
The yellow rail hides deep in south Louisiana marshes, difficult to spot. The small secretive bird is high on birders' lists because of its elusive nature. Every fall, birders arrive in Jennings for the Yellow Rails and Rice festival, to spot the birds, visit rice fields and participate in workshops and birding field trips.
Where to Stay & Eat in Southwest Louisiana
Grosse Savanne includes an expansive lodge that accommodates 18 guests in nine rooms with modern amenities, entertainment such as billiards, a stocked bar and an oversized porch. Call in advance for the lodge fills up when ducks, and consequently hunters, arrive. Visit grossesavanne.com for more information.
In Lake Arthur, Bobby and Roberta Palermo have converted a 1960s Jeff Davis Bank building into a boutique hotel called L'Banca Albergo or The Bank Hotel. There are eight rooms, a comfortable porch and a bank vault containing select wines for sale. Overlooking the lake is The Regatta serving seafood, steaks and pastas and a rich duck and andouille gumbo.
Sam Houston State Park north of Lake Charles rents cabins and is a birding haven as well.
"You will see different things there that you will not see on the coast," Klenke said.
---
Acadiana
Signs of Lafayette's city life begin to disappear turning on to Lake Martin Road as homes and businesses become farms and wetlands. Suddenly, the road dips, an unusual occurrence for a landscape at or slightly above sea level. This pristine land only minutes from the Lafayette Airport was once the western edge of the ancient Mississippi River, hence the natural levee, and today still contains bottomland and hardwood forests and cypress-tupelo swamps in the Cypress Island Preserve operated by the Nature Conservancy of Louisiana.
Lake Martin, the body of water at its heart, began in 1951 when St. Martin and Lafayette parishes built a levee to create a hunting and fishing preserve. In the late 1980s birds arrived to nest and the lake quickly became one of the largest colonial waterbird rookeries in North America. Outdoorsmen still use the lake that's not part of the preserve but the Conservancy helps maintain the rookery which sees 12 species arrive in the spring between Feb. 15 and July 31, the peak season. Among them are roseate spoonbills (facing page), snowy and great egrets, an assortment of herons and anhingas.
In the spring and fall, migratory birds arrive to Lake Martin. Year-round visitors may spot owls, eagles, osprey and other raptors, plus kingfishers (right) and cormorants. There have been 241 different species spotted at Cypress Island, said Katherine C. King, Cypress Island's program manager.
After hurricanes Katrina and Rita, many of the nesting birds disappeared. Rumors abounded, of too many tourists disturbing the birds and of pollution following the storms, but King insists the birds remain; they are just harder to see from the road.
"They're still there, just farther back," she explained.
The preserve remains important for nesting and migratory birds, King said, because it's a natural habitat in what is becoming an increasingly commercialized region.
"If you look at an aerial photo, you'll see we're surrounded by what we call a sea of agricultural property," King said. "What's left is Cypress Island Preserve, a forested area. That's extremely important to birds."
Visitors may hike the circumference of the lake on a five-mile trail that's half wooded and half on a paved road. The Nature Conservancy operates a Visitor Center that's open on weekends and Wednesdays through Sundays during peak nesting season.
Special events
Morgan City and surrounding areas host an Eagle Expo every February, with tours to view American bald eagles and other birds of prey, plus workshops on nature photography by Louisiana photographer C.C. Lockwood, wildlife talks and birding seminars.
Where to Stay & Eat in Acadiana
There are numerous bed and breakfasts in nearby Breaux Bridge, including Bonne Terre Louisiana with its two comfortable and relaxing buildings on a 10-acre farm. At Bonne Terre we spotted bluebirds nesting next to horse pastures, indigo buntings, egrets and herons on the pond and raptors in the trees, all from a porch rocking chair.
The culinary hub of Lafayette is only 20 minutes away and the dining landscape runs the gamut of styles, from traditional and nouveau Cajun to ethnic and fine dining. Close to Bonne Terre — within walking distance — is Poche's Market, serving up daily plate lunch specials, dinners and authentic Cajun dishes to go. In Breaux Bridge you'll find great restaurants such as Buck & Johnny's and Café Sydnie Mae, plus the Joie de Vivre Coffee Shop that features Cajun jam sessions.
---
Central
The heart of Louisiana contains a wide variety of ecosystems, from the Red and Mississippi River floodplains to the piney woods atop rolling hills. To the west is Toledo Bend, the South's largest manmade lake and home to ducks, shorebirds and nesting bald eagles. To the north and east lies the expansive Kisatchie National Forest luring red cockaded woodpeckers to its woods. The Louisiana waterthrush nests near the state's highest waterfall at Sicily Island Hills Wildlife Management Area, accessible along the Rock Falls Nature Trail. Around Cheneyville, wintering sandhill cranes (facing page) visit agricultural fields and the lookout tower on Wildlife Drive at Catahoula National Wildlife Refuge allows birders to spot bald eagles, osprey and peregrine falcons.
Kisatchie consists of six ranger districts, some with better public access than others. Central Louisiana refuges, reservoirs and remote areas known for great birding can also be daunting to the traveler. The best way to find birding spots is to obtain the Louisiana Birding Guide with its handy maps and bird sightings. The guide is available to download at atchafalaya.org/ckfinder/userfiles/files/BirdGuide.pdf.
Special events
The Shreveport Bird Study Group regularly visits the Cheneyville area to view the wintering sandhill cranes.
"Almost every winter we try to take a trip below Alexandria to see the sandhill cranes," said Larry Raymond, president. "They're there every year but not necessarily in the same place."
Where to Stay & Eat in Central Louisiana
Cypress Bend at Toledo Bend Lake attracts golfers to its championship course but the resort also includes wooded trails throughout the property, perfect for spotting bald eagles, waterbird nesting colonies and the red-cockaded woodpecker, in addition to migratory songbirds. There are cabins to rent all along Toledo Bend, including Wildwood Resort with its variety of accommodations, boat rentals, duck pens and more.
Deciduous trees at Cotile Lake Recreation Area just north of Alexandria attracts migrating warblers, flycatchers and vireos and year-round bald eagles. Nearby is the town of Boyce and the acclaimed Janohn's restaurant. Schedule your birding carefully for Janohn's  is only open for dinner Wednesday through Saturday.
---
Northern Louisiana
Northern Louisiana has been known to attract birds not found in the rest of the state. The rare migratory Smith's longspur, for instance, enjoys a three-prong grass growing near Shreveport.
"That's one we find in Northwest Louisiana but nowhere else," said Larry Raymond, president of the Shreveport Bird Study Group.
The white-breasted nuthatch (left) is another uncommon bird for Louisiana.
"A lot of birders from South Louisiana come up to see that one," Raymond said.
Birding hotspots include Caddo Lake that stretches into both Louisiana and Texas, a habitat for many species of aquatic birds such as grebes, herons, ducks and terns. The bald eagle and the horned grebe (top right) have been known to winter here and osprey arrive in spring and fall.
The Red River National Wildlife Refugehas different tracks and Raymond enjoys the Yates Track pools in Red River Parish, where he's spotted wintering ducks and shorebirds, such as the black-necked stilt (bottom right), sandpipers and yellowlegs. Raymond has also sighted a short-eared owl and a yellow rail.
"It's a great habitat for birds that we don't find anywhere else," he explained. "It's open to the public but it's always good to go with someone who knows where to go."
Cross Lake on the western side of Shreveport is another good site. A member of the Shreveport Bird Study Group spotted a mew gull there as well as western grebes, jaegers and Franklin's gull, Raymond said.
Birders have spotted 160 species at the 5300-acre Black Bayou Lake National Wildlife Refuge, one of five refuges managed in the North Louisiana Refuge Complex. Nesting bald eagles make their home here.
Special events
The Shreveport Bird Study Group meets on the second Tuesday of the month January to June and September to December at the LSU-Shreveport Museum of Life Sciences in Shreveport. Speakers give talks on birding and natural sciences and the group takes occasional field trips.
Where to Stay & Eat in Northern Louisiana
There are several state parks that offer chances to view birds in northern Louisiana. Lake Bistineau, Lake D'Arbonne and Lake Claiborne both contain lakes as well as mixed hardwood forests with hiking trails, campsites and cabins. The 2,700-acre, man-made lake at Poverty Point Reservoir State Park attracts waterfowl, raptors and other birds and features hiking trails and cabins. Cypress Black Bayou Recreation and Water Conversation District near Benton rents cottages and cabins and includes a Nature Study Center and zoo.
---
Louisiana Coast
he Louisiana Coast is the first stop for birds flying north across the Gulf so when bad weather occurs during the spring the birds may literally fall from the sky, pausing in vegetation until inclement weather passes.
"And that's Grand Isle most of the time," said Katherine C. King of the Louisiana Nature Conservancy.
Which is why the Conservancy has preserved 41 forested acres on Grand Isle and works to encourage reforestation for the thousands of migratory birds that visit the barrier island each year. The annual three-day Grand Isle Migratory Bird Festival in April includes guided bird watching tours on the Grand Isle Birding Trail, Elmer's Island and Grand Isle State Park.
On the other side of the state lies Peveto Woods, a migratory bird sanctuary off Highway 82 near Johnson's Bayou established by the Baton Rouge Audubon Society. The property contains live oaks with underbrush, feeding stations and water drips to attract birds. The Gulf is a short walk away.
"It's one of the highest places in the state," explained Jane Patterson, Society president. "It's a remnant oak chenier, a critical stopover habitat for migratory birds. It's easy to get to and often offers the bird sightings that one might find on a barrier island that's impassable."
Birders have counted 306 different species at Peveto Woods, Patterson said, including warblers, grosbeaks (right), indigo buntings (facing page), painted buntings and the brilliant scarlet tanager. The property is open to the public but no camping is allowed.
Will Nidecker, tourist guide for the Creole Nature Trail and wildlife biologist, suggests hunkering down beneath Peveto's live oaks, holly and hackberries in the spring and fall and waiting for the small songbirds to arrive and feast on vegetation.
"Make sure you find blackberry brambles," he advised. "That's what warblers eat."
Nidecker also suggests avoiding Peveto Woods in June and July when horseflies show up.
Naturally, the coast includes beaches, which attract shorebirds of many kinds. Rutherford Beach, Holly Beach and Martin Beach are examples of beaches open to the public.
The Rockefeller Wildlife Refuge between Pecan Island and Grand Chenier attracts waterfowl, herons, egrets and other wading birds to its marshes and coastal woodlands. Visit Price Lake Road just west of the refuge's headquarters for great waterfowl viewing.
Special events
The Grand Isle Migratory Bird Festival in April features expert-led bird treks on the Grand Isle Birding Trail, Elmer's Island and the Grand Isle State Park; kayak tours and boat tours to Queen Bess Island; and the catching and release of migratory songbirds by the Louisiana Department of Wildlife and Fisheries.
Where to Stay & Eat on the Louisiana Coast
Many camps from one end of the coast to the other are available as rentals and Grand Isle offers a few motels. The closest cities to the coast, such as Houma, Abbeville, Morgan City and Lake Charles, have a large selection of accommodations and dining options.