Taste of the NFL's Super Bowl XLVII event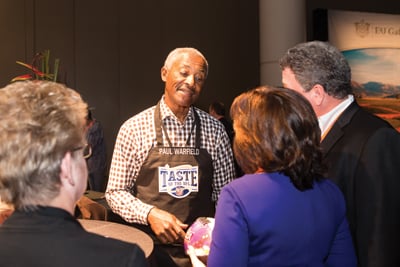 A great party with a great cause, February's "Party with a Purpose" on the eve of Super Bowl XLVII gave us a "Taste of the NFL" and spread awareness of this nonprofit's mission to fight hunger.
Wayne Kostroski, recipient of the James Beard Humanitarian of the Year Award in 2010, is the founder and director of Taste of the NFL, the organization that has raised over $14 million for food banks across America since its birth in 1992. "Party with a Purpose" is an annual event held in the Super Bowl host city that brings together renowned chefs and NFL players to host an unforgettable "strolling wine and food" gala, with net proceeds directly benefitting food banks in each of the 32 NFL cities.
This year's "Flavors of New Orleans" was the premier Super Bowl event. Held in the Morial Convention Center, the party featured 35 food stations, each manned by a chef and an NFL teammate. Representing the New Orleans station were Saints alum Morten Anderson and chef Tory McPhail of Commander's Palace, whose culinary creations included Hennessey cognac and winter mushrooms and Creole cream cheese gnocchi.
Highlights of the evening included a performance by Soul Asylum, a live painting demo by Louisiana-native artist Amy Dixon and special appearances by the stars of "Cake Boss" and Miss America. "Party with a Purpose" also featured a silent auction, with fabulous prizes including unique sports memorabilia and exclusive culinary packages.
---
Event at a Glance
What: "Party with a Purpose," benefiting Taste of the NDL
When: Saturday, February 2
Where: New Orleans Convention Center