Tchoup industries Crafts Stylish Bags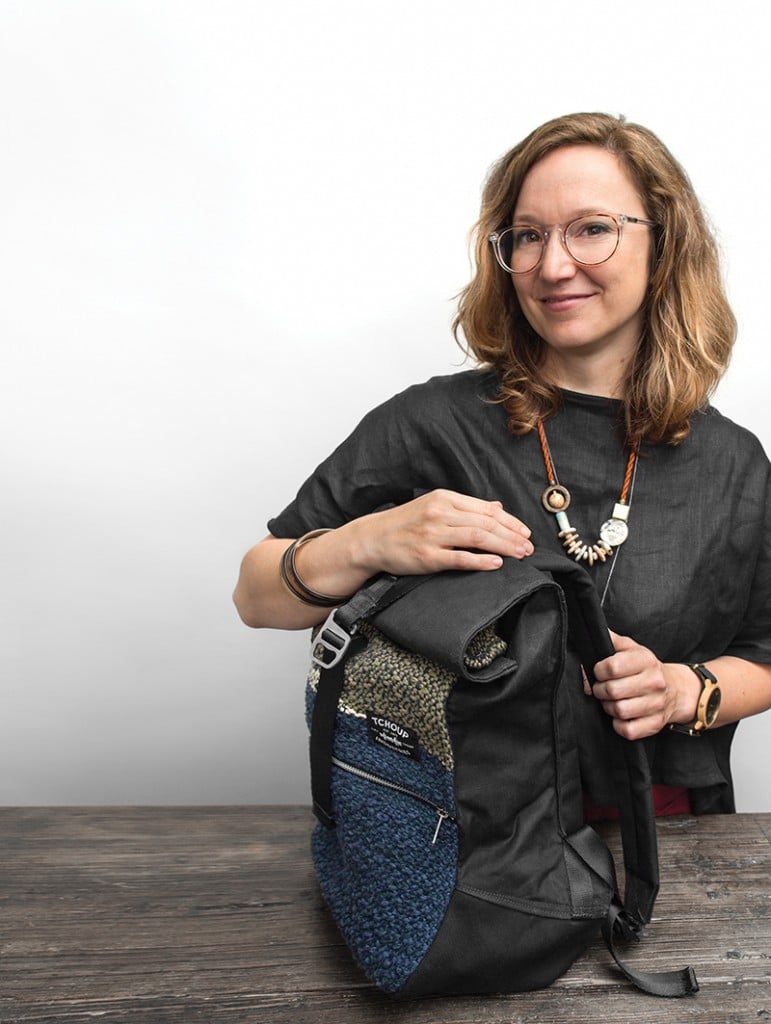 > "Our collection would not look the same if we were located literally anywhere else in the country. We use recycled rice bags from Crowley, custom machined metal hooks from Lafayette, discarded boat sails from local sailors, and gator hides and nutria fur from across the state."
With all of its threads running in the same direction, the heritage and craft of Tchoup Industries' locally-made bags are the very definition of woven — both culturally and tangibly. Forged by materials sourced and salvaged with intent and sewn responsibly by artisan hands in New Orleans, these backpacks are worn everywhere from the streetcar to the swamp.
"Our collection would not look the same if we were located literally anywhere else in the country," says Tchoup Industries founder and designer Patti Dunn, who launched the brand in the Lower Garden District in 2013. "We use recycled rice bags from Crowley, custom machined metal hooks from Lafayette, discarded boat sails from local sailors, and gator hides and nutria fur from across the state."
Stylish and durable, these pieces might look best with a little mud on them, a little grit in the seams. More Patagonia than Prada, Dunn's approach emanates the essence of her adopted city from an outsider-turned-insider's view where sustainability has become style and fortitude fashionable.
A North Carolina native who worked in the luggage and bag manufacturing industry for years, Dunn relocated a decade ago maintaining national clients for her freelance design work as she moved into an apartment above an abandoned laundromat in the Bywater. There she came face to face with the post-Katrina landscape and military police making nightly patrols of her street. That culture shock gave way as the climbing wall this mountain lover built in the vacant laundry below her apartment began attracting the interest of neighbors. Soon Dunn was making friends and avid climbers, too, and the city's charm began to feel a lot like home.
In 2010, the BP oil spill that pumped more than 200 million gallons of oil into the Gulf spurred Dunn to action, and she began thinking of ways to develop her own place-based, sustainable line of bags that would not be dependent on synthetic materials and the oil industry, bags that could inspire locals to be mindful of the environment and bring in enough sales to channel support to Louisiana conservation efforts, too.
Three years later, Tchoup Industries was born. It celebrates its fifth anniversary this month and first full year in its own retail space and manufacturing shop on St. Mary Street, just off Magazine.
"It began as a way for me to feel more connected to my community, but from there it became so fulfilling creatively," Dunn says. "When you're designing for other brands that aren't your own, that can wear you down after a while."
Not only do her locally-sourced bags and wilderness-ready designs encourage exploration, but Dunn also spends a lot of her spare time thinking creatively from her canoe.
"Going outside and immersing myself in nature always recharges me," Dunn says. "I like to use the Japanese phrase 'forest breathing' for these necessary boardwalk hikes and bayou paddling getaways. There's nothing more inspiring to me right now than the mysterious landscapes, flora and fauna of southern Louisiana."
A staple at regional festivals and arts markets, Tchoup bags recently made a debut at The Good Shop, a Canal Street makers' collective boutique operated by Tippy Tippens of Goods That Matter.
Tippens calls Dunn highly organized and a clear communicator, vital skills for a creative entrepreneur.
"Patti has accomplished a lot in a few years and she's created an amazing team of wonderful people that help make Tchoup a friendly and trusted brand."
Dunn is planning a series of fresh silhouettes for her new bags in 2018, and will be connecting with more local makers and eco-friendly businesses for collaborations.
"What's most important to me is that we use not only all natural materials, but that we connect with local creatives, too," Dunn says. "In that way, I think all that Tchoup stands for taps into the resourceful nature of this great city."
Q&A
When you're not at Tchoup Industries, where would we most likely bump into you?
You'd find me walking around Audubon Park, in a Reyn yoga class, or frequenting any restaurant, coffee shop, or bar within a 1-mile radius of the Tchoup Industries shop, because I also live about 10 blocks away. Some of my favorites are HiVolt Coffee, Lilly's Café for Vietnamese, French Truck Coffee, Bakery Bar, Turkey & the Wolf, and Stein's Deli. Just next door to us is DNO Records / Disko Obscura which is great for shopping, and the Saint Claude Social Club just around the corner.
Has your perspective on New Orleans changed since you first arrive?
This year marks 10 years that I've lived in New Orleans. Becoming a business owner has really changed my perspective, because I appreciate tourists more, and I'm rooted to the city in an impactful and responsible way. I miss the free-spirited days of my first years here, but am so grateful for doors that have opened through hard work.
You recently held an event for your staff to share their other creative projects and artwork. What does it mean to you that Tchoup has cultivated a team of multi-talented creatives?
I am so proud of everyone's versatile talents. Our staff has professional musicians, teachers, trained artists and emerging makers. Having passion projects outside of day-to-day tasks is what helps keep our team — and probably everyone — inspired, well-balanced and happy human beings. The 'Secret Lives' event was a great excuse to draw back the curtain on our personal projects and celebrate the joys and necessity of creative expression.
Comments
comments