The Alexis de Tocqueville Society of United Way Hosts Its "Award Ceremony and Gala"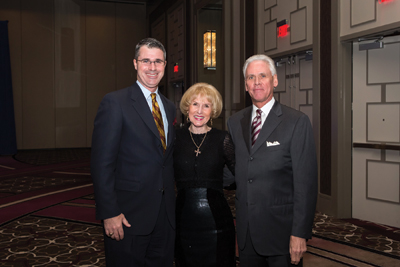 The Alexis de Tocqueville Society of United Way of Southeast Louisiana honored outstanding local community leader, volunteer and philanthropist Carol Wise with its highest award this past November. The ceremony and gala were hosted at the Hyatt Regency New Orleans.
Local leader and devoted mother and grandmother, Carol Wise has played a pivotal role in the rebuilding efforts of New Orleans, particularly in child care reform. Her involvement with the Child Care Rebuild Collaborative and Success by 6, a WLC initiative, has directly resulted in large-scale improvements in early childhood education and child care programs throughout Louisiana since Hurricane Katrina. Wise is also a founder of the Women's Leadership Council of United Way, which works to improve the lives of New Orleans area women and girls.
Event chair and past recipient of the Tocqueville award for her own philanthropic work, Flo Schornstein organized a spectacular night recognizing Wise's extraordinary achievements. Local legendary newscaster Angela Hill emceed the gala.
The evening began with a cocktail reception and performance by the Joe Simon Band, followed by a delightful dinner of braised ribs, root vegetables and a seasonal berry financier.
Highlights of the gala included a surprise second-line formed in honor of Wise, with music by the Treme Brass Band.
The gala raised over $100,000 for United Way, while paying tribute to one of Louisiana's most beloved community leaders.
---
Event at a Glance
WHAT
"2012 Alexis de Tocqueville Society of United Way of Southeast Louisiana's Awards Ceremony and Gala"
WHEN
Thursday, November 15
WHERE
Hyatt Regency New Orleans