The Art of Crime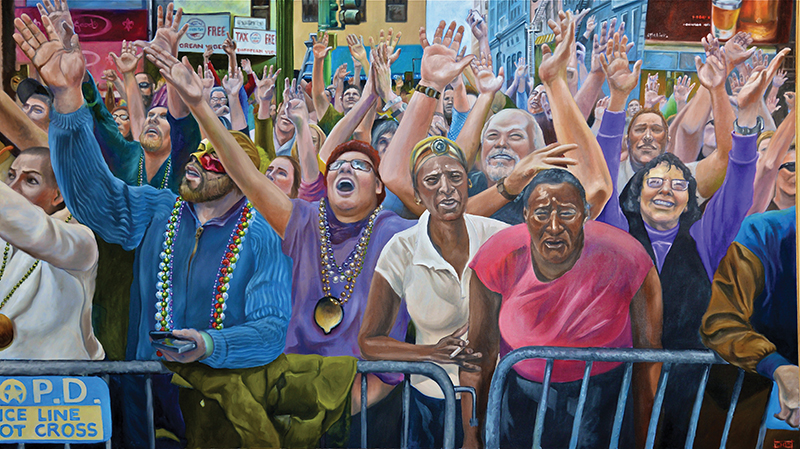 The French artist Georges Braque once described art "as a wound turned into light."
In New Orleans, Detective Charles Hoffacker, a 14-year-veteran of the New Orleans Police Department, is shinning light on the city's wounds through his art.
Watching the evening news, one can't help but wonder how police and other first responders deal with relentless violence and scenes of bullet-ridden young bodies bleeding out in the nation's inner-city streets, or the gut-wrenching cries of a grief-stricken mother reaching for the lifeless body of her young son lying in a gutter.
This is Charlie Hoffacker's world. It is a dark and violent place that could corrode any sense of humanity. The 37-year-old former homicide detective and now sniper and member of the department's Tactical Intelligence Gathering Enforcement and Response team, or TIGER team, has seen it all. Yet, he approaches his job with great compassion expressed in words and through his art. His paintings are a sanctuary, a cathartic bridge between these two worlds.
Hoffacker's portraits of victims of violent crimes, murderers and the weapons they use are heart-pounding commentaries on life, despair and violence in the underbelly of a city that loves to celebrate its culture.
"I attack those issues from a cynical angle. It's more intelligent that way," says Hoffacker, glancing across his crowded home studio to a stack of paintings leaning against a wall. "I could paint landscapes and they would be right, but that's not the kind of art I want to do. Some people find my paintings offensive, but I like to shock them and make them think. I want to ignite some passion to solve the problems."
Hoffacker joined the force in 2004, a year before Hurricane Katrina devastated New Orleans. Born in New Mexico, he moved to Chalmette, in 1996 when he was 15 to join his mother with whom he has had a long, troublesome relationship. After graduating from Chalmette High in 1999, he worked at various carpentry jobs until a friend mentioned the New Orleans Police Department was recruiting new applicants. Though he didn't care much for police at the time, he applied and was accepted. After finishing the academy, Hoffacker was assigned to patrol duty. He later rose to detective and in 2016 joined the TIGER unit.
Along the way, Hoffacker enrolled in Delgado Community College's criminal justice program to advance his career. While there, he took art courses where he learned how to use conceptual art to relieve the hollowness, sorrow and angst that builds up in him after facing almost daily violence. It's a tool and a reprieve from it all.
That reprieve came to a temporary halt in April 2018 when the studio he shared with another artist burned to the ground, destroying his materials and paintings, including those for an upcoming show. Following the fire, scores of police officers, strangers, artists and gallery owners rushed in to help him start over with gifts of money, art equipment and, more importantly, kindness.
"My work focuses on the darkest side of humanity," he says. "In a large way, I am grateful for the fire. I get emotional knowing that people believe in me, which is humbling but incredibly encouraging, especially coming from such a tumultuous childhood. I don't know how the fire will affect my work, but I have this passion backed by this love to create even more intense work."
In recent years, Hoffacker has explored themes from politicians and heads of state to hardened criminals. In his series "Angel Wings," for instance, he created mosaics of angel wings with hundreds of spent 40-caliber bullet casings gathered from the police shooting range. A 2015 series, "Every Corner," deals with the homeless. He buys their cardboard signs asking for help and then paints their portraits on them to "reflect the humanity behind the signs." He donates 50 percent of those sales to Catholic Charities.
Another series, "Picture This, Ya Heard," are portraits of murderers or victims of gun violence. One case stands out. In 2014 a shooter killed a young man named Buck Cheneau. Hoffacker got close to the family during his investigation.
"I connected with that family and their pain," he says. "Painting Buck's portrait seemed like something I could do outside police work to help them. They invited me to Thanksgiving dinner, but I didn't go. I was a reminder of their loss. It's hard for me not to be upset by a case like that. You get passionate about solving the crime because it hurts."
Hoffacker later arrested the killer.
In another, he created a portrait of an infamous New Orleans street criminal not with paint but once again in a mosaic of spent bullet shells.
Perhaps his most controversial paintings depict AK-47 assault rifles draped with Mardi Gras beads or morphed into musical instruments. Both "celebrate" clashing cultures in New Orleans.
"New Orleans has two sides," Hoffacker says. "It's violent and a party town. The AK-47s and Mardi Gras beads are a merging of these two sides. All we worry about is partying or we party to forget the violence. Some people hate these paintings. I got a call from a man who said he couldn't believe I celebrate violence like this. I explained, but I'm happy my point got through and got that kind of response. It made him think about it. The AK-47 is the weapon of choice for criminals in New Orleans. It's such a violent weapon. It's brutal. It's raw."
Hoffacker describes his powerful AK-47 paintings as his "Blue Dogs," referring to artist George Rodrigue's ubiquitous Blue Dog series.
Since the April fire, Hoffacker has refocused his new paintings on the TIGER unit's crime-fighting work and how criminals often celebrate their crimes.
"A lot of offenders are brazen while committing crimes," he says. "They are ostentatious and sometimes pose with their guns on Facebook. They brag about killing people. I'm so excited about this series that I lay awake at night thinking about it."
Although art is an essential part of his life, Hoffacker says he can't imagine being anything other than policeman.
"I love my job," he says, glancing at an incoming call on his cell phone. "I'd probably make more money from my art, but the unit I'm in has been so successful in solving crimes that I couldn't live with myself if I abandoned my work."
For more information about Hoffacker and his work, visit charleshoffacker.com
---
EXHIBITIONS AND EVENTS
Through Nov. 4
New Orleans
Ogden Museum of Southern Art. "Louisiana Contemporary." Annual juried exhibition, featuring contemporary artists from throughout Louisiana. ogdenmuseum.org
Nov. 10-11
Covington
Three Rivers Art Festival. The two-day, outdoor art festival takes place in historic downtown Covington and features artists from Louisiana and 28 other states. threeriversartfestival.com
Through Nov. 11
Shreveport
R. W. Norton Art Gallery. "Enlist! Art Goes to War, 1914-1918." See what life was like in Shreveport and Caddo Parish during World War I and how artistic posters were used to urge men to enlist and women to become nurses and join the Red Cross. rwnaf.org
Through Dec. 3
Shreveport
Meadows Museum of Art. "Devil in a White City." Large paintings by Lavar Munroe, portraying subjects deemed to be devils in current world affairs as opposed to actual perpetrators of evil. Also, "Aún Recordamos Aquel Hogar." A use of place as a character in visual narrative, through the artwork of five contemporary LatinX artists. themeadowsmuseum.com
Through Dec. 21
New Orleans
Newcomb Art Museum of Tulane University. "Empire." Celebrating the New Orleans tricentennial, Empire is an art installation by Los Angeles artists David Allen Burns and Austin Young that explores the history of people and place in terms of cultural legacy, historical narrative, and social constructs through the lens of Tulane's collections. newcombartmuseum.tulane.edu.
Through Dec. 29
Lafayette
Paul and Lulu Hilliard University Art Museum. "A. Hays Town and the Architectural Image of Louisiana." The exhibit focuses on the noted Louisiana architect A. Hays Town's residential designs and showcases the evolution of Town's work from the Modernist designs to his later iconic residences inspired by the historic architecture of the American South. hilliardmuseum.org
Through Dec. 29
Shreveport
Artspace. "Artspace Holidaze." The Shreveport Regional Arts Council will be spreading cheer throughout ARTSPACE this holiday season with a gallery of fine art by Northwest Louisiana artists, a Christmas bazaar and a Winter Rental Wonderland custom designed for your holiday parties. artspace-shreveport.com
Through Dec. 31
New Orleans
New Orleans Museum of Art. "Orientalism: Taking and Making." Artworks taken from NOMA's collection explores oppression, racism and superficial cultural concepts as portrayed in 19th-century Orientalist paintings, photographs and decorative arts. noma.org
Through Dec. 31
Lake Charles
Historic City Hall Arts & Cultural Center. "Animation Art of Looney Tunes and The Pink Panther." Through animation cels and production sketches, this exhibition explores the Looney Tunes characters and Pink Panther and their capers as brought to life. 337-491-9159
---