The Contemporary Art Center's '2013 SweetArts Honoree's Reception'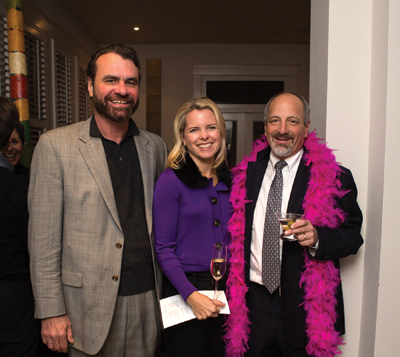 Every spring, the Contemporary Arts Center of New Orleans celebrates the city's "SweetArts" and honors the "individuals and organizations that embody the heart and soul of the New Orleans cultural arts community." This spring was no exception, and Thursday, February 28 kicked off the festivities with the 2013 "SweetArts Honorees' Reception" at the home of Allen Eskew.
Nici Eichberger and Gregg Porter served as co-chairs of the event, and CAC Executive Director Jay Weigel introduced the 2013 honorees: Court 13, the Oscar-nominated creative team that produced Beasts of the Southern Wild; the Free Southern Theatre, which is celebrating its 50th year; Patricia Fullmer, patron of the arts; Marie Lamb, arts educator; Chandra McCormick, documentary photographer; and Paul Sanchez, musician and creator of Nine Lives, a "musical story of New Orleans."
In the historic neighborhood of Faubourg St. John, Allen Eskew graciously opened his newly renovated home to the CAC, where the honorees were celebrated for their artistic achievements that have made New Orleans proud. JOEL Catering provided fantastic dining fare, which included lobster corn dogs with passion fruit aioli and marinated artichoke medallions. Guests were also delighted by the buffet that was stocked with truffled mushroom dip and homemade potato chips, which proved to be a "showstopper."
The reception preceded the "SweetArts Bash," held Saturday, March 9, at the CAC warehouse, which featured one-night-only art installations and performances. Guests arrived in black-and-white cocktail attire and left as transformed colorful creations by CAC creative artists.
---
Event at a Glance
What: "2013 SweetArts Honorees' Reception," benefiting the Contemporary Arts Center
When: Thursday, February 28
Where: The home of Allen Eskew