The Culinary Illusionist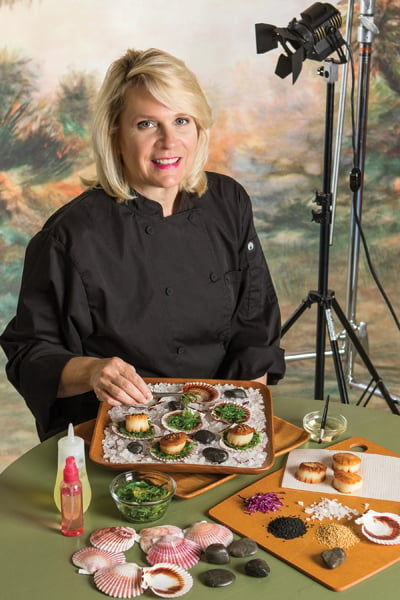 Multiple nominations, not just awards, often guarantee future seasons for TV series. So when the Academy of Television Arts and Sciences announced its nominations for the 67th Primetime Emmy Awards, fans of American Horror Story: Freak Show were encouraged after it picked up 19 nominations, trailing second behind HBO's Game of Thrones with 24 nods.
Louisiana's premiere film and TV food stylist, Kendall Gensler, created the evocative culinary scenes for Ryan Murphy and Brad Falchuk's AHS episodes, including the unforgettable wedding dinner. "It's so much more involved than people think," she notes. "On screen, the food is a flash in the pan, so it needs to burn bright." Like Superman, Gensler steps into a tent for a while, and then emerges with gorgeous platters that must be repeatedly retouched, since each scene requires multiple takes. In the case of the movie, Green Lantern, Gensler fashioned the big outdoor cocktail party scene. "We shot it for 30 days and nights," she says. The helicopter crashes into the guests and all the food.
Although AHS pulled out of New Orleans and began filming in L.A., Season 5 ("Hotel"), premiering in October, promises more steamy horror scenes with the debut of an evil Lady Gaga and her Matt Bomer/Finn Wittrock kinky love triangle. Could there be bizarre dining scenes at the hotel in the works? Wink.
The choice of former Saturday Night Live's Andy Samberg (who nabbed an Emmy for writing the SNL tune "Dick in a Box") serving as host for the live September 20 Emmys broadcast is right on the money. He craftily delivers movie star jabs and witty remarks on socially relevant issues. Hot topics: Transparent (11 nominations) soaring after Caitlyn Jenner came out mid-season.Amazon gave the green light for Season 3, even before premiering Season 2 this fall (with a Jenner segment).
Styling TV series and feature-length films hasn't been Gensler's only beat. She also styles varied commercials ("Pick Your Passion") and is the publisher of Culinary Concierge magazine. She obtained a Diplôme at Le Cordon Bleu in Paris. One of the most iconic food scenes simulates Le Cordon Bleu in the movie Julie and Julia, when Meryl Streep (playing Julia Child) is trying to whip up a glossy meringue. Gensler worked with Julie and Julia's lead props master, Diana Burton, on the set of Terminator Genisys; Gensler did the food. Props master Burton did another foodie favorite, It's Complicated, featuring a giddy, stoned Streep making chocolate croissants with Steve Martin.
"Diana called me to do a very quick turnaround on some cocktail party hors d'oeuvres and a birthday cake for character Kyle Reese," Gensler recalls. "But I didn't realize she was the props master on Julia and Julia, the single modern film that has brought food styling into the forefront of filmmaking, until I was summoned to her office. She wanted to compliment my work! Had I known this about her, I would have been intimidated."
Aside from being a gourmet chef, Gensler is considered a period-specific specialist. Case in point: scenes from Abraham Lincoln: Vampire Hunter, where taxidermy was specified. Her elaborate, pheasant-laden table had multi-tiered platters of oysters on artificial ice with marsh grass, game bird pies with gorgeous scalloped-edge pastry tops garnished with feathers, suckling pigs and ham with a hoof.
One of the key factors in styling food for film involves always having enough. In the movie Django Unchained, Gensler created a bountiful French repast for a dining scene with Leonardo DiCaprio. "I had 300 pounds of thick steaks in an outdoor kitchen, and I cut and cooked as they needed them. Actors often pretend to eat, but no matter what, they have to cut the meat."
Filming of the formal dinner scene was so intense that DiCaprio actually cut his hand on a brandy glass and he continued to act. The scene was kept in the movie. "I had to do a bone-in filet and brought it to director Quentin Tarantino for approval. He wanted something yellow added," Gensler notes. After researching his movies including Kill Bill, she adds pattypan squash, to Tarantino's delight.
Aside from using tricks like minced olives to resemble caviar in AHS, Gensler keeps things as close to real as possible. "In a sense, you're taking a multi-dimensional item, and you have to bring it to life as a one-dimensional entity," she says. "I manipulate the food for the camera with plating tricks, pops of color and other enhancements to make it the most delicious and inviting dish possible."