The Dog Days of Summer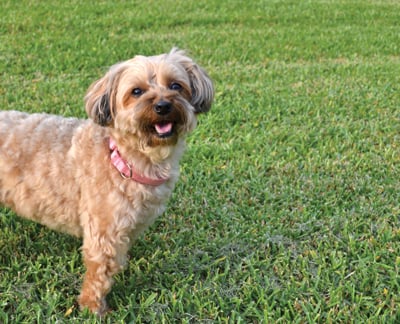 The dog days of summer are upon us, and the dogs aren't complaining! New Orleans is no doubt a dog-friendly city, and with a variety of pet-centric boutiques, day cares and events, dog lovers in this town have it made. For growing trends in pet services and products, we've turned to local experts for the latest in all things dog related. Unleash the love this summer with some of the following treats for both you and your furry friend.
Diane Lundeen, owner of Petcetera (3205 Magazine St., 269-8711, PetceteraNewOrleans.com), sees a growing a trend in the world of weddings, where often the "best man" may be substituted for "man's best friend."
"I have outfitted more brides' dogs and grooms' dogs than ever before in my life," says Lundeen, who offers doggy tuxes, bowties and other wedding garb for canines. "We've been doing attire for a while, but this adds a new dimension. It's fun for me because I make a lot of the stuff – custom patterns and pieces, such as bowties to match cummerbunds."
In connection with wedding outfits, Lundeen has also seen a rise in wedding cakes made especially for the participating pup. A selection of cake designs includes multi-tiered circular, heart-shaped or bone-shaped cakes made with human-grade products based on the dog's diet and any present food allergies.
A full-service pet boutique, Petcetera offers grooming along with numerous other services and products, and a new self-serve tub for grooming has proven useful for budget-conscious locals.
"We have an old claw-foot tub in which you can safely and gently restrain the dog, and it's less stressful for the dog, who's eyelevel," says Lundeen. "You're not bending over your tub or ruining your bathroom with hair. We offer a gentle spray hose, apron and towels, and we clean up the mess so you don't have to."
Lynn Morvant of Jefferson Feed Pet & Garden Center (4421 Jefferson Highway, 733-8572, JeffFeed.com) has begun offering a new and uniquely southern treat for dogs. With a wetlands-saving mission, Marsh Dog aims to create a market for the lean, high-quality meat of nutria – the semi-aquatic mammal whose invasive species has endangered Louisiana's critical marsh.
"Marsh Dog treats are made in Baton Rouge and are ecologically correct. We've been selling them for about a year now and dogs love them," says Morvant. The popular new nutria treats ring in at $7.99 and have grown in popularity since hitting the market. The all-natural treats use local ingredients and earned Marsh Dog the Conservation Business of the Year award in the Governor's Conservation Achievement Recognition program.
In addition to pet supplies and grooming services, Jefferson Feed's weekly adoptions continue to be popular on Saturdays. "Adoptions are big here," says Morvant. "We partner with local groups every Saturday from 10 a.m. to 2 p.m., and then we also keep three to four dogs and around 20 cats from the Jefferson SPCA on hand for adoptions during the week.
In addition to their Jefferson Store, Jefferson Feed also operates the Neighborhood Pet Market (488-8118, NeighborhoodPetMarket.com) in Mid-City, which will soon be moving into a new and larger building across the street at 231 N. Carrollton Ave. More than doubling in square footage, the move will bring gardening supplies and other items the store hasn't been able to offer, including small pets and a large aquarium section. Additionally, the new Jefferson Feed location will partner with Pet Care Center, offering a full-service neighborhood veterinarian.
"We'll move from the Neighborhood name to Jefferson Feed, and we'll be able to offer soil, mulch and garden supply – everything for your pet and your garden," says Morvant. The summer grand opening has yet to be set, but customers and neighbors are welcome to visit the website or like Jefferson Feed on Facebook for updates on the move and more information about available products such as the more than 20 brands of natural and premium pet foods offered.
Whether in the home or away, pet day and night care continue to afford pet owners and their dogs piece of mind with services such as day care, boarding, walking, playing and training. Owners with long workdays, guilt about infrequent walks, high-energy or anxious dogs have found comfort in businesses like Camp Bow Wow (2731 Tchoupitoulas St., 891-DOGS (3647), CampBowWow.com/neworleans), who offer a variety of services for those on the go. Described by Camp Director Deb Lunsford as a "true camp" with games, activities and general four-legged fun, Camp Bow Wow offers early drop-off and late pick-up, allowing clients to focus on their daily routine while Fido plays with Certified Camp Counselors® and his or her favorite friends.
Camp Bow Wow also offers in-home services such as their Home Buddies program. Offering pet sitting, dog walking, pet waste removal/pooper scooper services and more in both Orleans and Jefferson parishes, Home Buddies is perfect for the dog that prefers its own environment. Additionally, Bow Wow Behavior Buddies is Camp Bow Wow's premier dog behavior and training program created to help you modify your canine player's behavior issues, teach a new puppy the game or make an already good dog an impressive MVP.
Offering daycare, boarding and grooming services Uptown, Canine Connection (4920 Tchoupitoulas St., 218-4098, CanineConnectionNola.com) boasts large suites with outdoor patios, available cage-free boarding, cat condos, curbside drop-off, doggie swimming pools, playrooms, numerous outdoor areas and even coffee and internet for owners. Canine Connection "keeps your pet at play while you're away" and offers 24-hour on-site supervision and webcams for added security and peace of mind. Birthday parties and play-area rentals allow pet owners the ability to join in the fun. The facility houses Canine Culture in the front of the building, the company's doc-centric retail store, which supplies everything from Saints and Louisiana State University dog gear to all-natural food and treats.
This October, the Louisiana SPCA (1700 Mardi Gras Blvd., 368-5191, la-spca.org) will celebrate its 125th birthday in New Orleans. The oldest animal welfare organization in the state, the LA/SPCA provides care and basic medical services for thousands of homeless and unwanted animals each year. Upcoming summer fundraisers and events include "Pause 4 Dinner (and Lunch!)" on Thursday, June 13, and their annual fashion show, "Alegria," on Saturday, August 17.
For the first time, proceeds from the popular dining-out fundraiser "Pause 4 Dinner (and Lunch!)" will include the lunch hours at participating restaurants, where 20 percent of proceeds will go directly to the LA/SPCA. A long list of restaurants includes a diverse range of eateries in practically every corner of the metro area. From casual burger and dog joints to romantic fine-dining bistros, area restaurants allow you to indulge for a great cause.
On August 17, fashion takes over Generations Hall as part of "Alegria," a fashion-centric fundraiser complete with a fashion designer show and competition, a silent auction, specialty cocktails, local celebrities and more.
For tickets and table sponsorships to "Alegria" and for a list of participating restaurants in "Pause 4 Dinner (and Lunch!)," visit the LA/SPCA website. Events like these prove that the dog days of summer aren't just for dogs; you can have fun, too.