The Good Life: Cajun Country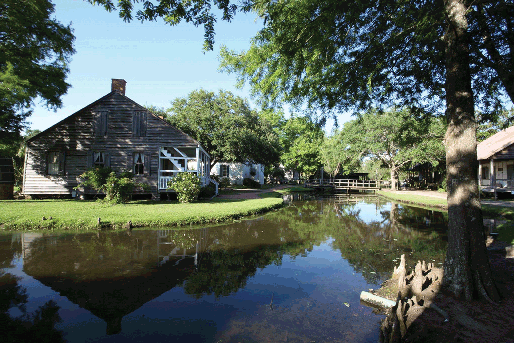 Nestled in the southwest corner of Louisiana, Cajun Country is a place where family, food and fun take center stage. People from all over love to visit, eager to dance a two-step or taste the famous filé gumbo. But Cajun Country is also a great place to live, too, especially if you long for a retirement that takes life a little easier. It's a region where people know that "passing a good time" is for every day, not just weekends, and where newcomers become friends in no time.
The roots of Cajun Country go back to 1755, when the British expelled more than 12,000 French people from the Nova Scotia area. These Acadians were the ancestors of the Cajuns who populate the region today. Along with their French language, they brought their love of hunting, trapping and fishing. Today, a real effort is being made to keep the French language alive.
Living in Lafayette, Lake Charles
Those who retire in Southwest Louisiana have their pick of cities and towns from which to choose. Many gravitate toward Lafayette, sometimes called the capital of Cajun Country, known for its beautiful historic homes. The University of Louisiana in Lafayette is a great place for retirees to learn something new; there is also a lot to discover at such living history museums as Acadian Village and Vermilionville.
Lake Charles, located about halfway between New Orleans and Houston, offers a wide variety of neighborhoods. The 20-block Charpentier District is filled with Victorian gems, but newer subdivisions have houses in many price ranges. Lake Charles offers plenty to do, from trying your luck at the beautiful L'Auberge du Lac casino resort to exploring the 180-mile Creole Nature Trail, an ideal place for enjoying nature.
Small towns with Flavor
Cajun Country's many small towns are also ideal spots to retire. Each has its own trademark; Crowley, for instance, says life there is "rice and easy," a motto that reflects the rice industry there. That heritage is celebrated each October at the International Rice Festival.
In St. Martinville, you can tour the Evangeline State Historic Site, which pays homage to the story of the Acadians. Mamou is the spot to dance the Cajun two-step at Fred's Lounge, while Breaux Bridge celebrates the crawfish harvest every year at a popular festival. Eunice is home to the Prairie Acadian Cultural Center; you can take in the Cajun Grand Ole Opry, Rendez-Vous Des Cajuns, at the nearby Liberty Theatre.
Thibodaux, just about an hour from New Orleans, is another popular small town. Besides being the home of Nicholls State University, it's known for the Thibodaux Regional Medical Center.
What's for dinner?
As you might expect, meals in Cajun Country emphasize fresh ingredients, whether it's the region's abundant seafood or homegrown fruits and vegetables. Some people think all Cajun cuisine is hot; the area is home to the makers of the famous Tabasco pepper sauce. But the food is more flavorful than hot. Cajun cooks know the secrets of seasoning passed down through generations.
You can visit one of the many popular restaurants in the area, but one of the most enjoyable ways to savor Cajun Country's bounty is to spread some newspapers on a picnic table; empty out a pot of boiled crawfish, corn on the cob and new potatoes; and get cracking. It's the kind of neighborly entertainment that always has room for one more.
If you yearn for a retirement home where snow and ice won't keep you indoors for most of the year, visit Cajun Country. Once you fish in its many lakes and rivers, visit its many parks and historical sites and sample its delicious cuisine and music, you'll see why retiring in Cajun Country is music to so many people's ears.