The Grand Dame of Louisiana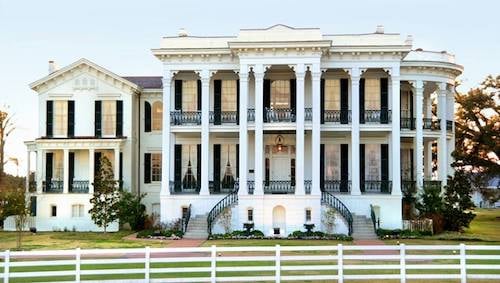 While Louisiana is riddled with plantations, especially along the mighty Mississippi River, the grand dame of them all – the largest plantation in the entire South – is Nottoway Plantation and Resort. This sprawling, majestic "White Castle" and its 15 acres of stunning landscape, cottages and resort facilities is only 60 miles upriver from Oak Alley in White Castle, Louisiana. Nottoway – also a National Historic Landmark – is a premier historical resort with AAA-Four Diamond Award luxury accommodations and amenities.
A visit to Nottoway's 1850s sugarcane plantation certainly leaves one awed by its captivating grandeur and glory. When you lay your eyes on the massive 53,000-foot Greek Revival and Italianate-styled mansion, and then walk through this picturesque setting, it's almost surreal and, like many visitors, you may feel as though you were dropped right into the cinematic scene of the Antebellum Era.
If you've seen other plantation mansions, you'll know instantly how opulent Nottoway is in comparison. If you haven't seen other plantations, you will still be awestruck over this "castle." Builder, John H. Randolph, spared no expense in its construction in the 1850s—from the extraordinary plaster frieze craftsmanship and meticulous hand-carved molds with changing designs from room to room, to 12 hand-carved Italian marble fireplaces. The opulence doesn't end there. You will also find Mahogany stairways, which were once covered in velvet, and a grand double staircase adorning the front of the mansion with a ladies and a gentlemen side for etiquette sake. (Fun Fact: The mansion itself has 64 rooms, with a total of 365 doors and windows, which Randolph wanted to represent the 365 days of the year.)
Perhaps most amazing was the unprecedented engineering taking place throughout the mansion. There were flushing toilets, gas lighting and hot and cold running water in the bathrooms, all unheard-of features of its time. There was no expense sparred for Randolph's children as well, as he constructed a large 10-pin bowling alley on the first floor for their enjoyment. (Fun Fact: Nottoway's palatial structure was used as inspiration for the animators of the Disney movie "The Princess and the Frog.")
If you can, spend two nights at Nottoway, because it will be hard to leave after just one day. Before delving into its captivating history, a great option is to spend the first day by basking in its hypnotic atmosphere and enjoying amenities that will surely please and whisk you away.
After checking into your luxurious one-of-a-kind accommodations, indulge with a refreshing quintessential Louisiana cocktail from The Mansion Bar and Lounge (or perhaps a frozen lemonade) and stroll the lush grounds dotted with magnificent 200-year old oak trees and beautiful gardens lush with native plants and flowers. (Tip: When making your reservations, request that a bottle of chilled champagne be waiting in your room.)
You can also opt for a dip in the gorgeous pool, soak in the hot tub, or grab one of several complimentary bikes and explore the area, which is surrounded by sugarcane fields and the Mississippi River. Guests can peddle atop the levee, which skirts the Mississippi and is only 200 yards feet from the front of Nottoway. (Fact: Some of the sugarcane fields surrounding Nottoway are original to the plantation, and that very sugar is used in many of the desserts served here. Nottoway Plantation included 6,200 acres in 1860.)
There are 40 different elegantly appointed accommodations at Nottoway with lodging options ranging from cottages, grand suites inside the plantation, and honeymoon suites, one of which has its own private pool. You can sleep like the Randoph family did in the 1800s in their very rooms inside mansion; these rooms are full of antique furniture and decor from the era and some even contain original furnishings. (Tip: You can see the Mississippi River and boats passing by from the grand windows inside the Cornelia Randolph Room, which is located on the third floor. Every other Saturday, the American Queen Steamboat is docked on the banks of the river right in front of Nottoway; it's truly a sight to behold.) By the way, all rooms have flat-screen TVs with cable and high-speed wireless internet.
Overnight guests of Nottoway are free to roam about the mansion, which is truly a special experience because traditionally visitors are only able to walk through the home with a guide during daytime tours. This privilege is an awesome, intimate experience and will give you a more realistic feel of what it must of have been like to live in this "white castle." The marriages of seven of the eight Randolph daughters took place in the white ballroom. Its crowning jewel was its massive oval ballroom, running the length of the house and painted entirely white, in order to display the parading Randolph beauties to their best advantage. There are some instruments, furniture and other items original to the home, which belonged to the Randolphs, still inside the mansion. (Tip: If you get a chance, ask Bob, who works plantation security at night, if there are any ghosts at Nottoway.)
Stop and take a breather, sit in an oversized rocking chair and enjoy the riverfront breeze and expansive view of the river from the mansion's massive second and third floor balconies. (This is a special experience under the moon and stars at night as well.) While you watch boats traverse the river, you can almost imagine what it was like as occupants of Nottoway in the 1800s passed the time away watching steamboats trudging up and down river – a sight of yesterday still seen today.
Your stay also includes access to the fitness center, tennis courts and a scrumptious, full plantation breakfast at the Mansion Restaurant, and you can either order breakfast from the menu or opt for the buffet, which includes several house-made options. (Tip: Be sure to meet Arlene, a fixture who has been working at Nottoway for nearly 20 years, and serves breakfast and lunch.)
Whether eating breakfast, lunch or dinner, request a table or make a reservation for a window view so that, while dining, you can enjoy the view of the breathtaking grounds. (At night, the magnificent 200-year old oaks and the surrounding cottages are lit up and provide a stunning view.)
The men behind Nottoway's mouthwatering cuisine are executive Chef Michael Loupe and sous Chef Brandon Geske, the latter of which started cooking at home when he was just eight years old and has learn the trade under Chef Loupe's wing. Geske will quickly tell patrons, "My success is all due to him (Loupe); he is like a father to me." (Dinner Menu Tip: The jumbo lump crab cake and Brandon's sugar cane chicken, made with raw cane sugar from Nottoway's sugarcane fields, are sure-to-please appetizers. Tempt your taste buds with the chicken and sausage gumbo, and entrees roasted duck 31, shrimp and crab tagliatelle pasta and prime rib are musts.)
There are two types of historic tours offered at Nottoway: one a self-guided audio version, the other with a guide dressed in period clothing. Nottoway suggests taking both tours to get the best of both worlds, since each provides a different experience. The self-guided tour is great because, with a touch of a button, you can hear interesting facts and details about Nottoway at your own pace, and stop-and-go as you please. (Fun Fact: The audio recording is of an actor portraying John Randolph, but using Randolph's own descriptions of Nottoway.) (Tip: After your tour, visit Le' Café' and pick up a 'Meal-To-Go', which is a sampling of traditional Louisiana food, and then picnic under the grand oaks.)
Do not miss Nottoway's museum and theater. When you experience this fascinating treasure trove of history, you will walk out with one of the most realistic and deep perspectives of the Randolphs and plantation life of this historic era. Intriguing artifacts belonging to the Randolphs and from the period are displayed in the museum. Do not miss the 10-minute fascinating film that gives the history of Nottoway and the Randolphs' empire. (Tip: Block out an hour to experience all that is offered in the museum.) There is also a fascinating cemetery on the grounds, which includes the burials of some Randolph family members.
There is no doubt that a trip to the antebellum South along the Great Mississippi River Road, will take hold of your soul and sweep you off your feet with all the grandeur and captivating history of a bygone era.
For more information: