The Great Louisiana Quiz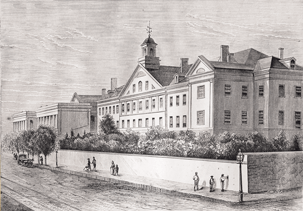 Pictured above is what was then the newly built Charity Hospital in New Orleans, which opened in 1832. This was the fifth building in the succession of Charity hospitals. The original opened in 1736 with money left in the will of Jean Louis, who wanted to provide for the city's indigents. What was his profession?
A. Medical doctor and lawyer
B. Sailor and ship builder
C. Slave trader and cotton broker
D. Politician and businessman
This town has been known as the site of a leprosarium. Which is it?
A. Homer
B. Winnsboro
C. Carville
D. Bordelonville
Huey Long's last words were uttered in which Baton Rouge hospital?
A. Baton Rouge General
B. Baton Rouge Charity
C. Our Lady of the Lake
D. Baptist
Earl Long was once committed to a state mental hospital located near what town?
A. Tallulah
B. Minden
C. Lake Charles
D. Mandeville
Dr. Alton Ochsner, who founded the hospital that carries his name, was a pioneer in what area of research?
A. Discovering a cure for AIDS
B. Developing a vaccine for polio
C. Researching cures for malaria and yellow fever
D. Linking cigarette smoking and cancer
Which Louisiana member of Congress is also a medical doctor?
A. Charles Boustany
B. Charles Melancon
C. Rodney Alexander
D. Jim McCrery
Former Louisiana State University football star and state senator Tommy Casanova also has a medical degree. What is his field?
A. Pediatrics
B. Sports medicine
C. Oncology
D. Ophthalmology
Louisiana's first American governor was W.C.C. Claiborne. During his first year in office, he lost his wife, daughter and private secretary to what disease?
A. Malaria
B. Polio
C. Scurvy
D. Yellow fever
Before being stopped by the Federal Trade Commission, former state senator Dudley LeBlanc marketed an alcohol-rich tonic that he described as "formulated as an Aid to Nature in rebuilding the Pep, Strength and Energy of Buoyant Health when the System is deficient in the Vitamins and Minerals found in this Tonic." What was the product's name?
A. Louisiana Lightning
B. Hadacol
C. Cajun Brew
D. Upandatem
Which Louisiana food is considered to be the healthiest?
A. Sweet potato
B. Cracklin'
C. Boudin
D. Bread pudding
Answer this BONUS QUESTION and be eligible to win an overnight stay for two at the luxurious PARAGON CASINO RESORT:
Five parishes have names that could be associated with the Civil War. Name the parishes and the towns that are their parish seats.
Send in your answer on a postcard addressed to:
Louisiana Life Bonus Question
110 Veterans Blvd., Suite 123
Metairie, LA 70005
Two winners will be drawn from among the correct answers. Each will receive an overnight stay for two at the recently expanded and remodeled Paragon Casino Resort in Marksville. Winners' names will be announced in the Winter '08 issue. For this issue, the question was: "Three Louisiana towns have the word 'green' in their name. Name them and the parishes that they are in."
The correct answer is: Evergreen, Avoyelles Parish; Greenwood, Caddo Parish; Greensburg, St. Helena Parish; Greenwell Springs, East Baton Rouge Parish. (We accepted any three of the four.)
Winners are: Diane Spigener, Athens; Lavenia Brocato, Metairie

ANSWERS
1.B 2.C 3.C 4.D 5.D 6.A 7.D 8.D 9.B 10.A

SCORING
Score 10 points for each correct answer:
0-20: Consult your nearest library.
30-60: Begin by buying a good road map.
70-90: You should run for office.
100: Candidate for a Ph.D. in Louisianaology.