The great Louisiana Quiz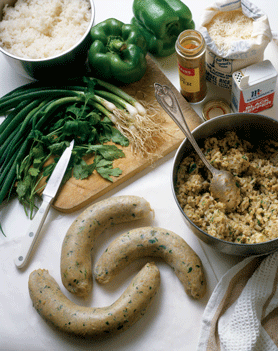 You tell your friend that you are going to a boucherie. He decides to surprise you and show up there too, only he thought you said you were going to Bunkie. While you are feasting on boudin, in what parish is the town where your friend is waiting?
A. Vernon
B. Evangeline
C. Winn
D. Avoyelles
While you are at the boucherie, someone with a Louisiana French accent offers you some gratons. Not knowing what that is, you refuse until you find out the English name. What are gratons?
A. Hogshead cheese
B. Boudin
C. Pork roast
D. Cracklins
While eating your boudin, you experience a sudden flashback to a crisp late-season night at Tiger Stadium in Baton Rouge. As the home team's defense tried to stop the opposition, the cheerleaders chanted, "Hot boudin, cold coush-coush, c'mon, Tigers, puush, puush, puush." Suddenly you snap back to the present and ask yourself, "What is coush-coush?" Although there are several variations of its spelling, what is it?
A. A snack made with sweet potatoes
B. A breakfast food made with cornmeal and usually served with milk and
cane syrup
C. A candy made with pecans
D. A type of ice cream made with
cane sugar
Your doctor puts you on an all-pancakes diet. He also recommends that you drench the pancakes in a Louisiana-made syrup. Which of the following is a Louisiana-made syrup, and what town is it made in?
A. Bruce's/Breaux Bridge
B. Steen's/Abbeville
C. Trappey's/Bastrop
D. Steen's/St. Martinville
You are worried because your friend's favorite reading material is beer labels. In a long shot attempt to expand his mind, you select a book about good ol' Louisiana politics that you think he might enjoy. In 1970 T. Harry Williams, a professor at LSU, won a Pulitzer Prize for this biography of Huey Long. What is its title?
A. All the King's Men
B. Socks on A Rooster
C. Kingfish
D. Huey Long
Your psychiatrist recommends that you just take it easy, rent a movie, relax. Because you are interested in politics, someone tells you about a movie called Blaze in which the main character is a former Louisiana governor. Who is the governor, and who played him in the film?
A. Huey Long/Broderick Crawford
B. Edwin Edwards/ Robert Redford
C. Earl Long/ Paul Newman
D. Jimmie Davis/ Errol Flynn
Although your probation officer warned you to stay away from motorcycle gangs, your favorite former governor is Mike Foster because on weekends he would sometimes ride his hog home from Baton Rouge. In what parish was the governor's hometown?
A. St. Mary
B. Ascension
C. St. Mike
D. Rapides
Your friend has this notion to float down the Atchafalaya River in an inner tube. You do not think it is a good idea, but you still help him locate the town nearest to the beginning of the river so that he can launch his tube from there.
What town is it?
A. Minden
B. Winnsboro
C. Simmesport
D. Bordelonville
On the way to visiting your uncle in Angola, you have a flat tire in Baton Rouge. Because you don't have any money, your friend mutters that you are "busted flat in Baton Rouge." That reminds you of a song. Who was the singer who popularized the song with that line?
A. Clifton Chenier
B. Janis Joplin
C. Aaron Neville
D. Harry Connick Jr.
Your friend remembers that he left his wallet at a pawn shop in New Orleans. He starts hiking to go get it. As he leaves, he turns to you and says, "Looks like I will be walkin' to New Orleans." That reminded you of another song.
Whose?
A. Leadbelly
B. Hank Williams
C. Fats Domino
D. Dale and Grace
Answer this BONUS QUESTION and be eligible to win an overnight stay for two at the luxurious PARAGON CASINO RESORT: Either as an interim or elected, Louisiana has had two female U.S senators and two female members of the U.S. House of Representatives. Who were they?
Send in your answer on a postcard addressed to:
Louisiana Life Bonus Question
110 Veterans Blvd., Suite 123
Metairie, LA 70005
Two winners will be drawn from among the correct answers. Each will receive an overnight stay for two at the recently expanded and re-modeled Paragon Casino Resort in Marksville. Winners' names will be announced in the May/June '10 issue.
For this issue the question was: Identify mascots of Louisiana colleges that are neither birds nor four-legged animals.
The correct answer included Centenary Gents and Ladies, UNO Privateers, McNeese Cowboys, Louisiana-Lafayette Ragin' Cajuns, Northwestern Demons, Nicholls State Colonels, Tulane Green Wave, Xavier Gold Rush, LSU-Shreveport Pilots, LSU-Alexandria Generals, Southern at New Orleans Knights and Dillard University Bleu Devils.
Winners were: Riley Venable, Houston; Mitch Maxwell, Sibley, La.
ANSWERS
1.D 2.D 3.B 4.B 5.D 6.C 7.A 8.C 9.B 10.C
SCORING
Score 10 points for each correct answer:
0-20: Consult your nearest library.
30-60: Begin by buying a good road map.
70-90: You should run for office.
100: Candidate for a Ph.D. in Louisianaology.