The Krewe of Highland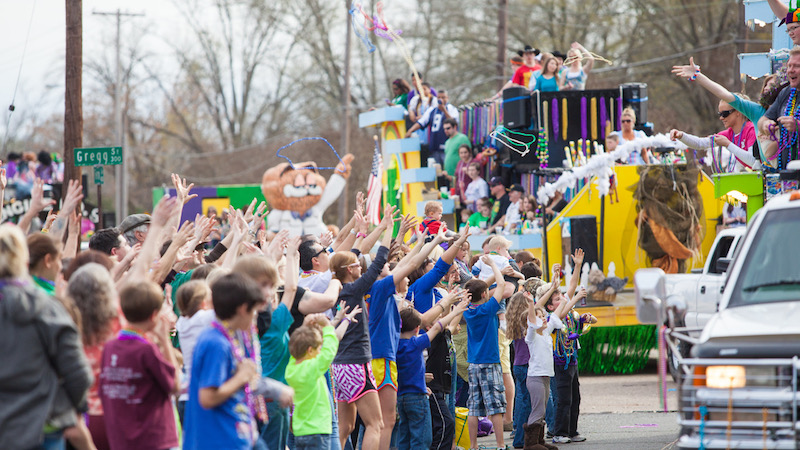 Mardi Gras weather can turn on a dime, one reason my mother used to create costumes that could easily be worn as is or slipped over long sleeves and long johns. That was the case in Shreveport last year when a cold front turned sunny skies that warmed our faces at Saturday's parades into something windy, wet and wild on Sunday.
Hand and feet warmers, scarves and a few cocktails helped ward off the chill as we headed out for Shreveport-Bossier's Krewe of Highland Parade. And believe me, it was bone-chilling, teeth-chattering cold.
But, oh what fun!
The Krewe of Highland began as a Carnival parade rolling through the historic Highland district beginning in 1994. The parade has become immensely popular over the years and features bands, quirky floats, colorful characters and more along its circular route through Highland via Gladstone Boulevard, Creswell Avenue, Hernsdon Street, Highland Avenue, Olive Street and Centenary Boulevard.
Its long length, creativity and neighborhood spirit are reasons why the Krewe of Highland has been named a "Top 20 Event" by the Southeast Tourism Society. Events considered for the recognition must be at least three years old and have attendance of at least 1,000.
This year's parade will begin at 1 p.m. Sunday, March 3, at the corner of Gregg Avenue and Gilbert Drive in the Highland neighborhood. Shreveport Mayor Adrian Perkins will serve as Grand Marshal and the 2019 theme is "The Greatest Show on Earth."
The Krewe of Highland Grand Bal, equally quirky and creative with participants arriving donned in all kinds of fun costumes, is Friday, March 1, at the Shreveport Municipal Auditorium. Tickets are $50 for krewe members and $65 for non-members, available at www.kreweofhighland.org.
Because of the late date this year, chances are you won't be freezing in an icy wind. But like my momma always said, it's best to be prepared.
For more information on Mardi Gras parades, parties and events in Shreveport-Bossier, visit www.ShreveportMardiGras.com and download a copy of the 2019 Gris Gris Guide to Mardi Gras in Shreveport-Bossier, an annual publication that includes parade dates, routes, road closures and parade day tips into one handy, pocket-sized guide. A free copy of the Gris Gris Guide may be requested by mail by calling (800) 551-8682.
For more information on planning a visit to Shreveport-Bossier, including local restaurants, attractions and hotels, visit www.Shreveport-Bossier.org.
In other news, Shreveport-Bossier's Krewe of Centaur Parade was also named a 2018 winner of the STS Top 20 Events Award. The Krewe of Gemini Parade was named a winner of the STS Top 20 Events Award in 2017.