The Ladies Leukemia League Hosts a Fashion Show and Luncheon for Cancer Research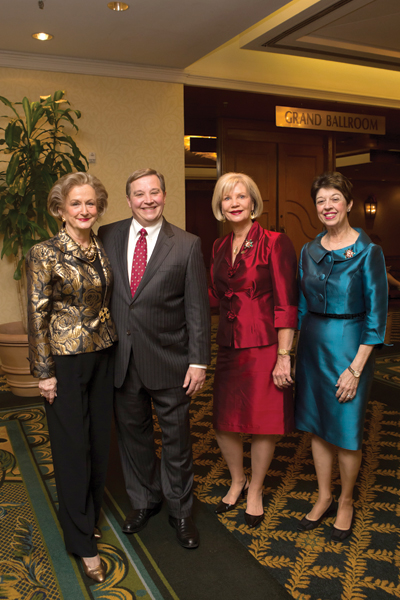 Great style for an even greater purpose: this is what the Ladies Leukemia League brings to every holiday season in New Orleans. In December at the luxurious Hilton Riverside, the LLL donated $175,000 to local pioneers in the medical field to fight – and win – the battle against cancer.
Co-chairwomen Jacquelyn Milan and Joan Ingram flawlessly put together the event, which was a holiday luncheon and fashion show benefitting the league. LLL President Meb Cefalu gave an opening statement, while WDSU-TV's Margaret Orr served as mistress of ceremonies.
The fashion show was graciously sponsored by Dillard's and was coordinated by Joyce Coleman, an active LLL member, and Mike Jones of Dillard's. The show featured style elements from around the world, with the luscious colors of Paris, to the lace ornaments of Madrid, to the clear ivory tones of the Austrian Alps. Local children who are battling cancer also walked the runway and wore stunning ensembles that Dillard's generously donated.
The 1,200 guests were able to bid on an extensive collection of prizes. Winners went home with luxurious items, including a trip to New York City, a pair of Superbowl tickets and an Aucoin Hart bracelet.
The dining options included chargrilled breast of chicken over an andouille dressing and chef David Woodward's "Fete de Noel" white chocolate pecan pie for dessert.
Since its founding, the league has awarded over $2.8 million dollars to cancer research.
---
Event at a Glance
WHAT
"Fete de Noel," benefitting the Ladies Leukemia League
WHEN
Wednesday, December 12
WHERE
Hilton New Orleans Riverside