The Mississippi Gulf Coast's Art Scene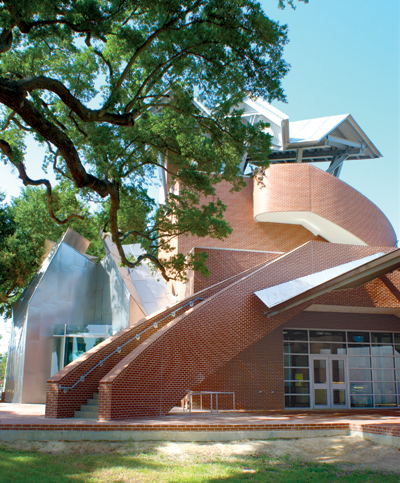 A black Labrador retriever runs along the water's edge, gleefully nipping at the Gulf waves as they roll onto the sand. His owner, a few feet away, grasps a volleyball under his arm, evidence of the competition he and his buddies held on the warm sands an hour earlier.
The Gulf of Mexico attracts millions of visitors to its shores every year, offering world-class casinos, concert events and a chance to have fun-in-the-sun on the Gulf's famous white-sand beaches. Few are aware, however, that the Mississippi Gulf Coast has another claim to fame: the birthplace of modern art and the home of two American masters, George E. Ohr and Walter Inglis Anderson.
Ohr-O'Keefe Museum of Art
386 Beach Blvd.
Biloxi, Miss.
(228) 374-5547
georgeohr.org
Admission: $10 for adults, $8 for seniors and $5 for students; kids 5 and younger are free.
Hours: Tuesday-Saturday, 10 a.m. to 5 p.m.
On the shores of Biloxi Bay lies the Ohr-O'Keefe Museum of Art, an impressive 4-acre campus whose buildings reflect the ultramodern and avant-garde spirit of the museum's namesake. Designed by famed architect Frank O. Gehry, each of the museum buildings is constructed out of stainless- steel and glass elements, giving visitors the sense that they are entering a giant sculpture in itself.
A born showman, George Ohr proclaimed himself Biloxi's own "mad potter." He was mad, maybe, but also a genius. In his lifetime, Ohr produced more than 10,000 ceramics sculpted out of clay from the Tchoutacabouffa River that he dug himself. His experimental approach to sculpture and form has earned him the title, among some, of "father of the abstract-expressionist movement" in America
Highly criticized for his unusual forms, Ohr closed his studio in 1910, prophesying that he would one day be famous despite his failures thus far. After his death from throat cancer eight years later, his collections were packed away by his family, and there they remained for 51 years. In 1969, a New Jersey antiques dealer named Jim Carpenter discovered Ohr's revolutionary work and introduced it to the New York art scene, where his experimental and daring forms that were too revolutionary for their own time were met with overarching praise. Today, Ohr's work is displayed in galleries worldwide, including the Guggenheim.
Begin your journey into the world of modern art by either riding an elevator or climbing one of the two arching stairways flanking the building to access the lookout tower. The museum also has a café with free WiFi and an exquisite gift shop that is a must-see. With electric blue tyrannosaurus rexes fashioned out of recycled soda cans and origami roses bigger than your head, the museum store offers unique and carefully crafted fine art, jewelry and ceramics by local artists.
Before you make your way to the main gallery exhibits, take a moment to view the wood turning of Terry Tjader, who repurposed fallen trees after Hurricane Katrina into unique works of art. Many of the wooden forms display fossilized insects, which become part of the natural grain patterns that Tjader's' designs so expertly enhance.
Within the Star Gallery/Gallery of African American Art is a selection of Ohr's finest work from across the Gulf Coast. Although only temporary until the permanent home for the ceramics is completed in late 2013 as Phase II of the museum's building efforts, the Star Gallery wonderfully showcases the artist's oeuvre, from Ohr's functional utilitarian pieces to his novelty items, which he sold to tourists as his main source of revenue. After the devastating fire in Biloxi that destroyed the majority of his work (Ohr referred to these lost works as his "burned babies") in 1894, he began to see how far he could push the medium, producing ceramics with extremely thin walls and intricately folded or pinched forms, marking his foray into what would later be termed abstract expressionism. Quirky Ohr quotations are inscribed along the white walls of the gallery, and if you're owl-eyed enough, you may spot a tiny version of the Biloxi Lighthouse etched into one of his creations.
The museum, which was named Best New Museum in 2010 by Southern Living and has received the TripAdvisor Certificate of Excellence, also features a unique visitor attraction that provides a rare window into life for African American families in the days of the segregated South. Pleasant Reed was born a slave in Hattiesburg, Miss., in 1854. When the Civil War ended, the entire Reed family relocated to Biloxi, and Pleasant supported his wife and six children by working as a carpenter and jack-of-all-trades. The Reed house, built by the hands of Pleasant himself, was donated to the Ohr-O'Keefe Museum of Art in 2000 so that it could be preserved as a monument to the perseverance and hardships of African American families living under Jim Crow. In 2005, the original building and furnishings were destroyed by Hurricane Katrina. Today, the Pleasant Reed Interpretive Center is a replica of the original Reed home, featuring antique family artifacts such as a woman's 19th-century-era curling iron and Bible, as well as an educational video about Pleasant Reed and the Jim Crow South.

The Ohr-O'Keefe Museum, which is a Smithsonian Affiliate, was named jointly in honor of Ohr and Biloxi Mayor John O'Keefe and his late wife, Annette, whose funding helped make the museum a reality.
Beginning in June, the museum will host a collection of artist Frank Janca's oil paintings that juxtapose "scenes of daily life in France … with perceptions of the Mississippi Gulf Coast," according to the museum's website.
Walter Anderson Museum of Art
510 Washington Ave.
Ocean Springs, Miss.
(228) 872-3164
walterandersonmuseum.org
Admission: $10 for adults; $8 for AAA, military and seniors; and $5 for children 5 to 15; kids 5 and younger are free.
Hours: Monday-Saturday, 9:30 a.m. to 4:30 p.m. and Sunday, 12:30 p.m. to 4:30 p.m.
Just 3 miles away from the Ohr-O'Keefe Museum and across the Biloxi Bay, continue your journey into Mississippi's modern art by visiting the Walter Anderson Museum of Art. The museum showcases the collections of Ocean Springs artist and naturalist Walter Inglis Anderson, whose vivid paintings and ceramics bring to life Mississippi nature scenes and people. His style is a combination of colorful, boldly done folk art with the modern sensibility of Picasso.
An American master, Anderson was born an artist, drawing and studying fine art and nature from a young age. Dedicated to connecting with nature on a close and personal level, he is known for living primitively on Horn Island, Miss., enduring the heat of Mississippi summers for the last 18 years of his life in isolation. In his row boat, which is today suspended above the vaulted glass museum entrance, along with the bicycle he once rode as far as New York, he would venture deep into the wilds, never forgetting his sketchbook and art supplies.
The museum, which opened in 1991, houses more than 1,000 objects within Anderson's extensive and richly diverse oeuvre. The site was designed to be in harmony with the surrounding natural landscape, and its interior is paneled with warm Southern yellow pine and includes a main gallery space with two additional galleries that feature the permanent collections of Anderson's work as well as rotating exhibits of other artists, usually from the Gulf Coast region.
Plan to spend a few hours exploring the collection of colorful scenes of Southern life, and don't miss the documentary screening that chronicles Anderson's life and career.
To see Anderson's artwork situated within the Ocean Springs community itself, walk over to the Ocean Springs Community Center, adjacent to the museum, to view Anderson's largest murals, which are listed on the National Register of Historic Places.
Realizations, a small private shop run by Anderson's family, is down the street from the museum. The shop is a charming dedication to the artist and features a gallery offering silk-screened art prints of Anderson's work.
Lodging
The Inn at Ocean Springs
The Inn at Ocean Springs is rated "Wonderful!" by TripAdvisor and is only a half-block from the Walter Anderson Museum of Art and a short car ride from the Ohr-O'Keefe Museum of Art. The only boutique bed-and-breakfast in downtown Ocean Springs, the inn offers exquisite lodgings featuring antique furniture and luxury amenities, as well as a guaranteed Deep South feel. The inn allows small pets for an additional $25 cleaning fee, and the entire Ocean Springs area is known for being largely pet-friendly. A vacation cottage called Bradford House is also available to rent. Sleeping a total of four, the cottage boasts a king-size suite with luxurious bedding, a flat-screen TV and a large front porch.

Nearby Attractions
• Front Beach, Ocean Springs
A public beach that is perfect for sunbathing and shallow enough for swimming and other aquatic sports. It features two public fishing piers, also popular for crabbing.
• World-Class Casinos
From Beau Rivage to the Hard Rock Hotel & Casino, take advantage of your many options in lodging, gaming, dining and relaxing.
• Mary C. O'Keefe Cultural Center
Reserve your seat while it lasts at the Mary C. O'Keefe Cultural Center, which offers a wide range of fun cooking classes, including a "One Pot Wonders" series taught by Carrie McCully of Food Network fame. Guests, of course, get to enjoy the culinary creations that are prepared in the class, which could be anything from pork fried rice to ropa vieja. Visit themaryc.org for a full menu of classes.