The National Council of Jewish Women Gives the 2013 Hannah G. Solomon Award to Ruth S. Kullman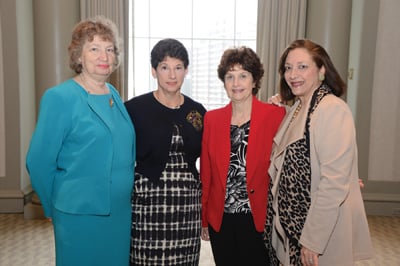 The Greater New Orleans section of the National Council of Jewish Women honored Ruth S. Kullman this February in the magnificent Grand Ballroom of The Westin. The NCJW is dedicated to "improving the lives of women, children and families and … safeguarding their individual rights."
Event chair Madalyn Schenk organized a fabulous luncheon, which celebrated Kullman's dedication and volunteerism within the community. Kullman, an expert in "nonprofit management and fundraising," actively serves as board president of Touro Synagogue, Touro Infirmary, New Orleans Outreach, Planned Parenthood and Committee of 21. NCJW chapter president June Leopold called the meeting to order, and Rabbi Alexis Berk led the invocation. Mayor Mitch Landrieu commended Kullman, as did Council-Member-at-Large Jackie Clarkson, Council Member Susan Guidry and State Representative Pro Tempore Walt Leger III, who were amongst over 210 guests in attendance.
As guests drank in the words of the inspirational leaders who spoke at the award ceremony, they also feasted on a gourmet luncheon, which included a winter salad, salmon, asparagus and rice. Maple Street Patisserie provided a decadent dessert. The tables in the Westin's Grand Ballroom were adorned with gorgeous floral centerpieces, which were donated to Touro Infirmary after the luncheon.
Major initiatives led by the NCJW include HIPPY, The Home Instruction Program for Preschool Youngsters, which provides free training and resources for "parents of limited means or without formal education … who do not feel confident in their own experiences and abilities to teach their children," according to the NCJW's website.
---
Event at a Glance
What: 2013 "Hannah G. Solomon Award Luncheon," benefiting the National Council of Jewish Women
When: Monday, February 25
Where: The Westin at Canal Place