The National Multiple Sclerosis Society's Louisiana Branch Raises Funds for Research and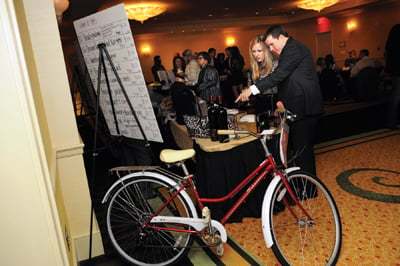 No city knows rebirth like New Orleans does, making it the perfect setting for the National Multiple Sclerosis Society's Louisiana Branch to host its annual "Renaissance Party" on Friday, November 9. Adrianne Casbarian, Logan Howcott and Chad Graci chaired the event, hosted fittingly by the Renaissance Arts Hotel. Among many other benefactors, including St. Charles Avenue magazine, Peoples Health was gracious enough to serve as presenting sponsor.
The hotel catered for guests, who dined on silver-plated appetizers, a dinner buffet and a Southern dessert selection. Glazer's sponsored a delicious assortment of wine and liquor, and the Louisiana Spice Band got guests off their seats and onto the floor for a little dance revival.
The auction is the heart and soul of the party, and this year auctioneer Cooper Manning charmed the crowd to raise $135,000 to support the society. Former co-chair Scott Duggins helped Manning send guests home with items that spoke to an arts renaissance theme, including abstract paintings, pottery, abstract art, a set of glass figurines, a signed drawing, a signed book, a nativity scene and for the royal treatment, a portrait sitting.
The National Multiple Sclerosis Society is a group of individuals working to fund programs and services for people living with MS, as well as raise money for MS research. They have raised more than $750,000 since 2006, serving more than 3,600 individuals diagnosed with MS in Louisiana alone, as well as thousands more across the country.
---
Event at a Glance
WHAT
"Renaissance Party," benefiting the National Multiple Sclerosis Society's Louisiana Branch
WHEN
Friday, November 9, 2012
WHERE
Renaissance Arts Hotel