The Preservation Resource Center's Annual "Holiday Home Tour"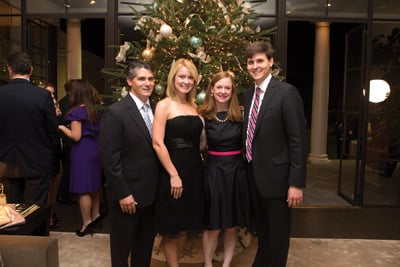 Nothing speaks of New Orleans quite so much as our distinctive architecture, and the Preservation Resource Center of New Orleans is here to ensure that it stays that way. For almost 40 years, the PRC has made efforts to preserve some of our most beloved historical landmarks, as well as over 300 homes after Hurricane Katrina. This holiday season, the PRC celebrated by showcasing some of New Orleans' most beautiful homes in its "Holiday Home Tour."
Lori Elliott Paige and Katherine Kleinpeter Raymond graciously organized the event and the patron party, pictured here, on Friday, December 7, which directly benefitted the PRC and its mission of cultural and historical preservation.
Festivities at the exclusive patron party included live music by the Chris Edmunds Trio and dining by the Ralph Brennan Restaurant Group. The "Holiday Home Tour" took place in the Garden District that weekend, December 8 and 9, and featured six grand homes decked out in holiday splendor. Twenty-six different local bands provided live music at each home, making each stop on the tour a magical place to get away.
The spacious Canon Turner Hall of Trinity Episcopal Church was featured as a surprise lagniappe house for tour-goers. Trinity served as tour headquarters and the site of a decadent dining experience, featuring classic New Orleans cuisine, such as grillades and grits, provided by Palate New Orleans Catering & Special Events, as well as an expansive holiday boutique which offered a wonderful selection of gifts for friends and family. Among the boutique's selection were jewelry, art and specialty gifts from over 40 local vendors and artisans.

---
Event at a Glance
WHAT
"2012 Holiday Home Tour Patron Party," benefiting the Preservation Resource Center
WHEN
Friday, December 7
WHERE
Home of Gary and Betsy Laborde