The Queen Baton Rouge to Unveil Exciting Lineup of Restaurant and Bar Destinations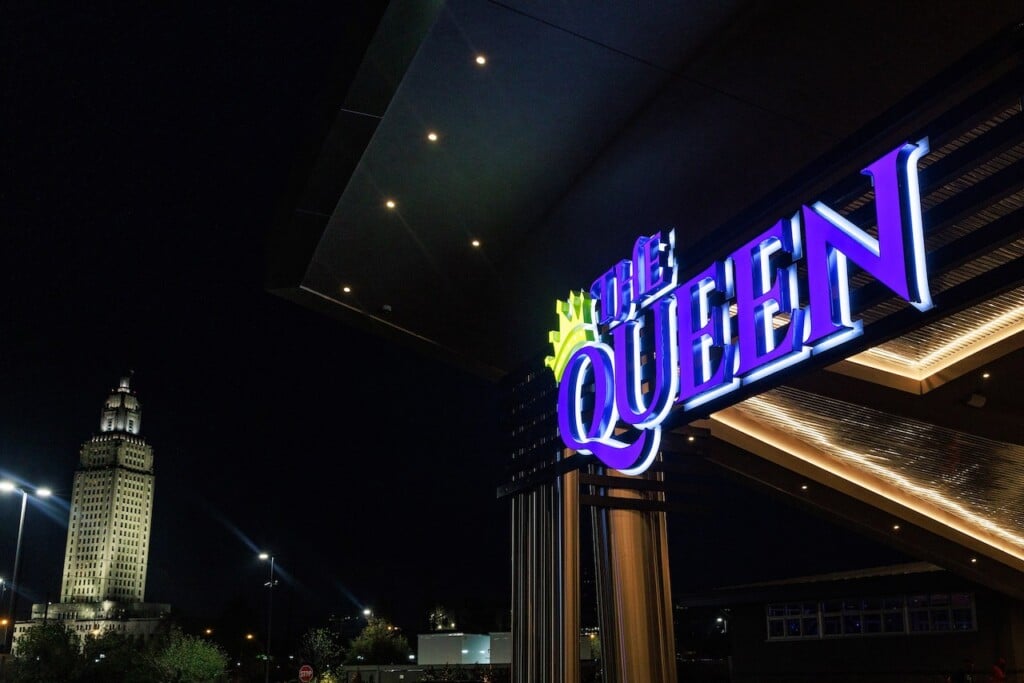 BATON ROUGE, La (press release) – With its official transformation from Hollywood Casino Baton Rouge at the end of the month, The Queen Baton Rouge will reveal several exciting new bars and restaurants, including Shaquille O'Neal-owned Big Chicken and 1717, a new signature restaurant serving rustic American cuisine with a twist.
Each of the restaurants and bars will be officially unveiled with the grand reopening on Thursday, Aug. 24. All of the culinary experiences are being overseen by The Queen's new executive chef, culinary veteran, Kevin Foil, a Louisiana native with more than 25 years of expertise.
1717: The Queen Baton Rouge's signature dining, drinking and entertainment destination, 1717 serves rustic American cuisine with a twist. Spanning 5,200 square feet, 1717 offers a spacious dining room and bar with a stage for live music and other entertainment. An expansive menu features classic American favorites including sandwiches, flatbreads, salads, desserts and more, with standouts including Philly cheesesteak nachos, a towering pile of corn tortilla chips topped with Philly-style steak, grilled peppers and onions and cheese sauce; a shareable board of house-made hummus, roasted peppers, cherry tomatoes, carrots and kalamata olives with grilled pita, brisket Po'boy, a French roll filled with house-smoked brisket, aioli, jalapeño slaw and chipotle vinaigrette; and more. Signature entrée selections include a 16-ounce Creekstone Farms ribeye accompanied by fricassee of red potato, Brussels sprouts, bacon, portabella mushroom and rosemary butter; red snapper served with garlic ginger rice, okra, corn and lima bean succotash; Poujeaux pappardelle, house-made pappardelle pasta topped with jumbo shrimp, crawfish, lump crab and tomatoes with roasted garlic cream sauce; among others.
1717's bar offers craft cocktails, beer and wine in a social atmosphere. Signature cocktails include the Purple Reign, made with Bombay Sapphire gin, lavender and lemonade; and the Smoked Old Fashioned, Buffalo Trace bourbon and orange bitters smoked tableside in front of guests with cherry wood; among others. The Vandersmash, a specialty bourbon-based cocktail fit for royalty, will be served in a lighted souvenir glass.
The Loft at 1717: Overlooking 1717, The Loft at 1717 spans 1,600 square feet offering a full bar between an indoor space and outdoor patio with views of the Mississippi River. A dedicated bar will serve a variety of beer, wine and handcrafted cocktails to guests ages 21 and over. The Loft at 1717 will introduce a Sunset Happy Hour with specially priced beverages and small bites available from 5 to 7 p.m. Monday through Thursday; and will be available for private events.
Big Chicken: Big Chicken, the star-powered fast casual chicken concept founded by legendary basketball Hall of Famer Shaquille O'Neal, serves signature chicken sandwiches and tenders packed with BIG flavor, including The Original Big Chicken topped with Shaq sauce and pickles; Uncle Jerome's Nashville Hot, featuring lettuce, mayonnaise and pickles; Shaq Attack, topped with pepper jack cheese, jalapeño slaw and spicy chipotle BBQ sauce. Popcorn Chicken served with Shaq sauce; a selection of savory sides, including Lucille's Mac N' Cheese topped with Cheez-It crust; and boozy milkshakes hand-crafted with all-natural southern vanilla ice cream produced using hormone free milk from California will be enjoyed while overlooking the Mississippi River.
3 Woks Noodle Bar: An exciting quick-service restaurant, 3 Woks Noodle Bar features an open kitchen to watch chefs freshly prepare a variety of authentic pan-Asian dishes and enjoy seating at the bar. Spanning small plates to noodles and rice, a sampling of shareable appetizers includes vegetable spring rolls, pork potstickers, crab Rangoon and miso soup, among others. Served with a choice of chicken, beef or shrimp, noodles options include miso ramen with mushrooms, egg, bok choy and bamboo shoots in miso broth; shoyu ramen with chili, egg, soy sauce and seaweed with spicy chicken broth; and more. The Queen's Chicken, made with seasoned rice, crispy chicken and mandarin orange glaze; kimchee fried rice with fried egg, kimchee, carrot, snow peas and green onion; and other rice dishes will also be available.
Capitol Coffee Baton Rouge: Located just steps from the casino floor, Capitol Coffee will offer a selection of hot and cold coffee, modern teas, smoothies, pastries, items for breakfast, lunch and more. Signature smoothies include Protein+ made with peanut butter, chocolate, banana and yogurt; Berry C Boost, a blend of blueberries, strawberries, yogurt, Lotus Energy and cranberry juice; and more. Paninis and sandwiches will be available from early morning until late night, including a breakfast bagel sandwich topped with bacon, egg and cheddar cheese; steak and egg panini with cheddar cheese; turkey BLT served with tomato and mayonnaise on a French roll; and roast beef panini with fresh mozzarella cheese and tomato spread; among others. Blue Bell Ice Cream will be exclusively scooped by the single and double, with flavors ranging from vanilla and chocolate to praline pecan and Birthday Celebration.
LIT Casino & Bar: Craft cocktails, beer and wine will complement the lively atmosphere within LIT, the casino's 1,600-square-foot dedicated smoking patio with 150 gaming positions.
DraftKings Sportsbook: Developed in collaboration with leading digital sports entertainment and gaming company, DraftKings Inc., the sportsbook will offer a state-of-the-art gaming destination with contemporary design, a full bar with 10 beers on draft, 20 betting kiosks and four over the counter betting windows. Lounge-style seating, a 28-foot video wall and oversized high-definition TVs will provide optimal viewing for sports fans.
Chef Foil brings a breadth of experience spanning hospitality and dining with a specialty in local flavors to The Queen Baton Rouge. A graduate of Chef John Folse Culinary Institute at Nicholls State University, Foil's passion for cooking was ignited as a child in his grandmothers' kitchens. He has built his expertise in top restaurants throughout the state and as a Certified Culinary Educator at Louisiana's Community & Technical Colleges, Culinard, The Culinary Institute of Virginia College and Louisiana Culinary Institute.
For more information about The Queen Baton Rouge, visit the website at www.thequeenbr.com.