The Rural Life: "Cheap" is Good – Sometimes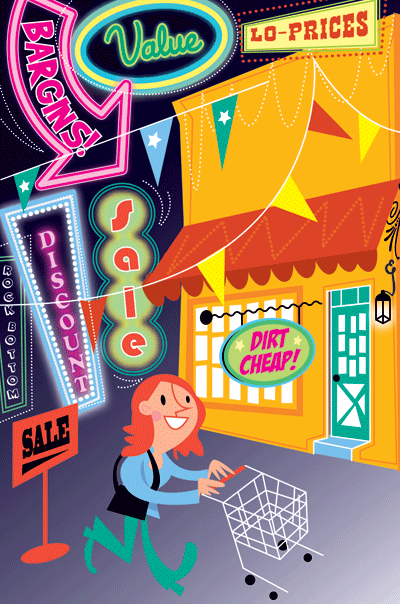 I have fond yet vaguely disturbing memories of the college student who – devoid of a job or any income – charged not one but two pairs of expensive cowboy boots to a credit card in a single afternoon.
I look back with fascination at the young career girl who would stroll into a gleaming Atlanta department store and plunk down $200 for a suit when she had a job but still no money.
I remember these people.
I just can't believe they were me.
I don't know whether to credit myself for getting older and wiser or chalk it up to spending 20 years in a retail Siberia under the influence of a painfully practical farmer. (My husband is generous to a fault – except when it comes to spending money on himself, so that's where I step in and take over.) The fact is, somewhere along the way, I lost touch with the person who was once so cavalier about blowing cash.
It's not just that I spend more wisely than I once did. If you must know, I've become fairly obsessed with getting a bargain. Beating the system has become more than a way of saving money. It's a game I can't stand to lose.
Not that I'm entirely pleased about this metamorphosis, because I am all too aware that there is a dangerously thin line between being cheap and being cheap, if you get my drift. As a friend once put it, people who are stingy with their money are often stingy of spirit, too.
An example of the bad kind of cheap was the friend who saved and scrimped for a European vacation and afterward could talk of little but the unbelievable deal on ballet tickets he and his wife got in Paris. The bad kind of cheap was the old boyfriend who stood in front of the beer cooler at the convenience store dividing dollars by ounces instead of just grabbing a six-pack of his favorite brew. We're talking maybe a $3 difference in the least and most expensive brands on the shelf. (That wasn't our love affair's killing blow, but it was certainly a red flag of his emotional generosity.) Cheap can be a serious character flaw.
I, on the other hand, prefer to think my, er, appreciation for a good deal is a natural result of circumstance. One such circumstance that should not be underestimated is the mindset it takes to make it on a family farm. In farming, you invest a lot to get a little. Wiggle room is tight. The only way to survive is to watch expenses. This means fixing rather than replacing, buying used instead of new, shopping around, doing it yourself and never spending more than necessary. When you do manage to make a buck or two, you totally appreciate the work and the sacrifice it required. You won't gladly waste a dime.
I would further argue that living in the sticks has tightened my fist, at least indirectly. When you live 25-plus miles from the closest major shopping, you eventually learn to take advantage of what's available at home. In our little town, that would include a salvage store called, appropriately enough, Dirt Cheap. It carries damaged and returned items and overstocks from department stores, discount stores and catalogs. The longer the stuff is in the store, the more it's marked down, sometimes up to 90 percent.
As a seasoned veteran of Dirt Cheap, my haul has included $250 comforters for $25, $100 coats for $12, $3 air mattresses, $25 pressure washers, $6 lamps and 25-cent dish towels, just to name a few of the bargains that have quickened my parsimonious pulse. The girl who once thought nothing of dropping $30 on a bra recently snagged 10 for the same amount. I used to think the $7 clothing was a steal until I discovered the $2 rack. After that, $7 seemed totally outrageous.
The catch is that Dirt Cheap is messy and unorganized and digging through the piles takes time and patience. You also have to inspect each item carefully. My sister, whom I took to Dirt Cheap once when she was visiting from Huntsville, Ala., may never fully recover from the time she lifted the lid on an automatic rice cooker on and found somebody's moldy-green supper still in the pot.
I usually blame Dirt Cheap for my near-pathological inability to pay full price for anything anymore, but, in all honesty, it probably started with Sherman.
Sherman Johnson is our neighbor who sells used and new furniture, household items and "bric-a-brac" out of an old gas station/country store. Sherman was a picker long before anybody ever heard of pickers.
When I moved here in 1992, Sherman's was open only on Saturdays. During the week, Sherman scoured estate sales and flea markets for secondhand treasures.
Every Saturday morning, a crowd would be waiting outside his front door, eager to see what he'd picked up. Going to Sherman's was a weekend tradition here as surely as Friday night football and Sunday morning services.
Then as now, you can find anything from pre-owned Tupperware and secondhand blankets to collectible pottery to a piano to a refrigerator. I would conservatively estimate half the things in my house came from Sherman's – from my living room sofa to the huge, framed, autographed poster of Professor Longhair for which I paid 20 bucks. (I've seen the same poster on eBay for close to two grand, if that explains how I got addicted to Sherman's.)
There is no doubt Sherman's has been good for my décor and my bank account but terrible for my expectations of what things should cost. I can't tell you how many times I've huffed out of normal stores muttering, "I can get it a lot cheaper at Sherman's."
Which is both bad and good. Bad because I'm completely aware that I'm prone to wasting precious time and energy trying to save a few dollars here and there.
Bad because some things don't get accomplished when they should because I'm holding out for a cheaper way. Bad because the people who are most consumed with money are the very people who never seem to enjoy a penny of it.
The good part, I guess – and deep down I think this is what really drives a lot of bargain hunters – is secretly feeling smarter and more resourceful than everyone else. It's a primal feeling of security, a deep-down determination that, come what may, I will find a way to survive, one way or another, even when others can't.
Mark my words: When it all comes crashing down, I'll be among the few who come scrambling out of the rubble like a cockroach, sustaining myself with moldy-green rice and wearing a name-brand $3 bra.