The Rural Life: Dreams of Fields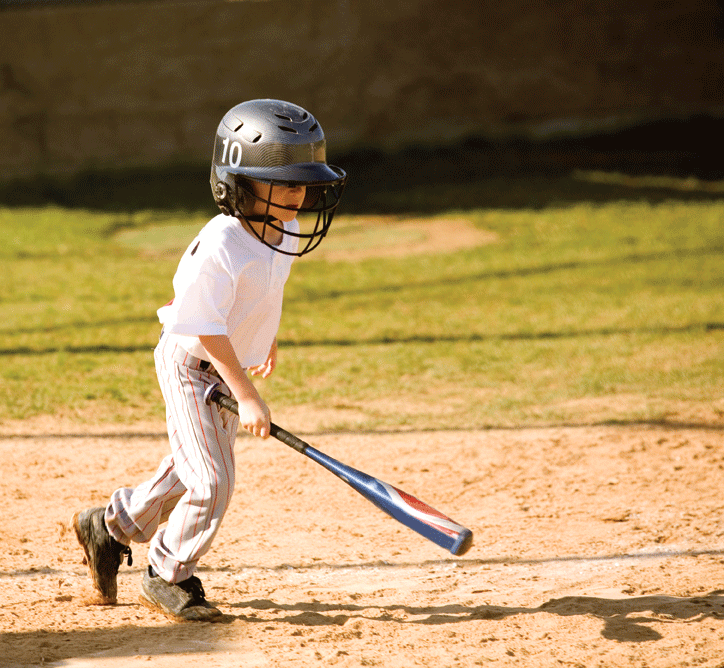 Some people look forward to spring because they can't stand the cold. Others rejoice in the beauty of nature reawakening in all its life-affirming promise.
Me? I can't wait to spend all my time at a run-down ballpark watching a bunch of kids try to find the strike zone.
Our sons play youth baseball, and my husband coaches. On almost any given afternoon or weekend from April until late June, you can find us at the ball field.
We live in a rural area with little industry, few high-paying jobs and not much money for public recreation. This is all-too- evident in our woebegone baseball facility.
It's an ancient ruin in a struggling neighborhood where tidy working-class homes stand side-by-side with dilapidated shacks. There is not enough parking or a square inch of pavement anywhere, so dust and mud are frequent inconveniences. The electronic scoreboards are almost never working. Climbing vines have tenaciously entwined themselves in the nets that shield spectators from foul balls, impeding the view of the diamond. Under the broiling summer sun, the concrete bleachers radiate heat like baking stones in a giant pizza oven. Roofs have been erected over most of the stands in the past couple of years, but before that, spectators were forced to huddle together in tiny puddles of shade that migrated with the sun. There are no picnic areas and no playground. And the restrooms? Let's not even go there. I mean that literally.
It ain't no Field of Dreams. It's not even Iowa, much less heaven. But it is the place where I fell in love with baseball.
I should probably mention that I'm a native of Alabama, home to one of the most intense college football rivalries on the planet. That may account for why baseball was nowhere on my radar in my younger years. I could probably count on my fingers the number of baseball games I attended prior to motherhood. One of the more noteworthy was a World Series game when I lived in Atlanta during the Braves' legendary Worst-to-First season. I won the tickets in an office raffle. It was a hot, stultifying afternoon, and the game was one of those low-scoring defensive standoffs only a true fan could enjoy. Harvey (then my fiancé) and I were so bored we left in the seventh inning.
But that was pre-kids. Six years ago, when our oldest son was 5, we encouraged him to play organized baseball. He was big for his age and seemed to have some ability. Plus, many of his friends were beginning their third year of baseball. But he was deathly shy and refused. Like any good meddling mama, I was certain he would enjoy baseball if only he would try it. So I secretly signed him up. Later that afternoon, I casually mentioned it in the car. Instantly, my sweet, obedient, mild-mannered little boy started sobbing, kicking the back of my seat and wailing: "No! No! I don't want to!" The only explanation he could offer? "I don't want all those people looking at me!" Never had I seen him this upset. I was so rattled I drove straight back to the baseball office and took him off the list.
He was still resisting the notion the next spring when his clever Aunt Lynn handed down a pair of his cousin's cleats. After voicing the suspicion that he was being railroaded (this kid is no dummy), my son tried them on when he thought nobody was looking. Pretty soon, he was surreptitiously testing them for speed in the yard. I could see the dam cracking. Still, he came home in tears one day because a classmate with a tendency to exaggerate claimed to have signed him up for baseball. I was pretty sure no first-grader was capable of such a feat, but I saw my opening, and I took it. "Well, if your friend signed you up," I said, throwing my hands up in resignation, "then you have to play." And so he did, almost as simple as that.
At his very first team practice, he came up to bat; got a hit; and, instead of running to first base, bolted directly to third. But he lucked out with a good coach who saw potential, and he ended up playing first base for his 5- and 6-year-old team that spring. The next year, he was voted on to the league's All-Star team – and the next year and the year after that.
His younger brother – with the typical younger brother's competitive streak – didn't require any coercing. In fact, he was chomping at the bit. We managed to hold him off until he was 4, when we broke down and put him on a T-ball team. Ostensibly, T-ball, in which the batter swings at a ball on a stationary tee instead of a moving pitch, prepares 3- and 4-year-olds for the more advanced skills required in baseball. Perhaps it does, but I would suggest that its main function is to entertain parents. I can't recall if our T-baller made any impressive plays that year, but I will never forget the time he was the runner on base and he charged into the outfield to retrieve his teammate's base hit. Or the day he disappeared while playing first base and we found him socializing in the opposing team's dugout. He's come a long way since then. Last summer, he was third baseman – one of the youngest infielders – for a team that won all 17 of its games.
We've dabbled in soccer and football, too, but baseball is my happy place. Each year I look forward to the metallic ring of the bat and the satisfying pop of a ball meeting leather. To catching up with old friends under the warm sun of a glorious April afternoon. To existing on nachos and peanuts and pickle-sicles – tiny plastic cups of frozen pickle juice. (Baseball is a handy excuse not to cook.) To the never-ending drama of As the Little League Turns. To the joyful spectacle of opening ceremonies, when every team still has a chance to be the best team and some small-town American Idol attempts "The Star-Spangled Banner" over a crackling sound system while a couple hundred boys and girls clutch spotless new caps to their hearts. It's corny, but it gets me every time.
This year, something will be different. We return to these well-worn fields knowing our days here are numbered. A spacious, modern new ballpark seems to be a certainty. Land has been purchased, plans have been rendered, grants have been awarded, and thousands of dollars have been donated by businesses and individuals.
It is welcome news and long-overdue. I am absolutely thrilled that my children will finally get to benefit from the kind of facilities kids in more affluent areas take for granted.
I must confess, however, that I'll always be a little sentimental about the old fields, too – despite how much I've kvetched about the dust and the bathrooms and the nets. (And believe me, I've kvetched.)
Every time winter breaks, my mind will return to a tired old ballpark where it is always springtime and a timid boy in secondhand cleats steps up to the plate for the first time. He doesn't notice the cramped dugouts or the ragged fences or all those people looking at him – only green grass below and blue skies ahead as far as his eye can see.