The Rural Life: The Road Less Glamorous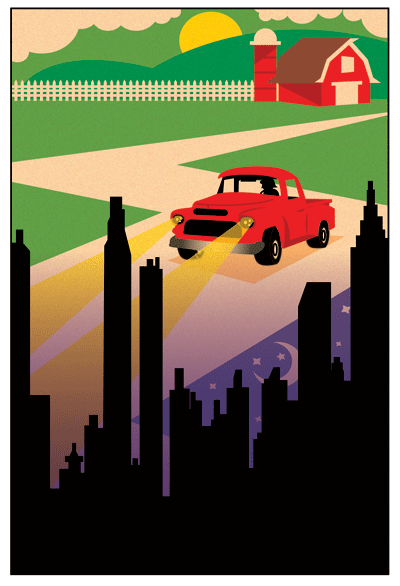 The Shell station is the only place in our small town that sells the Baton Rouge Advocate, my husband's newspaper of choice. Either he or I go there every morning after taking the kids to school to snag one of the few copies. The store clerk knows us and expects us. The other day, I stopped without realizing I had no money on me. She insisted I take a paper home anyway and simply pay for it later, which I did.
It was one of those moments since I traded my life as a big-city journalist for that of a Louisiana farmer's wife when I stop and realize: "This never would have happened in Atlanta."
This year makes 20 since I quit my job as a young writer for Atlanta Magazine and moved to rural Louisiana to marry a young dairy farmer. Harvey and I had met in Fort Walton Beach, Fla., on Memorial Day weekend 1990. I had just broken up with the boyfriend du jour, a Dutchman living in Atlanta – as much, that is, as one can "break up" with somebody who has a fiancée in another country. I was heartbroken and completely uninterested in finding anyone new when, long story short, Harvey and I more or less bumped into each other on the beach. I think we would agree that, that weekend, he pursued me, and I just sort of went along with it because it beat lying in the sun and crying. Yet, looking back, there was a definite moment when my attitude about this farmer from Louisiana went from "whatever" to "whoa."
After turning him down once, I accepted his next invitation – to come to his rental condo for a shrimp boil with his friends. As we left my condo to walk to his condo, he took my hand in his. I struggle to explain it without sounding like a dollar-store greeting card, but there was something in that simple, sincere gesture that overwhelmed me with a feeling I neither expected nor even thought I wanted. The message it conveyed: "I will always take care of you."
So that's the CliffsNotes version of why I eventually left Atlanta to move to Louisiana and marry a farmer in 1992. Twenty years later, we are raising two sons, ages 7 and 11, and the dairy farm has become a hay farm. Occasionally, I wonder what my life would be like had I stayed in Atlanta. But usually when I think about the road not taken, it's only to appreciate the one I did.
The deal at the gas station is just one example. There are many other times when I stop to think, "This wouldn't be possible if I had stayed in Atlanta." I feel it, if only subconsciously, every time I watch our two sons riding their bicycles up the long, sun-dappled dirt driveway with three dogs running along beside them.
When I stand in the doorway of our 50-year-old barn during a summer rainstorm, rain pattering the roof as a huge hawk scans the horizon from atop a telephone pole. When my sons spend a blissful afternoon building forts and tunnels out of square hay bales in the hay barn. When our warm little Catholic church goes all-out to host a large funeral and luncheon for our 46-year-old sister-in-law who lived in Baton Rouge and was not a member but wanted to be buried here, in her hometown. These are the things that sustain me when I question the decision I made 20 years ago.
But a funny thing happened on the way to the Georgia Dome. In December, we decided to go to Atlanta to watch Harvey's LSU Tigers play in the Southeastern Conference Championship Game. It just so happened to fall on the same weekend I was supposed to go to Atlanta to surprise a longtime friend for her birthday.
Thus, Harvey and the boys went to the game that Saturday while I spent the day in the suburbs. That night, I drove from my friend's house back to our downtown hotel.
I don't know if it was my long absence or something else, but the city had never seemed so glamorous as it did that night. Gorgeous, unfamiliar skyscrapers lit up the skyline. Football fans milled through the downtown streets, now much cleaner and better lit thanks to the 1996 Olympics. Revelers spilled out of the doorways of trendy restaurants, and the notes from a street musician's saxophone drifted down the sidewalks. Even the young woman behind the hotel desk was darkly beautiful and exotic.
Yet what surprised me most about downtown Atlanta on a Saturday night was what it made me feel: aching, undeniable grief. Suddenly, I couldn't remember why I left. I didn't care about how safe and cozy our little town makes me feel. I forgot how many people would give their right arm to be living my life, so rich in family and friends on a 225-acre paradise. All I could see was the person I used to be – the 24-year-old who spent her first night as an Atlantan at a hip sidewalk cafe with the skyline looming before her as large as her future.
I did not leave Atlanta with regret, but here I was, 20 years later, as blessed as a woman can be, with a lump in my throat the size of a Georgia peach.
The next morning, in a gas station 10 miles west of downtown Atlanta, we stopped to fuel up for the trip back to Louisiana. While Harvey pumped gas, the boys and I went inside for coffee and bathroom stops. Even that place was a bitter reminder of the choice I made. Instead of remembering how fortunate I am to live in a place where the gas station will sell you a newspaper on credit and trust, I ruefully noted to myself that there wasn't a single business in our town that carried the large variety of coffee to be found in an ordinary Atlanta gas station, not to mention there were plenty of newspapers.
When we returned to the car, Harvey was sitting behind the wheel with a strange look on his face.
"What?" I asked.
"I just got reminded that I'm from the country," he said with a sheepish grin.
Turns out that while I'd been inside the station – despairing over how much better everything is in a big city than it is in the country – a woman approached Harvey at the gas pump. She was having trouble getting the pumps to take her credit card, she explained, her tank was on "E," and she needed gas to get home.
Instinctively, Harvey pulled out his wallet and handed her some cash. Without so much as a thank you, the woman took the money, turned abruptly, got into her car and drove off without purchasing a single drop.
A few minutes later, we were headed down I-20 again. "You know, I'm glad that happened at the gas station," I said, my voice suddenly cracking and my eyes filling with tears. "To be honest, for the first time ever this weekend, I've been feeling really sad about leaving Atlanta. I needed a reminder that not everything here is so wonderful."
My husband smiled at me with the kindest, most understanding expression. Then, once again, he reached over and took my hand, and I drove away from Atlanta without regret.