The Rush of Chasing Haints
Haunted attraction may not be real, but boy are they scary — and fun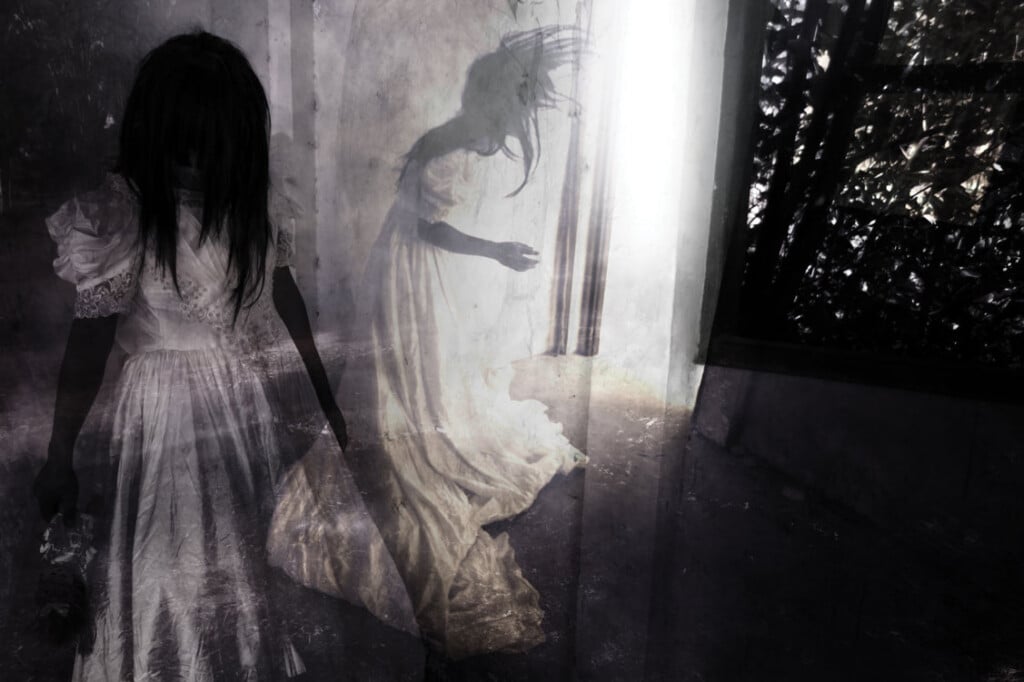 Fear runs deep in humans. Fear of the dark, alligators, public speaking — Alabama football.
But some fear is exciting.
Throughout Louisiana this time of year haunted attractions and structures built with creepy settings animated by costumed actors abound. Visitors pay to be tormented by zombies and the ghosts, touch creepy crawly things and wander through the dark while invisible hands grab.
Blame it on the brain. According to scientific studies, a rush of adrenaline produced from the fearful experience ignites the heart rate and blood pressure and alerts the body to fight or flee. The body comes alive with oxygen to the bloodstream and glucose rises to give an energy boost. Once the person realizes the fear isn't real, there's a rush of endorphins and dopamine to the brain, causing euphoria.
There may be easier ways to create that heady feeling, but for those who love to be scared, we've compiled a few attractions open for business this fall.
---
Dark Woods Haunted Attraction, Natchitoches
darkwoodshaunt.com/attractions

Dark Woods morphs each year from the Lost Treasure Mining Company with its 100-foot mining sluice with gemstones to discover into the Dark Woods Haunted Attraction in late September. The 18 acres along Highway 6 (University Parkway) near Northwestern State University turns truly dark with the Dead Fall Trail and Dark Carnival in 3-D.
"We pull thousands of people in every year for 10 to 13 nights," said Jason Summerlin, co-owner and operator.
Dead Fall Trail takes visitors through woods with 15 horrific sets peopled by 20 to 30 actors. Different storylines are featured every year and this year's sets will include a Depression-era cemetery, church and Hooverville.
"Everything we do is themed to the 1920s and 1930s," he said.
Visitors to Dark Carnival roam through a 4000-square-foot building lit with what Summerlin claims is the area's first ChromaDepth 3-D attraction, similar to black light effects, only a step up.
"It's not just 3-D, it's ChromaDepth," Summerlin said. "It's a really cool effect and very popular."
Dark Carnival features 15-plus actors, bungee jumpers and stilt walkers, to name a few — participants who usually make up a carnival.
For the adventurous, there's the smaller 4-D ride "Buried Alive," where visitors are placed inside a closed steel coffin for three minutes. They can hear the action outside but they're totally in the dark.
"Two 1930s gangsters dispose of a body and you're that body," Summerlin said of Buried Alive, adding that the coffin moves with the storyline and associated smells are inserted inside. "You're in the middle of the story. It's very immersive and fun."
Dark Woods opens the last weekend in September for a preview, then Fridays and Saturdays in October and Halloween night.
---
Rise Haunted House, Tickfaw
risehauntedhouse.com

Just off Interstate 55 near Tickfaw, Henry Risewell wants to resurrect his dead wife. He enlists Bartholomew Stinger to help with the cryonics but the experiment produces zombies who eventually rise up and eat Stinger.
That's the story visitors experience when they visit Rise Haunted House. The attraction's Asylum and Hayride complement the creepy tale.
"The Asylum was a spinoff from the main haunt's story in that the cryonics made people insane and they were doing experiments on their brains to see what's wrong," said owner Nevelle Laiche. "For the Hayride, we infused animal DNA into humans to see if they could survive the cryonics process … all the characters in the Hayride are human-animal hybrids."
The scare fest is a team effort, Laiche says. Everyone on staff brainstorms ideas for the haunted sets to fit the storyline. Occasionally, they add a set that strays from the story, "but most people don't really care about it," he said. "They're too scared to notice."
This year makes Rise's 13th season and the attraction will be open 13 nights, one of which is Friday the 13th. In addition, the attraction goes dark on Lights-Out Night the first Saturday in November and visitors use glowsticks.
"We are currently working on a scene in the middle of the Haunted House," Laiche said of the attraction's new elements. "We're not ready to reveal what it is, but we tore out our hospital scene, surgery scene and psych ward scene to make room for it. There will be scares from the top, the bottom and the sides. It's going to be really fun."
Not long after Halloween, Rise turns to holiday entertainment, this time without the zombies.
"We put away the gory stuff and hang lights and trees," Laiche said.
Rise opens at 7:30 p.m. nightly on Sept. 30, Oct. 6-7, 13-15, 20-22, 27-29 and 31 and Nov. 4.
---
The Mortuary, New Orleans
themortuary.net

This haunted attraction at the end of Canal Street surrounded by the Gates of Prayer Jewish Cemetery was originally a Victorian mansion built in 1872 for John and Mary Slattery and their six children. Later, the home became PJ McMahon & Sons Funeral Home, among other mortuaries, and hundreds of funerals were performed on the site.
After flooding by Hurricane Katrina in 2005, the mansion was redone. In 2009 parapsychologist Dr. Larry Montz purchased the property for his Paraplex, Paranormal Observatory Lab and Museum. Today it's The Mortuary, a haunted attraction intended to scare folks every Halloween season.
So, while visitors enjoy "Blood Wedding," this year's theme, keep your eyes peeled for actual apparitions. Over the years stories have circulated that the house carries spirits of those who have passed, from a woman in white moaning the loss of her husband to a man appearing when people disrespect the neighboring cemeteries.
As for Blood Wedding, visitors will witness an evening of revelry and feast for the union of the "Eternal Prince of the Air and the Undying Queen of Darkness."
For those who want to up the fear ante, visit for the special night on Friday the 13th. Unless, of course, you suffer from paraskevidekatriaphobes, the fear of that date.
Open for two Saturdays in September — Sept. 16 and 23 — then long weekends through October and almost nightly the last week through Halloween, plus Nov. 3-4.
---
The 13th Gate, Baton Rouge
13thgate.com

This popular haunted attraction acclaimed by many, including USA Today and the Travel Channel, takes visitors through 13 nightmarish realms with ultra-realistic detail. In other words, actors and sets look so authentic and the lines between reality so blurred they're guaranteed to scare.
Every year there's something new in the 40,000-square-foot haunted house on St. Philip St. in Baton Rouge's old Steinberg's Sporting Goods building practically beneath the Interstate 10 Mississippi River Bridge. Visitors may journey through the dangerous streets of Whitechapel, travel aboard a pirate ship, wander through a zombie graveyard or discover a place overlooking a pit of live snakes.
The 13th Gate is definitely not for the faint of heart or those with a weak bladder, their website warns. We'd have to agree.
The attraction opens Sept. 29 and runs Sept. 29-30, Oct. 5-8, 12-15, 19-22 and 26-31 and Nov. 3-4.
---
Fright Trail, Scott
frighttrail.com
This fund-raising attraction on 20 acres of woods celebrates its 12th year in 2023 with a long history of scaring Acadiana.
The Crowley Strangler, The Demented from Duson, The Butcher from Breaux Bridge and The Psycho from Scott are eager to approach visitors who dare venture out on the self-guided tour through the haunted woods. There's also The Haunted Dungeon, Septic Sewer and Twisty Bus for endorphin rushes.
All tickets, no matter the age, cost $30 and owners recommend leaving those ages 8 and younger at home (although they are welcome).
The attraction is open from 7 p.m. to 11 p.m. Fridays and Saturdays throughout October but Flashlight Only nights, where visitors receive a small flashlight to take into the deep dark woods, will occur Oct. 28 and 29.
Owners Deborah LeBlanc and Rich Hanf use the annual haunted attraction to raise funds for LeBlanc's nonprofit, Literacy Inc., which promotes literacy in teens through the donation of e-readers to high school students.
Fright Trail is open Sept. 29-30 and Oct. 6-7, 13-14, 20-21, 27-29 and Halloween night, Oct. 31.
---
Less Scary Events for The Little Ones
Zoo Boo, Alexandria
thealexandriazoo.com

Enjoy the Alexandria Zoo's animals while exploring family-friendly activities and enjoying entertainment on Saturday, Oct. 21 with a rain date of Oct. 28. The event began more than 40 years ago and consists of a Funny Bones Zone, a hay maze, the Treat Trail for kids 12 and younger, Pumpkin Palooza throughout the Zoo, spooktacular sets and the Halloween Express Train Ride.
Boo At the Audubon Zoo, New Orleans
audubonnatureinstitute.org
This annual daytime Halloween tradition of trick-or-treating through the Zoo on designated days benefits Children's Hospital New Orleans and the Audubon Zoo.