The Saints' Benjamin Watson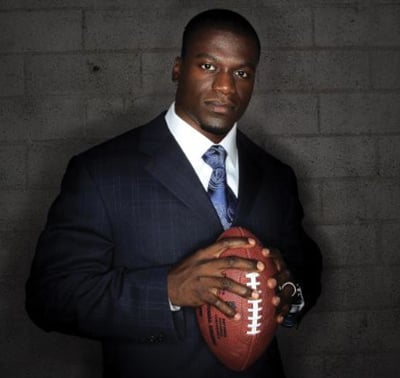 Saints tight end Benjamin Watson's favorite sport as a kid was soccer. He played only one year of little league and then didn't play organized football again until he was a freshman in high school. Instead, soccer kept him busy.
"Remember the player Pelé? They used to call me Bené," Watson jokes.
But football held a special fascination for Watson, whose father played in college.
"I would always be jumping on the couch, acting like I was catching a touchdown in the end zone," Watson says. He grew up in Norfolk, Va., and played street ball with his friends.
"We would tackle each other on the sidelines, or what we would call the sidelines, which was where there was grass. It was tag in the street, hitting on the sidelines," he says.
At Northwestern High School in Rock Hill, S.C., Watson was a football letterman, leading his team to a state championship as a junior. He played at Duke University and then transferred to the University of Georgia, where he played for three seasons. He was drafted by the New England Patriots in 2003.
"I didn't really think about the league until I got to college and I saw some of my friends go into the NFL," Watson says. "But I wasn't sure about it until I heard my name on draft day."
Watson played six seasons with the Patriots before moving on to the Cleveland Browns in 2010; he led the team in receiving yards, receptions and receiving touchdowns that season. He signed with the Saints in March.
"It's good to be back in the South," Watson says. "I feel like I've been in exile for the past nine years, being in New England and Cleveland. The South just feels like home."
Southeast Louisiana, especially, feels familiar to the Watson family. Watson's wife, Kirsten, went to high school in Baton Rouge and has family in New Orleans.
Long before Watson joined the Saints, Kirsten's family – especially her uncle – gave him a sense of the fans' loyalty.
"Back when we first met, all he would talk about was the Saints. The Saints weren't even good back then. I kind of knew that the Saints have a rabid fan base," Watson says. And that became even more evident when Watson and his family relocated to the New Orleans area.
"We met everybody on our street within the first day and we had dinner for like the first few days. It was kind of weird, not gonna lie, to have people in your business. But they all meant well. They all said, 'It's one of our Saints. We love our Saints. Win or lose, anything you need, just let us know.' It was a good feeling," he says.
Now that Watson is playing indoors, rather than in unforgiving winter climes, his four young children can come watch him. Grace (4 years old), Naomi (3 years old), Isaiah (2 years old) and Judah, born the day after Watson signed with the Saints, may be able to watch their father catch passes from quarterback Drew Brees.
"It will be exciting. They're a little bit older, old enough to know what Daddy's doing, and they can watch a little bit," Watson says.
When he's not playing football, Watson keeps busy with his charity, One More. He and Kirsten founded the nonprofit in Boston in 2010 and will continue their work in the New Orleans area.
"Both my wife and I were raised that you help folks when you can," Watson says. "The whole idea is to spread the love of Christ to one more soul. And we do that first by meeting other people's needs, whether it be food or clothing, and then we try to tell them about Christ, who is the bread of life."
When I spoke to Watson at training camp, he was busy learning the new playbook, which he says is like learning a new, complex language. When I asked for a prediction on the season, he said he takes it one game at a time.
"It sounds so cliché, but on every good team I've been on, when you take it one game at a time, that's when you put together those streaks of 12 games, 13 games, Super Bowl. That kind of thing," he says.
Super Bowl? That's the kind of prediction Saints fans like to hear.