The Scoop on Rice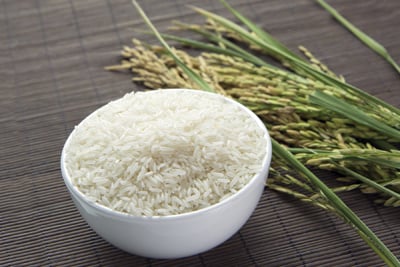 Affordable, delicious and easy-to-prepare, rice has been an integral part of Louisiana culture for more than 300 years. No crop is more recognizable in traditional Louisiana dishes – it's the base for étouffée, gumbo, red beans and the main ingredient in jambalaya.
The grain has always had a place in Louisiana kitchens, from the state's long-standing signature long-grain rice to a new Jasmine rice variety being developed by researchers.
Rice traveled with Acadian settlers from the Carolinas, and farmers would toss the seeds into bayous and shallow ponds to harvest for their own dinner tables. They called this casual form of planting "Providence Rice."
Farmers then began cultivating acres of rice using water from rivers and bayous to flood the land. They perfected the state's signature variety – slender and fluffy long-grain rice. Nearly 95 percent of rice grown in Louisiana today is of the long-grain variety and companies take pride in the fact that their rice is wholly made in Louisiana.
In Crowley, the state's "rice capital," the Falcon Mill remains the oldest family-run rice mill in the country, only manufacturing and selling rice grown in Louisiana.
The 72-year-old mill manufactures and sells "Certified Cajun rice" under the label Cajun Rice Company and the grain comes from farms no further than 50 miles away. The mill was recently handed over to its third-generation of owners.
The Louisiana Rice Mill, LLC, the largest rice mill operation in the state, has two mills in Crowley and Mermentau. It's been selling locally made rice under the label Supreme Rice since 1936 and employs more than 150 people.
Historical landmark Conrad Rice Mill in Bayou Teche is the oldest rice mill in America, founded in 1912 by P.A. Conrad who would cut rice by hand and let it sun-dry on the river levees. Conrad Rice Mill sells many varieties of rice, including 100 percent Louisiana brown rice pilaf, under the label Konriko, all over the world.
Louisiana rice has always been both celebrated and studied. The first Rice Carnival and Festival was first held in 1927 in Crowley to get people aware and excited about the product. The International Rice Festival is still held the third weekend of every October.
The Louisiana State Univ-ersity Agriculture Center set up a Rice Research Station in 1909 to study Louisiana rice varieties and learn new methods for harvesting the grain. Researchers have improved 44 varieties since the station's founding, each taking years to test and perfect.
In 2012, the Rice Research Station developed its own variety of Jasmine aromatic rice that can be grown to Louisiana. Called Jazzman Rice, it's designed to compete with Asian imported rice that has a softer, stickier texture after it's cooked.
Working together with rice farmers and the research station, the 2012 Jazzman Louisiana crop was estimated to be between 15,000 and 16,000 acres, with farmers getting a premium for the new variety. Supreme Rice has its own Jasmine rice variety. A brown aromatic rice currently is being developed.
Versatile and easy, rice remains a mainstay in Louisiana kitchens. Enjoyed with gravy or simply sprinkled with Cajun spices, every bite has one thing in common – the distinct taste of Louisiana.
---
Crowley's Rice Festival
The International Rice Festival held in Crowley, Louisiana will celebrate its 77th year Oct. 16-19 with rice-eating and rice-cooking contests, live music and much more.
The festival started in 1927 as a way to get more people excited about Louisiana rice by then-governor Richard Leche and Commissioner on Agriculture Harry D. Wilson. Today, it remains one of the state's oldest agricultural festivals and celebrates Crowley's history as an important part of the rice industry. The free festival will have more than 20 performers along with two parades, a Farmers Banquet and the Queen's Ball.
New events have been added over the years, including the frog derby, a 5-kilometer walk/run, Rice Bowl Football Game, livestock show, classic car show and the selection of a Farmer and Junior Farmer of the Year. An arts and crafts exhibit will be held adjacent to the festival grounds.
For more information, visit www.ricefestival.com
---