The Winter Wonderland of Natchitoches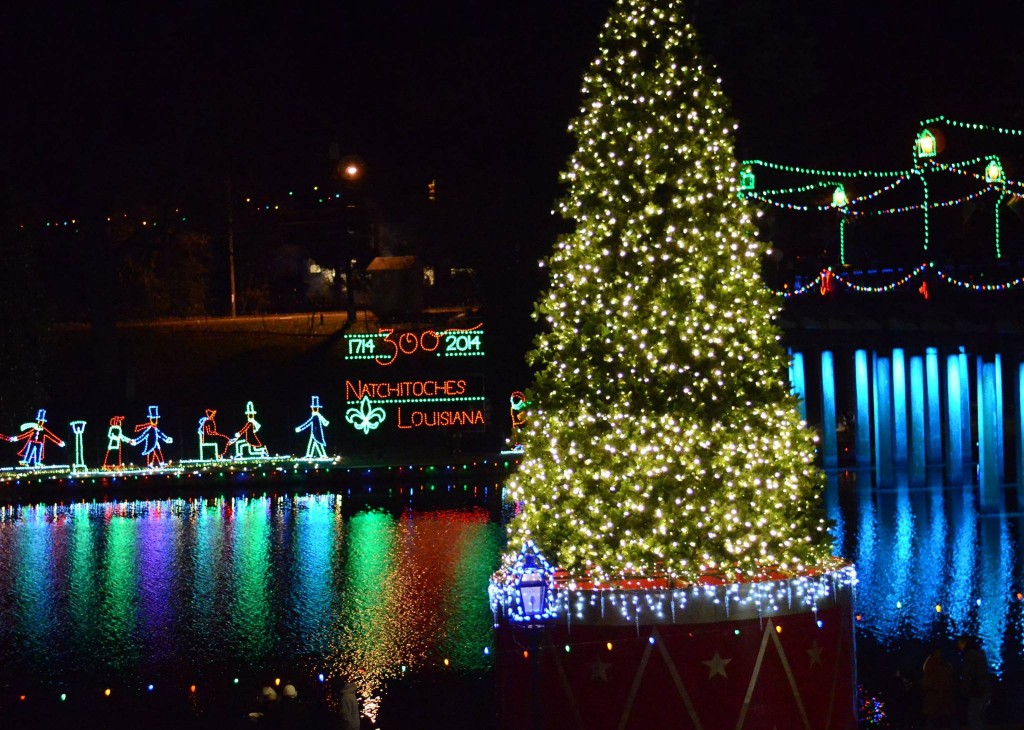 There are few who wouldn't want to experience an award-winning Louisiana Christmas tradition, especially one that has drawn hundreds of thousands to the oldest permanent settlement in the Louisiana Purchase territory.
If you have never experienced the Christmas season in Natchitoches, Louisiana, you are missing out on one of the best holiday displays in the country. Not only has the Natchitoches Christmas Festival, a 91-year-old tradition, been listed among the top 20 events in the Southeast, but Yahoo.com has also called it the third-best holiday light show, ranking it only behind Rockefeller Center and Walt Disney World. The mere fact that this town of 8,000 can pull off a massive grand display for thousands of visitors to enjoy every year is amazing; and that effort alone is a sure sign that the Christmas spirit runs deeper than the ocean in Louisiana's oldest city.
While it's not Santa's home in the North Pole, you can't help but be swept away by this festive scene. Natchitoches' Historic District, which is a National Historic Landmark District, oozes with Christmas décor that includes more than 300,000 lights and over 100 set display scenes. Add to this picture-perfect postcard scene dozens of Christmas experiences, mouthwatering cuisine, and endless shopping, and that makes Natchitoches a true wonderland for both children and adults.
Natchitoches is the home of the oldest community-based holiday celebrations in the country. And this fact wouldn't be case without the efforts of Max Burgdorf, superintendent of Natchitoches Utilities back in 1927. When 10-watt Christmas tree light bulbs first became available, Burgdorf purchased enough of them to string along Front Street and to make a set piece – a star measuring six feet in width – to display on the riverbank.
Fast forward 91 years, and Burgdorf would not believe his eyes; in fact, he would be beaming with pride over what the Natchitoches Christmas display has turned into in 2017. A one-day festival is now a six-week event that has brought joy to throngs of visitors and locals.

*Natchitoches Christmas Festival, Courtesy Karen Hoyt
While Burgdorf's star has been reinvented over the past 91 years, it is among the traditions that have remained for more than three-quarters of a century. This year not only marks the 81st year of fireworks (a stunning 15 minute show every Saturday in December); but it's also the 61st year for Miss Merry Christmas and her Christmas Belles, who will march in the Christmas parade. Each year, several Natchitoches Parish high school seniors compete for the title of Miss Merry Christmas. The competition includes scholastic achievement, an interview, evening wear and an onstage question. (Fun fact: The contestant who is crowned Miss Merry Christmas receives a Northwestern State scholarship, and other prizes.) In addition to marching in the Christmas parade, Miss Merry Christmas serves as the official hostess of the Natchitoches Christmas Festival.
Another important tradition that can't be missed is the nostalgic Santa Claus House, which has been a tradition since the 1950s, and this year, there's a new Santa Claus House where visitors can grant their wishes and take their picture with Old Saint Nick! (Fact: While visiting the new Santa Claus House, you'll have an opportunity to read about Barry Gunter, the young local boy the Santa House was originally built to memorialize over 50 years ago.)
There are also new and exciting attractions added to the Natchitoches Christmas Festival and beyond. Christmas in the Park is one of the newer experiences about three miles outside the Historic District, where you will find four acres of the Dark Woods transformed into a magical wonderland – a true enchanting experience. The Dark Woods come to life with more than 150,000 LED lights, including a canopy of twinkling ice lights and a 128-foot lighted foot bridge, and you can stroll through lighted walk-ways and twinkling trees across several displays, many of which are synchronized to holiday tunes. (Tip: Be sure to grab a few miniature donuts and hot chocolate before, after or during your exploration. Christmas in the Park is open nightly Monday through Sunday.)
Christmas in Natchitoches takes place every day in December and wraps up on Jan. 6 (the epiphany). (Tip: While it is much quieter during the week, there are many more experiences on the weekend.)
If you're looking for even more festive experiences, you can take a half-hour carriage ride through the stunning Historic District, adorned with Christmas lights and decorations, and pass right in front of the famous "Steel Magnolias" house. (Fun fact: you can stay overnight at this historic Hollywood home.) Thanks to a $4-million upgrade, this holiday season you can enjoy great live entertainment on the new Fest Stage with amphitheater seating; this offers festivalgoers great views of the beautiful Christmas sights along the Cane River – including the Church Street Bridge, which is all lit up for the holidays. There are also dozens of kids activities, food vendors, and lots of shopping opportunities along the downtown riverfront.
Additionally, make sure you don't miss the exciting annual Natchitoches Christmas Parade. This year's Grand Marshalls are the 610 Stompers and, of course, Santa will reign over the crowd. (Tip: Parade-goers mark their spots along the route within the Historic District festival area early in the day with blankets. Many wait at the gates as early as 6 a.m. to get their spots, but you don't need to be up in the front to get great views of the parade. Note, though, to watch the parade in this area, you will need an armband. Another great option is to catch the parade on 2nd Street going back toward Northwestern University; here, you do not need an armband.)
During the season, be sure to make a stop at the City of Lights Christmas Tree Farm, where they grow a variety of Leyland cypress trees. The smell of the cypress is reason enough to visit this family-owned and operated business located off of Highway 6 on Mount Olive Road; another option is a visit to the 4 Seasons Farm, which is both a Christmas tree and produce farm.
Hungry? There are so many restaurants to choose from, all of which can make for unique Christmas memories in Natchitoches. Among some longtime local holiday gathering spots is The Landing Restaurant and Bar in the Historic District; where popular appetizers include the fried green tomatoes, crabcake remoulade and oyster trio. The Landing also serves a variety of mouthwatering steaks and seafood dishes. (Tip: The meringue-topped homemade bread pudding with rum sauce is a must try!) If you are here on Sunday, they have a great all-you-can-eat brunch buffet with complimentary champagne and live jazz music.
Another great option is Merci Beaucoup, a longtime neighborhood establishment, located in what once was a gas station. Merci Beaucoup is usually only open for lunch, but during the month of December the restaurant is open till 8 p.m. and then on Sundays from 10:30 a.m. – 2 p.m. (Tip: Be sure to tempt your taste buds with the local favorite, the Cajun baked potato, which is a stuffed potato, topped with crawfish etouffee and a jumbo fried shrimp.)
And, whatever you do, don't leave Natchitoches without visiting Lasyone's Meat Pie Kitchen. This establishment offers an authentic soulful Creole cuisine experience, and is nationally known for its famous meat pies. Among local favorites are Lasyone's Famous Meat Pie, which is a combination of beef and pork, crawfish pies and Lasyone's Famous Red Beans, Rice and Sausage. (Fun Fact: The Natchitoches meat pie is one of the official state foods of Louisiana.)
After all this fun, you will be ready for a good night's sleep, and what better place to rest than in the Bed and Breakfast Capitol of Louisiana? Some great Bed and Breakfast options are the stunning Samuel Guy House and the Steel Magnolia's House (centerpiece of the popular film "Steel Magnolias.") If you are interested in staying at a unique hotel, a couple of sure-to-be memorable possibilities are the Churst Street Inn and the newly-built Chateau Saint Denis boutique hotel.
Lagniappe: This year marks the 29th year of Northwester State University's Christmas Gala, featuring Broadway-style and scale production at the gorgeous, historic Strand Theatre in nearby Shreveport. Hundreds of creative and performing arts students, along with school administrators put on this show-stopping grand production. This is truly a magical experience not to be missed.
For more information:
natchitocheschristmas.com/schedule
facebook.com/Christmasintheparkla
facebook.com/4-Seasons-Christmas-Tree-Farm-200521203342221
thelandingrestaurantnatchitoches.com