Top 10 Reasons to Retire in Louisiana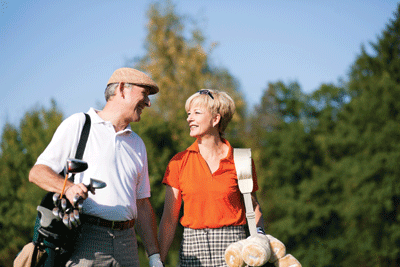 You'll never be bored.
Louisiana is like many states rolled into one. Each region has its own distinct topography, wildlife, culture, cuisine and history, so you can enjoy your retirement in many different ways without making long trips.
Active lifestyles are encouraged.
Fishing, hunting, boating, golfing, bird-watching – Louisiana has lots of inducements to get up off the couch and head outdoors.
Company is coming.
Louisiana's reputation as a great place to visit makes it a magnet for friends and family members. Grandchildren will especially like visiting because there are child-friendly activities scattered all over the state. And what child doesn't like catching a fish or taking a swim?
On the menu: delicious meals
Whether you choose a small poor boy shop or a famous white-tablecloth restaurant, you are guaranteed to dine well in Louisiana. Even more fun is learning to cook some of our renowned specialties for yourself. Plus, our mild weather means long growing seasons, so you can dine on fresh fruits and vegetables right from the garden.
It's easy to keep sharp.
For some people, retirement means returning to school for that long-sought-after degree. Others want to learn to speak French or hone their skills in arts and crafts. Louisiana has a strong network of two- and four-year colleges, and many give older adults a tuition break.
Health care is widely available.
No matter where in Louisiana you choose to settle, you won't be far from cutting-edge health care facilities. Major hospitals, primary-care clinics and rehab and wellness centers make it easy to stay at the top of your game. In addition, our mild weather means no housebound days due to snow and ice.
What's your pleasure?
College football rivalries make for great games all over the state. If pro ball is your thing, check out the New Orleans Saints, Super Bowl winners in 2010, and the NBA New Orleans Hornets or the New Orleans Zephyrs, a Triple-A baseball team.
Stretching your dollars
Low property taxes, a generous homestead exemption, modest state income tax and affordable housing make it a smart move economically to
retire in Louisiana.
There's a community for every taste.
For those who long to downsize, Louisiana towns have a variety of apartments, condos and town houses where upkeep is minimal, giving you more free time.
But the state also provides a robust number of beautiful old homes just right for those interested in antiquing and preservation. Seniors searching for the excitement of big-city living can find it in Louisiana, too.
Louisiana people are friendly.
You won't stay a stranger long in Louisiana, where entertaining is a way of life. Before you know it, neighbors will invite you to drop in for red beans and rice or you'll find yourself riding on a Mardi Gras float. Here, folks make time for drinking iced tea on a front porch or doing the Cajun two-step at a local dance hall.
Louisiana has been a magnet for people from all parts of the world for decades, and its residents are experts at making newcomers feel
at home.