Top Hospitals 2017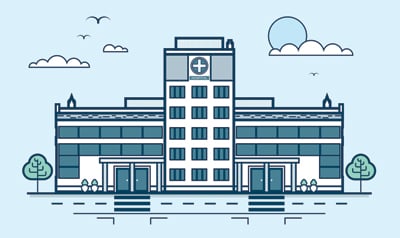 There is only one major source that provides credible ongoing analysis of hospitals. It is Medicare, which as the federal health insurance program for people 65 and older, as well as certain younger people with disabilities, often pays many of the big bills.
As part of its informational services, medicare.gov reports on evaluations of hospitals based on queries of patients.
For the last three years, the Louisiana Life editorial staff has sifted through the data and created a one-of-a-kind list that demonstrates the state's hospitals according to locality. To qualify for this list, at least 60 percent of the patients queried had to give the hospital a top overall ranking of 9 or 10. These are the top general service hospitals as seen through the eyes of those who have experienced them firsthand — the patients. Additionally, a few hospitals in the state did not have any information available on Medicare's website and therefore could not qualify to be on the list.
It is noteworthy that this year, more hospitals in the state received a rating of 9 or 10 by more than 60 percent of the patients surveyed, than in previous years. This demonstrates that health care facilities have been further committed to quality, and it's reflected in their patients' experiences.
Abbeville
Abbeville General Hospital
– 118 N. Hospital Drive
(337) 893-5466
Alexandria
Central Louisiana Surgical Hospital
– 651 North Bolton Ave.
(318) 449-6400
Christus St. Frances Cabrini Hospital
– 3330 Masonic Drive
(318) 487-1122
Rapides Regional Medical Center
– 211 4th St.
(318) 769-3000
Amite
Hood Memorial Hospital
– 301 W. Walnut St.
(985) 748-9485
Bastrop
Morehouse General Hospital
– 323 W. Walnut
(318) 283-3600
Baton Rouge
Baton Rouge General Medical Center
– 3600 Florida Blvd.
(225) 387-7767
Ochsner Medical Center – Baton Rouge
– 17000 Medical Center Drive
(225) 755-4876
Our Lady of the Lake Regional Medical Center
– 5000 Hennessy Blvd.
(225) 765-6565
Surgical Specialty Center of Baton Rouge
– 8080 Bluebonnet Blvd.
(225) 408-8080
The Spine Hospital of Louisiana
– 10105 Park Row Circle Suite 250
(225) 763-9900
Woman's Hospital
– 100 Woman's Way
(225) 927-1300
Bogalusa
Our Lady of the Angels Hospital
– 433 Plaza St.
(985) 730-6700

Bossier City
Willis Knighton Bossier Health Center
– 2400 Hospital Drive
(318) 212-7000
Breaux Bridge
St. Martin Hospital
– 210 Champagne Blvd.
(337) 332-2178
Cameron
South Cameron Memorial Hospital
– 5360 West Creole Hwy.
(337) 542-4111
Chalmette
St. Bernard Parish Hospital
– 8000 West Judge Perez Drive
(504) 826-9500
Columbia
Caldwell Memorial Hospital
– 411 Main St.
(318) 649-6111
Citizens Medical Center
– 7939 U.S. Hwy. 165 S.
(318) 649-6106
Covington
Fairway Medical Center
– 67252 Industry Lane
(985) 801-6252
Lakeview Regional Medical Center
– 95 Judge Tanner Blvd.
(985) 867-4443
St. Tammany Parish Hospital
– 1202 S. Tyler St.
(985) 898-4000
Crowley
Acadia General Hospital
– 1305 Crowley Rayne Hwy.
(337) 783-3222
Cut Off
Lady of the Sea General Hospital
– 200 W. 134th Place
(985) 632-6401
Delhi
Richland Parish Hospital-Delhi
– 407 Cincinnati St.
(318) 878-5171
Deridder
Beauregard Memorial Hospital
– 600 S. Pine St.
(337) 462-7100
Farmerville
Union General Hospital
– 901 James Ave.
(318) 368-9751
Franklin
Franklin Foundation Hospital
– 1097 Northwest Blvd.
(337) 828-0760
Gonzales
St. Elizabeth Hospital
– 1125 W. Hwy. 30
(225) 647-5000
Hammond
Cypress Pointe Surgical Hospital
– 42570 S. Airport Road
(985) 510-6200
North Oaks Medical Center
– 15790 Paul Vega MD
Drive
(985) 345-2700
Homer
Claiborne Memorial Medical Center
– 620 E. College St.
(318) 927-2024
Houma
Leonard J. Chabert Medical Center
– 1978 Industrial Blvd.
(985) 873-1285
Physicians Medical Center
– 218 Corporate Drive
(985) 853-1390
Terrebonne General Medical Center
– 8166 Main St.
(985) 873-4141
Independence
Lallie Kemp Medical Center
– 52579 Hwy. 51 S.
(985) 878-9421
Jena
Lasalle General Hospital
– 187 Ninth St./Hwy. 84 W.
(318) 992-9200
Jennings
Jennings American Legion Hospital
– 1634 Elton Road
(337) 616-7000
Jonesboro
Jackson Parish Hospital
– 165 Beech Springs Road
(318) 259-4435
Kenner
Ochsner Medical Center Kenner
– 180 W. Esplanade Ave.
(504) 468-4806
Kinder
Allen Parish Hospital
– 108 6th Ave.
(337) 738-2527
Lacombe
Louisiana Heart Hospital
– 64030 Hwy. 434
(985) 640-7500
Lafayette
Heart Hospital of Lafayette
– 1105 Kaliste Saloom Road
(337) 521-1000
Lafayette General Medical Center
– 1214 Coolidge Ave.
(337) 289-7991
Lafayette General Surgical Hospital
– 1000 W. Pinhook Road
Suite 100
(337) 289-8095
Lafayette Surgical Specialty Hospital
– 1101 Kaliste Saloom Road
(337) 769-4100
Our Lady of Lourdes Regional Medical Center
– 4801 Ambassador Caffery Pkwy.
(337) 470-2000
Park Place Surgical Hospital
– 4811 Ambassador Caffery Pkwy.
(337) 237-8119
University Hospital & Clinics
– 2390 W. Congress
(337) 261-6000
Women's & Children's Hospital
– 4600 Ambassador Caffery Pkwy.
(337) 521-9100
Lake Charles
Christus St. Patrick Hospital
– 524 Dr. Michael Debakey St.
(337) 436-2511
Lake Area Medical Center
– 4200 Nelson Road
(337) 474-6370
Lake Charles Memorial Hospital
– 1701 Oak Park Blvd.
(337) 494-3000
Lake Providence
East Carroll Parish Hospital
– 336 N. Hood St.
(318) 559-4023
Leesville
Byrd Regional Hospital
– 1020 Fertitta Blvd.
(337) 239-9041
Doctors Hospital at Deer Creek
– 815 South 10th St.
(337) 392-5088
Luling
St. Charles Parish Hospital
– 1057 Paul Maillard Road
(985) 785-3644
Lutcher
St. James Parish Hospital
– 1645 Lutcher Ave.
(225) 869-5512
Mamou
Mamou Medical Center
– 801 Poinciana Ave.
(337) 468-5261
Mansfield
Desoto Regional Health System
– 207 Jefferson St.
(318) 872-4610
Many
Sabine Medical Center
– 240 Highland Drive
(318) 256-1232
Marksville
Avoyelles Hospital
– 4231 Hwy. 1192
(318) 253-8611
Marrero
West Jefferson Medical Center
– 1101 Medical Center Blvd.
(504) 347-5511
Metairie
East Jefferson General Hospital
– 4200 Houma Blvd.
(504) 454-4000
Minden
Minden Medical Center
– No.1 Medical Plaza
(318) 377-2321
Monroe
Monroe Surgical Hospital
– 2408 Broadmoor Blvd.
(318) 410-0002
P & S Surgical Hospital
– 312 Grammont St.
Suite 101
(318) 388-4040
St. Francis Medical Center
– 309 Jackson St.
(318) 966-4000
University Health Conway
– 4864 Jackson St.
(318) 330-7000
Morgan City
Teche Regional Medical Center
– 1125 Marguerite St.
(985) 384-2440
Natchitoches
Natchitoches Regional Medical Center
– 501 Keyser Ave.
(318) 214-4200
New Iberia
Iberia General Hospital and Medical Center
– 2315 E. Main St.
(337) 364-0441
New Orleans
New Orleans East Hospital
– 5620 Read Blvd.
(504) 592-6600
Ochsner Medical Center
– 1516 Jefferson Hwy.
(504) 842-3000
Touro Infirmary
– 1401 Foucher St.
(504) 897-7011
Tulane Medical Center
– 1415 Tulane Ave
(504) 988-5263
University Medical Center New Orleans
– 2000 Canal Street
(504) 903-3000
New Roads
Pointe Coupee General Hospital
– 2202 False River Drive
(225) 368-6386
Oakdale
Oakdale Community Hospital
– 130 N. Hospital Drive
(318) 335-3700
Oak Grove
West Carroll Memorial Hospital
– 706 Ross St.
(318) 428-3237
Olla
Hardtner Medical Center
– 1102 N. Pine Road
(318) 495-3131
Opelousas
Opelousas General Health System
– 539 E. Prudhomme St.
(337) 948-301
Raceland
Ochsner St. Anne General Hospital
– 4608 Hwy. 1
(985) 537-8377
Rayville
Richardson Medical Center
– 254 Hwy. 3048
(318) 728-4181
Ruston
Northern Louisiana Medical Center
– 401 East Vaughn Ave.
(318) 254-2100
Shreveport
Christus Health Shreveport – Bossier
– 1453 E. Bert Kouns
Industrial Drive
(318) 681-5000
Specialists Hospital Shreveport
– 1500 Line Ave.
(318) 213-3800
University Health Shreveport
– 1541 Kings Hwy.
(318) 675-5000
Willis Knighton Medical Center
– 2600 Greenwood Road
(318) 212-4000
Slidell
Ochsner Medical Center – Northshore
– 100 Medical Center Drive
(985) 646-5000
Slidell Memorial Hospital
– 1001 Gause Blvd.
(985) 643-2200
Southern Surgical Hospital
– 1700 W. Lindberg Drive
(985) 641-0600
Sterling Surgical Hospital
– 989 Robert Blvd.
(504) 690-8200
Springhill
Springhill Medical Center
– 2001 Doctors Drive
(318) 539-1000
Sulphur
West Calcasieu Cameron Hospital
– 701 East Cypress St.
(337) 527-7034
Thibodaux
Thibodaux Regional Medical Center
– 602 N. Acadia Road
(985) 447-5500
Ville Platte
Mercy Regional Medical Center
– 800 E. Main
(337) 363-5684
Vivian
North Caddo Medical Center
– 715 South Pine St.
(318) 375-3235
West Monroe
Glenwood Regional Medical Center
– 503 McMillan Road
(318) 329-4600
Winnsboro
Franklin Medical Center
– 2106 Loop Road
(318) 435-9411
Winnfield
Winn Parish Medical Center
– 301 W. Boundary St.
(318) 648-3000
Zachary
Lane Regional Medical Center
– 6300 Main St.
(225) 658-4000