Torte Reform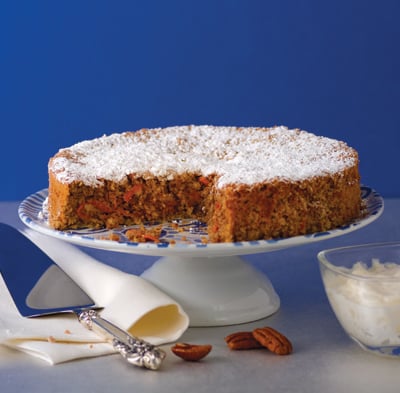 I have a hard time keeping track of the seasons.
This is the time of year for Louisiana strawberries, but they actually started showing up in small quantities back in December. That was about the same time that a few local restaurants began serving boiled crawfish, which only added to my confusion. Last year I was so out of kilter that I missed the local blueberry crop by a month. By the time I got out to Romero's pick-your-own farm in Cade, blueberry season had morphed into blackberry season. So I picked blackberries, which I love, but not at the expense of blueberries.
However early strawberries and blueberries may appear, March and April are high season for them, with blueberries usually ripening in April (at least in South Louisiana). So now's the time to make the most of the crop. A bowl of fresh berries at breakfast (or any time of the day, for that matter) is a seasonal treat that I never tire of, and there are scores of ways to incorporate them into scrumptious desserts. As a matter of personal taste, I don't like cooked strawberries, so I enjoy them on their own with a little sugar and cream or use them to make an ice cream or sorbet, which is one of this month's recipes.
On the other hand, I'll happily include blueberries in a variety of cooked and baked dishes, in addition to enjoying them in their fresh state. Blueberry waffles are a welcome way to kick off the day, but they don't have to be limited to the breakfast table. They can also double as a dessert when topped with whipped cream or ice cream and additional berries. A pound cake studded with juicy blueberries, which is a snap to make, will brighten up a dessert plate or serve as a fine accompaniment to afternoon coffee or tea. I've used Greek-style yogurt in the recipes for pound cake and waffles, and, for reasons I can't explain, it results in browning that is superior to what either milk or buttermilk will produce.
Because Easter is almost upon us, it seems appropriate to use some spring carrots to make a cake for the Easter Bunny, not to mention the kids and their parents. The recipe that follows is actually a torte, and it is very different from the familiar oil-based carrot cake with cream cheese frosting, but I don't think the Easter Bunny will complain.
---
Carrot, Ginger and Pecan Torte
This is a very light cake made without butter or oil and with ground pecans and panko (crisp Japanese-style bread crumbs) in place of flour. I like it served plain with a cup of black coffee, but either powdered sugar or whipped cream is a worthy addition. For this recipe, do not grease the pan.
6 large eggs, separated
1 cup sugar
1 tablespoon grated ginger root
1 cup grated carrots
2/3 cup panko bread crumbs
1 cup ground pecans
Powdered sugar (optional)
Whipped cream (optional)
Preheat the oven to 350 degrees. In a mixing bowl, beat the egg yolks until they are pale yellow. Slowly add the sugar, and continue beating until smooth and creamy. Add the grated ginger and carrots, and mix to combine. Add the bread crumbs and ground pecans, and mix to combine.
In a separate bowl, beat the egg whites until they are stiff. Fold the egg whites into the batter. Turn the mixture into an ungreased 9-inch springform pan, and bake it in the preheated oven until it's browned and set in the middle, about 40-45 minutes. Place the pan on a wire rack, and let the torte cool in the pan. Serve with powdered sugar or whipped cream if desired. Serves 8.
Strawberry Sorbet
This is a good way to capture the freshness and flavor of the season's strawberries.
3/4 cup sugar
1 1/2 cups water
1 pound strawberries
3 tablespoons freshly squeezed orange juice
3 tablespoons freshly squeezed lemon juice
3 tablespoons vodka
To make simple syrup, combine the sugar and water in a small pan and bring to a boil while stirring to dissolve the sugar. Boil for 5 minutes. Remove the pan from the heat, and let the syrup cool before proceeding with the recipe.
Wash, hull and slice the strawberries. Place the strawberries, simple syrup, orange juice and lemon juice in the blender, and process until liquefied. Press through a fine-mesh strainer to remove the seeds. Add the vodka, and chill thoroughly; then process in an ice cream maker according to the manufacturer's instructions. Scoop into a container, and freeze until firm. Remove from the freezer 5 or 10 minutes before serving so the sorbet will soften slightly. Makes about 1 quart.
Blueberry Pound Cake
1/2 cup butter, softened
1 1/2  cups sugar
3 large eggs
1 teaspoon pure vanilla extract
1/8 teaspoon nutmeg
1/8 teaspoon baking soda
1/8 teaspoon salt
1/4  cup plain yogurt, preferably Greek-style
1 1/3 cups all-purpose flour
1 1/2 cups blueberries
Preheat the oven to 325 degrees. Butter and flour a standard loaf pan.
Cream the butter and sugar until fluffy. Add the eggs, one at a time, beating well after each addition. Add the vanilla, nutmeg, soda, salt and yogurt, and mix well. Fold in the flour until combined. Fold in the blueberries. Turn the batter into the prepared pan, and bake in the preheated oven until a tester inserted in the center comes out clean, about 65-70 minutes. Serves 8 to 10.
Blueberry Waffles
1 cup all-purpose flour
1/2 teaspoon baking powder
1/2 teaspoon baking soda
1/8 teaspoon salt
2 tablespoons sugar
3/4 cup milk
1/2 cup plain yogurt, preferably Greek-style
2 large eggs, lightly beaten
2 tablespoons melted butter
1/2 cup blueberries
Preheat the waffle iron. In a medium bowl, combine the flour, baking powder, baking soda, salt and sugar, and whisk to combine. Add the milk, yogurt and eggs, and whisk to combine. Mix in the butter. Fold in the blueberries. Cook on the hot waffle iron until browned. Serve with melted butter and choice of syrups, or top with additional berries and a dusting of powdered sugar. Makes about 4 round waffles.
Whipped Cream
1/2 pint very cold heavy cream
3 tablespoons powdered sugar
1/2 teaspoon pure vanilla extract
Whip the cream until it begins to thicken. Add the sugar and vanilla, and whip until soft peaks form. Makes about 2 1/2 cups of whipped cream.