Tracking The Tigers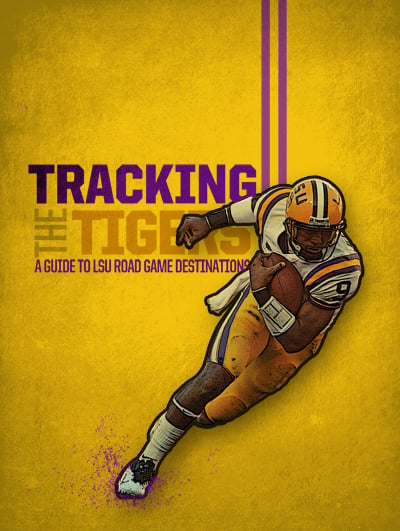 If the LSU football team can advance to the Southeastern Conference Championship game in Atlanta in December, the Tigers' 2014 season will be bookended by trips to big cities. They kick off their schedule with a neutral-site matchup against Wisconsin in what will be LSU's first game in Houston since 1983. Given the manageable drive from Baton Rouge to Houston and all those Louisiana ex-pats living in the Bayou City, you can bet that Reliant Stadium will be brimming with Badger hostility. In between Houston and (potentially) Atlanta, LSU also hits the road for conference games in Auburn, Alabama; Gainesville, Florida; Fayetteville, Arkansas; and College Station, Texas.
---
Houston Texas
There are enough activities in America's fourth-largest city to keep you occupied for weeks, so if you only have a day or two to see the sights, be selective and don't get overwhelmed by this massive metropolis and its thriving energy, medical and aeronautical sectors. Space Center Houston is the official visitors center of NASA's Johnson Space Center. You can experience a space shuttle launch in the Blast Off Theater and touch a real moon rock, but the highlight is the 90-minute tram tour that gives you a behind-the-scenes look at the real working areas of the space center. Even if you're not in need of retail therapy, The Galleria is a bona fide destination, attracting 35 million visitors a year. This small city of a shopping center is anchored by Neiman Marcus, Nordstrom, Saks Fifth Avenue, two Macy's stores and the grandest feature – the 20,000-square-foot Polar Ice – the first ice rink ever built inside of a mall. Another way to cool off in the August heat is to visit the nearby Hines Waterwall Park, with its wondrous 64-foot fountain that circulates 11,000 gallons of water per minute. The public park is a great place to relax, take some photos and enjoy the mist drifting off the waterwall. Any visit to the Lone Star State is incomplete without sampling Tex-Mex cuisine. Some of the best in the state can be found at Hugo's, which offers mouth-watering seafood cocktails and a variety of moles made from scratch. The epicenter of Houston's impressive arts scene is the Museum District, which consists of 19 museums, galleries and cultural centers within a mile and a half radius of the landmark Mecom Fountain. All of the museums offer free times or days while some are always free.

---
Auburn Alabama
Auburn's most iconic gathering place is in transition during the 2014 football season. Toomer's Corner, at the intersection of Magnolia Avenue and College Street, was the traditional spot where Auburn fans draped two oak trees with toilet paper following a victory. But in 2011, a renegade Alabama fan (now felon) poisoned one of the historic oaks, and both trees had to be removed. The area is getting a major makeover, and new trees will be planted in early 2015. While you're checking on the progress of the project, treat yourself to a lemonade at Toomer's Drug Store, a landmark establishment that opened in 1896. If you're looking to imbibe something stronger, head to the War Eagle Supper Club for live music and late hours. It holds the unique distinction of being able to serve alcohol until 5 a.m. It can do this by maintaining its status as a private club – to become a member, just pay a one-time fee of $2 and enjoy your cocktail as the sun rises. To get your barbecue fix, check out Byron's Smokehouse for chipped pork, fried okra and sweet tea. It's also a popular breakfast destination but don't wait until the day after the game to cross it off your list – Byron's is closed on Sundays. On game day, arrive early to Jordan-Hare Stadium, lest you miss some of the most compelling traditions in college football. Two hours before kickoff, thousands of Auburn fans line up to greet the players as they enter the stadium during Tiger Walk, the decades-old ritual that has been copied by countless other universities. After absorbing that peppiest of rallies, head inside to find your seat and make sure you have a view of the field 20 minutes before the start of the game. That's when an eagle swoops down from a flagpole atop the stadium and, regardless which team of Tigers you're rooting for, it's a majestic sight and not to be missed.

---
Gainesville Florida
Ben Hill Griffin Stadium, commonly known as "The Swamp," is one of the more inhospitable venues for visiting fans in all of college football. That's a compliment. Eighty-eight thousand fans, many of them smacking their hands together in the stiff-armed Gator Chomp, contribute to a deafening home-field advantage for the Gators. The field is sunken below ground, and the stands rise steeply skyward to create the aural effect of an echo chamber. The theme music to Jaws plays before kickoffs and after big plays in the game. For Florida fans, it's exhilarating; for opponents, it can be haunting. Fortunately the city of Gainesville is considerably more welcoming than its famed stadium. Sushi-lovers should head to Dragonfly Sushi for an innovative menu, a vast sake and whiskey selection and sleek décor. The Top is another local favorite with a lively atmosphere and eclectic American cuisine with vegetarian and vegan choices. Midtown, located across from the university, is the Gainesville's thriving bar district and the best place to relive your own carefree college years. Options include the Grog House Grill (a bit grungy), Salty Dog Saloon (grungier) and Balls (grungiest). In spite of all expected beer and barbeque outlets, Gainesville's cultural and educational offerings are more befitting of a larger city. The butterfly rainforest at the Florida Museum of Natural History features a lush tropical landscape with hundreds of free-flying butterflies and birds from around the globe. The Samuel P. Harn Museum of Art, located in the southwest portion of campus, is one of the largest university-affiliated museums in the nation with more than 8,000 works in its various collections. Admission is free.

---
Fayetteville Arkansas
Yes, you will hear Arkansas fans bellowing "Woo, pig! Sooie!" their customary Calling of the Hogs, from the moment you enter this college town in the Ozark foothills until the moment you exit. That's been going on in these parts since the 1920s, but there's much more to this college town in Northwest Arkansas than pigs and pigskin. But first about the pig – while LSU has Mike the Tiger, Arkansas has Tusk, a 380-pound Russian boar. He's at all the home games – you can't miss him. For the city's most popular burgers, head downstairs to Hugo's, a basement restaurant that also serves up hand-cut fries, fresh guacamole and delicious crepes. Craft beer aficionados will want to check out the Hog Haus Brewing Company, the only operating brewery in Northwest Arkansas and the only place in Fayetteville that sells beer-to-go on Sundays. Stick to Dickson Street, located right off campus, for a lively assortment of bars, restaurants and shops. The heart of tailgating activity at the University of Arkansas is the Gardens, located south of Donald W. Reynolds Razorback Stadium. If you have a hankering for antiques, Fayetteville has some surprisingly strong options with French Quarters Antiques, named one of the top 200 places to shop in the South by Southern Living, and French Metro Antiques among the standouts. At McLellan's Fly Shop, anglers can expect first-rate gear and advice on how to catch brown trout from Arkansas' White River. If you have a half-day to spare, venture 25 minutes outside of town into the Ozarks to Devil's Den State Park. Hike the rugged trails and stop often to take in the lush landscapes and magnificent scenery.

---
College Station Texas
College Station should be on the bucket list of any college football fan, regardless of allegiance. To get a sense for how tradition, ritual and school pride ooze from the Aggies program, make a point to attend Midnight Yell Practice. Held the night before a home game in Kyle Field, the five yell leaders (elected by the student body) lead the 12th Man (Aggie fans) and the Fightin' Texas Aggie Band into the stadium for a rousing session of old army yells, a rendition of the fight song and grand boasts about the Aggies' next conquest. At the conclusion, the lights go out, the Aggies kiss their dates and everyone goes home deliriously happy about the team's prospects for the next day. The Northgate district is the center of Texas A&M nightlife and the one bar you should patronize if only to say you've actually been is the Dixie Chicken, which claims to sell more beer per square foot than any other bar in the country. If you happen to see young people dropping their school rings into pitchers of beer before chugging, they are not being careless with their jewelry – they are, much to the chagrin of their parents and university administrators, participating in a tradition known as "ring dunking." The Corner Bar and Grill, also in Northgate, has a scenic rooftop view of campus and is a popular destination before and after the game. If you're not much of a beer drinker, try the Messina Hof Winery and Resort, an acclaimed winery and vineyard located in a bucolic setting in neighboring Bryan. Take a tour and get a taste of the state's most awarded winemaker. For one of College Station's fine dining options, Veritas Wine & Bistro is a self-described "modern French-American-Asian bistro" with cosmopolitan décor and a chef-driven menu.
Atlanta Georgia
Atlanta is a world-class city, with an economy that makes it one of the most prosperous cities in the world. Accordingly, Atlanta's array of attractions is prodigious. Centennial Park is the remaining legacy of the 1996 Olympic Games, built to revitalize a moribund section of the city. The 21-acre park is anchored by World of Coca-Cola, CNN Center, the Center for Civil and Human Rights and the Georgia Aquarium, a sprawling facility with more than 100,000 fish and other sea creatures, including the only whale shark exhibit outside of Asia. The Dolphin Tales live theatrical show is breathtaking. To get a bird's-eye view of the city, visit Stone Mountain Park, the most visited attraction in the state of Georgia. To reach the 1,686 foot summit, you can either hike the trail or take an aerial tram to the top. On the north face of the mountain is its most well-known feature, a carving of three prominent figures from the Confederacy: Stonewall Jackson, Robert E. Lee and Jefferson Davis. The Lasershow Spectacular transforms the mountain into a natural amphitheater with dazzling neon lights, fireworks and music. Atlanta is a city with more than 200 distinct neighborhoods. Beer lovers would do well to check out East Atlanta Village with five pubs within a three block radius, including the Midway Pub, which features a well-edited 18 tap selection and an outdoor beer garden. For fresh and inventive Mexican food, and one of the city's best values, check out one of the three locations of Taqueria del Sol for taco options that include barbecue pork and fried fish. Few restaurants exemplify modern Atlanta better than Heirloom Market BBQ, which specializes in straight-ahead Southern barbecue and Korean-inspired side dishes like kimchee slaw.
---
---
{2014 SCHEDULE}
Saturday, April 5
L-Club Spring Football Game
Tiger Stadium, Baton Rouge
Saturday, August 30
Wisconsin Badgers
Reliant Stadium, Houston, TX
Saturday, September 6
Sam Houston State Bearkats
Tiger Stadium, Baton Rouge
Saturday, September 13
ULM Warhawks
Tiger Stadium, Baton Rouge
Saturday, September 20
Mississippi State Bulldogs
Tiger Stadium, Baton Rouge
Saturday, September 27
New Mexico State Aggies
Tiger Stadium, Baton Rouge
Saturday, October 4
at Auburn Tigers
Jordan-Hare Stadium, Auburn, AL
Saturday, October 11
at Florida Gators
Ben Hill Griffin Stadium
Gainesville, FL
Saturday, October 18
Kentucky Wildcats
Tiger Stadium, Baton Rouge
Saturday, October 25
Ole Miss Rebels (HC)
Tiger Stadium, Baton Rouge
Saturday, November 1
Open Date
Saturday, November 8
Alabama Crimson Tide
Tiger Stadium, Baton Rouge
Saturday, November 15
at Arkansas Razorbacks
D.W.R. Razorback Stadium
Fayetteville, AK
Saturday, November 22
Open Date
Thursday, November 27
at Texas A&M Aggies
Kyle Field, College Station, TX
Saturday, December 6
SEC Championship Game
Georgia Dome, Atlanta, GA