Traditionally Louisiana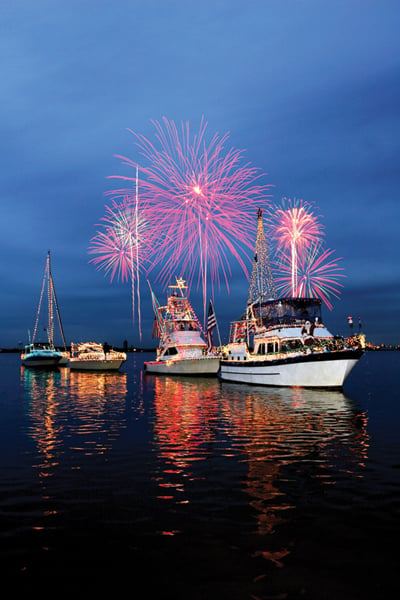 Max Burgdorf wanted to add some Christmas cheer to his hometown of Natchitoches, so in 1927 the superintendent of utilities strung together a "Star of the East" display with 10-watt Christmas tree bulbs and placed it on the banks of Cane River Lake across from Front Street. Charles Solomon, the city's chief electrical inspector, later built a larger star and more displays.
Over time, this small Natchitoches Christmas Festival grew to one of the largest and oldest holiday celebrations in the country. Today, the annual event stretches from the lighting of the more than 300,000 bulbs and 100 river bank displays on Nov. 18 to the Epiphany of Jan. 6, 2018. The main festival day with parade, pageantry and fireworks is always the first Saturday in December, but fireworks continue every Saturday night, along with subsidiary celebrations.
"We've got it down pat when it comes to celebrating the holidays," said Arlene Gould, executive director of the Natchitoches Parish Convention and Visitors Bureau. "It's grown so much that it's now a six-week festival of lights."
The Natchitoches Christmas Festival remains one of many special ways to celebrate the holidays in Louisiana. From all corners of our unique and diverse state, residents ring in the holidays with trademark joie de vivre.
Christmas on the water

Holiday parades don't have to roll. In South Louisiana, the festivities take to the water as well.
Lake Charles lights up the body of water that gives the city its name on Dec. 3 with the annual Light Up the Lake Christmas Festival.
The all-day festival includes carriage rides, Santa's workshop, concerts and a parade through town, concluding with the Lighted Boat Parade on the lake and followed by fireworks.
Over in Delcambre, residents have been decorating their shrimp boats for Christmas for years, celebrating the holidays with the annual Delcambre Christmas Boat Parade. The fun begins on Dec. 9 at 6:30 p.m. at the Delcambre Docks, with fireworks to follow.
Louisiana Holiday
Trail of Lights

For almost three decades, eight north Louisiana cities have geared up to celebrate the holidays in the annual Louisiana Holiday Trail of Lights. On the Interstate 20 corridor there's Shreveport, Bossier City, Minden, Monroe and West Monroe. Heading south on Interstate 49, Natchitoches, Alexandria and Pineville are part of the tour.
Each city has something distinctive to offer. Minden, for instance, honors its German heritage with the Fasching Fifth Season Festival on Nov. 18, what locals call a German Mardi Gras. The town brings out German food, music and a Hof Brauhouse, or beer garden, with fireworks at dusk, in addition to kicking off the Old World Christmas Lights Spectacular. Visitors are also offered free admission to the Germantown Colony Museum and the Dorcheat Historical Museum.
On the first Saturday of December, West Monroe offers a unique twist to the holiday parade with the annual Redneck Parade, which doubles as a fundraiser for children in need. Participants pay fees and donate toys for the chance to enter a float, crazy big-wheeled trucks and other decorated vehicles.
"It's not your typical Christmas parade," said Sheila M. Snow, vice president of communications for the Monroe-West Monroe Convention and Visitors Bureau.
Shreveport's activities include "Christmas in Roseland," where the 60-acre park sponsored by the American Rose Society is filled with thousands of lights, massive community Christmas cards, carolers, train rides and more, while the Alexandria Zoo lights up its animal acreage for the Holiday Light Safari, held each weekend and the week prior to Christmas Eve.
Holiday traditions

When Lori Leger of Kinder decided to leave home for Christmas, she headed to Chicot State Park near Ville Platte for her family's early Christmas celebrations.
The first year she rented the "Conservation Lodge," one that former Louisiana Gov. Edwin Edwards used for private parties, said Leger, who writes Louisiana-based romance novels. The lodge offered a screened-in porch and a wharf to the lake, but Leger discovered there were no bedrooms, just one living area with beds. The following year she rented a cabin with enough bedrooms but only one bath for her 14 guests.
"After that I started renting two deluxe cabins on the water with a connecting deck and wharf, and a total of four bedrooms and two baths," she said. "We've had some fabulous Christmases at those cabins, but none more memorable than that first one."
The year she rented the lodge, it was infested with ladybugs that were visiting Louisiana for the holidays.
"To this day when I see a ladybug I think of that Christmas," Leger said.
When Camille Pugh Copeland of Lafayette was a child, she and her family would drive to her grandparents' home in Denham Springs the weekend before Christmas, joining with her father's sisters and cousins for holiday meals, Christmas carols on the piano and the cutting of a Christmas tree.
"The family group would gather and, led by Uncle Cullen Valentine, off we'd go to the woods," Copeland recalled. "Cullen worked for the Forestry Department and knew where we could cut down a Christmas tree. We were all piled into cars and would stop at a spot in the woods where Cullen thought we would find a suitable tree. Usually the weather was cold, so the adults would sip brandy and sometimes sit on a wooden bridge, swinging their legs and singing merrily while we kids romped and explored."
The "Christmas Tree Hunts" continued for years, Copeland said, even when her grandparents were gone and the older cousins married and moved out of state.
"My two brothers, their children, grandchildren and cousins along with our children and grandchildren plus George Pugh, the patriarch of the Pughs, still gather on the Sunday before Christmas for 'The Pugh Party,'" she says. "We renew and review our lives and share the blessings of the Christmas season. The tradition is too good to let go."
Holiday Foods

Nothing says the holidays in a state known for its food than specialty dishes served up once a year. Alex Treadway now lives in Washington, D.C., but he remembers the New Orleans Christmases of his youth with great fondness.
"We'd come home from school and knew immediately that the season was upon us," Treadway says. "There was the enormous pot to begin constructing a large batch of fruitcakes. My mom spent a month chopping up all the crystalized fruit and nuts and every day adding more booze into the batch, waving the lid as she poured so we could all smell the goodness and dream of the day to come when she finished the baking."
Treadway's mother would place a large ceramic jar in the shape of Santa's head on the counter, soon to be filled with holiday goodness, he said.
"Eventually my mom would spend a day with her beloved aunt Marcelle and make batches upon batches of rich, creamy pralines about the size of a cookie and individually wrapped in 'silver foil,'" he explained. "The day the pralines appeared in Santa's head was one of my favorite days of the year. Some might wonder why it wasn't Christmas day — but to me that day rarely lived up to my imagination. But my mom's pralines always did. They were just that good. So, to me the height of the holiday season was the day the pralines appeared in Santa's head, sitting in my mom's kitchen smelling the big pot of boozy fruit cake mix while eating those wonderful pralines and dreaming of the Christmas day ahead."
At Thanksgiving, author Charlie Spillers, a native of Baton Rouge, recalled enjoying the dishes his mother learned from her Cajun family.
"Instead of turkey, our family Thanksgiving dinners in Louisiana consisted of large pots of chicken, sausage and seafood gumbo, potato salad, French bread, and wine," he said. "In addition, it was a tradition that my uncles would fry turkeys for Thanksgiving. The night before they would burn large wood fires under big cast iron pots of cooking oil next to Big Alabama Bayou in St. Landry Parish.
They would pass around a bottle of whiskey during the night and when the bottle was empty they knew the cooking oil was just right for frying turkeys."