Traveler: Boom Days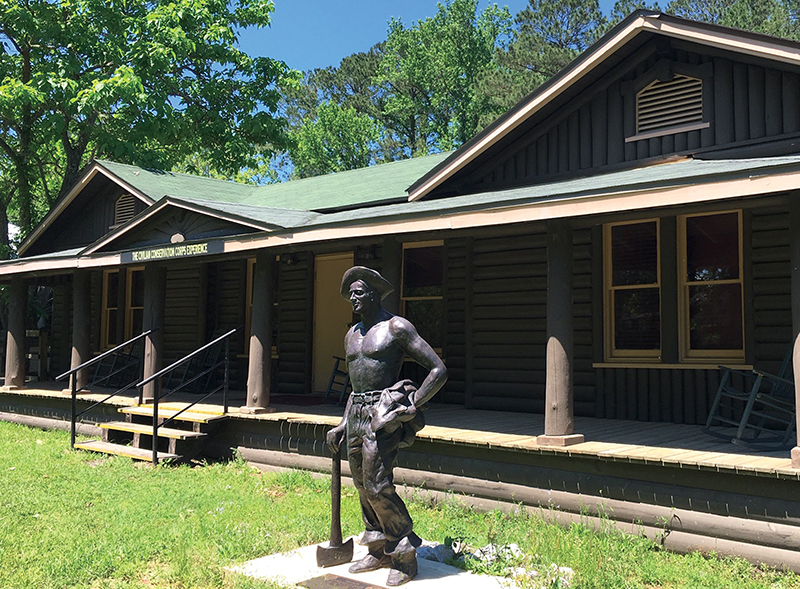 From the late 1910s through mid-'20s the Gulf states and other regions of the United States were systematically shorn of their virgin forests of pine, cypress and marketable hardwoods. It was one of the growing pains of an adolescent nation, with new sawmills and milltowns popping up like mumps, an estimated 3,000 in Louisiana alone. Most disappeared as quickly as their wooded acreage could be reduced to stumps, but the future was brighter for R.D. Crowell's mill in Long Leaf, 30 miles below Alexandria via U.S. 165.
That company had the will and wherewithal to thrive beyond the boom days, becoming a great American asset during that area's famed U.S. Army maneuvers on the eve of World War II, then dedicating the huge sawmill's total production to Andrew Higgins in New Orleans for manufacturing the landing crafts which, simply stated by Gen. Ike, "won the war."
When peacetime finally returned Crowell converted his huge inventory of original machinery from steam to electricity – the same saws and other ingenious, fan-belted contraptions that still amaze visitors today – and fell in step with the quickly normalizing lumber market. The company remained successful until 1969, at which time the owners simply locked the gates — mill, industrial plant, employee housing, commissary, post office and all — whereupon Long Leaf, took a Rip Van Winkle snooze till the early 1990s when it was donated by the Crowell family to the Southern Forest Heritage Museum (318-748-8404, open 9-4 Wed.-Sat., but closed Dec. 15-Jan. 31).
An Interpretive Trail encircles most of the property, and one strategy for touring the mill complex is to follow the route of logs arriving by rail at the millpond (now filled), to be herded past the pumping station that fed the boilers, thence into the mill to be sawed to length and sliced into boards, and finally to the planer mill and its power plant where the boards were "finished" for market.
To this day the museum is blessed with a cadre of retired experts who maintain the operation of every machine in the place, including the "rolling stock" of the company's own 12-mile Red River & Gulf Railroad (one-of-a-kind log-handling cars and three steam engines, including "Old 106" whose engineer was father of today's museum director Claudia Troll-Johnson).
Major exhibit spaces include the Hardtner Building (office of the "Father of Southern Forestry," Henry Hardtner, moved to the museum from his Urania mill in LaSalle Parish), and the Crowell mill's own superintendent's house, commissary, sales office and carriage house. The buildings share a single goal: to present artifacts and vivid imagery telling the entire story of early Long Leaf, right down to factors that shaped the lives of milltown folks: early railroading, depression, war and (very interestingly) even the influences of national media, like Edward R. Murrow on the radio, stories and ads in magazines, newsreels at the movies.
One very positive impact on rural life was FDR's Civilian Conservation Corps, which provided employment during the Great Depression to young men in every state, including 50,000 in Louisiana. The "CCC boys" are known for tackling all manner of civic projects but best remembered for the millions of seedlings they planted on cutover lands. Their story is now dramatically told by exhibits and interactive media in a large CCC log cabin from nearby Alexander State Forest.
Such progress and development at the Southern Forest Heritage Museum is due to the support of the U.S. Forest Service, Louisiana Forestry Association, Kisatchie National Forest and individual benefactors, including, not surprisingly, descendants of the Crowell and Hardtner families.
---
GO
Besides the Crowell milltown, very few historic mills have left evidence of their existence, but some scattered landmarks can be found. Two of the more visible are Garyville's Lyon Cypress Lumber Co. Museum and cluster of distinctive two-story workers' houses (east bank River Road, St. John Parish) and, in a pleasant city park just above Pineville (1301 Tioga Rd.), the Tioga Lumber Co.'s handsome commissary with its museum of Central Louisiana history. Both museums are closed for fund-raising and maintenance but hell-bent on reopening quickly. You can help. Visit tiogaheritage.com.
Below Many in Sabine Parish, the village of Fisher on U.S. 171, milltown of the Louisiana Long Leaf Lumber Co., still boasts its opera house and commissary (now the Ole Mill Store antiques shop and flea market, 318-590-1212), and the "4-Ls" old office building is now Town Hall.
Vying in rarity with Fisher's landmarks, Oakdale in Allen Parish can boast a milltown hospital — a distinctive 1888 Arts & Crafts structure now serving as a parish welcome center and Leatherwood Museum (318-335-0622).
There's no evidence of the F.B. Williams Cypress Company (world's largest cypress mill) to be found in St. Mary Parish, but the State Museum's Patterson facility (118 Cotten Road, 985-399-1271, louisianastatemuseum.org) presents a definitive "Cypress Sawmill Collection" complete with original film footage of Atchafalaya loggers somehow swinging axes and manning their passé-partouts (cross-cut saws) on pirogues virtually dancing under their feet.
---
DINE
Despite the somewhat remote location of the Southern Forest Heritage Museum, it's less than a mile to two popular Mexican restaurants in Forest Hill or five miles down 165 to Glenmora where Fuzzie's serves seafood and comfort entrees (318-748-4385).
For scenery, drive east from Forest Hill on La. 112 to enjoy 9-beautiful miles of nurseries on your way to Lea's Lunchroom in Lecompte (318-776-5178), home of unique ham sandwiches, Southern-style plate lunches and regionally famous fruit and icebox pies.
Still in the sawmill mode as evening nears? Remember that the lavish 1908 Hotel Bentley in Alexandria (318-442-2226) was the "trophy" of local lumber mogul Joseph Bentley and the favorite bivouac of Eisenhower, Patton and Bradley during the Louisiana Maneuvers.
---