Traveler: Cutting Edge History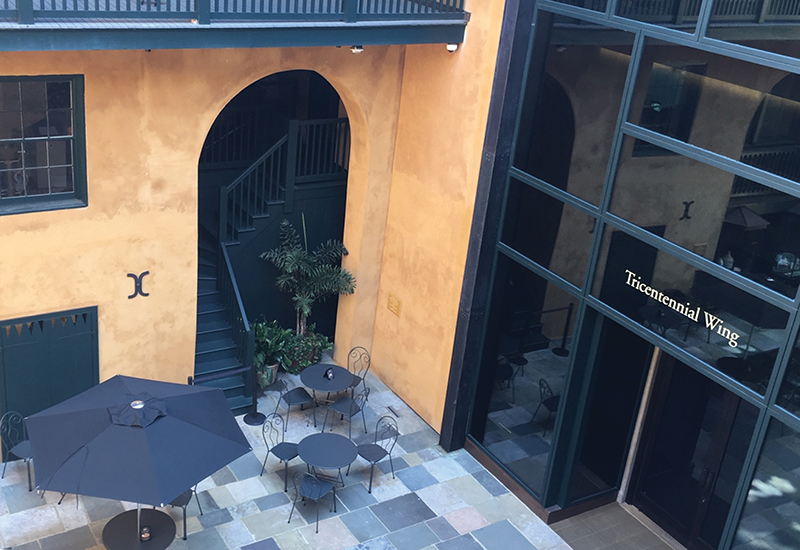 The Historic New Orleans Collection at 533 Royal St. in the French Quarter, with its cluster of meticulously restored landmarks and the chronologically displayed treasures of its Louisiana History Galleries, has long been considered a marvel of private funding and an irresistible medium for describing our beginnings. This year, suddenly, it seems, the institution has doubled in size and significance, courtesy of the April 2 opening of a magnificent new exhibit space at 520 Royal.
Quite an address. The 1816 mansion and its celebrated courtyard were home until 1865 of well-remembered furniture merchant and designer Francois Seignouret, then until 1887 by noted wine importer Pierre Brulatour, its prominence then extended into modern times by housing for 47 years the city's first TV station. Incidentally, the courtyard can rightfully claim to be one of the most painted and photographed scenes in the Quarter, stemming from the 1920s when, as home of the Arts and Crafts Club of New Orleans, 520 became a gathering place for local and visiting artists who simply could not resist painting the courtyard's corner stair framed by its de rigueur Creole arch.
The purchase by HNOC actually occurred in 2006, but then came a decade of archaeological digs in accessible spaces, expert analyses of every aesthetic and structural aspect of the three-story building, and removal of some mid-20th-century rear structures to make way for an exciting addition – an attached three-story wing that doubled the exhibit space at every level. That's a 13-year wait, all told, but truly the timing has been perfect, with this massive project serving as a salute to the city's tricentennial era as well as a triumphant send-off for Priscilla Lawrence, retiring after 39 years as staffer, director and president/CEO of the HNOC.
As part of the expansion, the museum's small shop at 533 Royal has crossed the street to become a spacious and enticing shop at 520, offering regional books (many published by HNOC itself), maps and prints, locally inspired jewelry and decorator items, plus desirable collectibles, "giftables" and souvenirs. The shop's side entrance opens into the courtyard across from the museum's Café Cour, and, between the two, clusters of iron furniture invite visitors to relax with an espresso, soup-and-salad or one of the hot and cold entrees.
The Royal Street campus is open Tuesday through Saturday, 9:30 am -– 4:30 pm, and on Sundays from 10:30 am -– 4:30 pm. Call 504-523-4662 for more information or visit hnoc.org.
Although admission to HNOC is free, tickets are necessary and can be acquired along with a facility map at 520's Welcome Center. There too is one of the great attractions of the museum, a tabletop "smart map" called "French Quarter at Your Fingertips," which at a touch yields background information on dozens of individual structures and suggests self-guided tours on a variety of themes. Or download HNOC's "French Quarter Tours" app and virtually take the "smarts" with you.
The home's old carriageway and courtyard lead to the Tricentennial Wing, where the first of its several galleries is named in honor of the Helis Foundation, a philanthropy that funds many exhibits and provides free admission for Louisiana citizens to many arts venues.
An exploration of the Seignouret-Brulatour Building is an experience in discovery, not only of French Quarter history and details of the building (like marble mantels, brick archways and intricate ironwork bearing Seignouret's "S" initial) but also of the modern marvels of interactivity employed in every nook and cranny. Remember coin-operated binoculars? HNOC's (free) have been souped up to virtual-reality status, as have the headsets at every station in the second floor's totally interactive Education Galleries.
Up top awaits the first permanent exhibit ever dedicated to our legendary French Quarter, its topics ranging from Congo Square to Carnival, from pioneer recording studios to the first Jazz Festival, opening with a jolly display of vintage tourist maps. Each section consists of equal parts serious history and fun, like the Transportation section where elements of a streetcar's interior are scattered about the exhibit to facilitate hands-on experiences, and the Commerce section where lighthearted examples of French Quarter souvenirs are seen alongside grim vestiges of slave trade. A small 360-degree theater mixes new and vintage footage to tell in yet another way the history of the Vieux Carré.
Other categories — like art, literature and architecture — work together, like paintings by local artists used to introduce writers like Faulkner, George Washington Cable, Tennessee Williams and Grace King, while an Enrique Alférez bust introduces world chess champion Paul Morphy. Other French Quarter creations, like porcelain pieces, the works of silversmiths and a luscious Seignouret armoire, could stand alone in any gallery or museum.
Back at old 533 Royal, besides the Louisiana History Galleries, the 1792 Merieult House and other landmarks still provide such important exhibit spaces as the Louisiana portrait gallery and the early-20th-century residence (with perfectly preserved furnishings and appliances) of Gen. and Mrs. L. Kemper Williams, founders of the HNOC and assemblers of the original collections.
Three blocks away, the Williams Research Center at 410 Chartres provides additional exhibit space, not to mention research rooms where a request for perusal of any item from the 30,000-volume library, two miles of shelved documents and a half-million photographs and other images will be promptly provided.
HNOC facilities are open 9:30-4:30 Tuesdays-Saturdays and 10:30-4:30 Sundays (504-523-4662, HNOC.org).