Traveler: The Sound of Music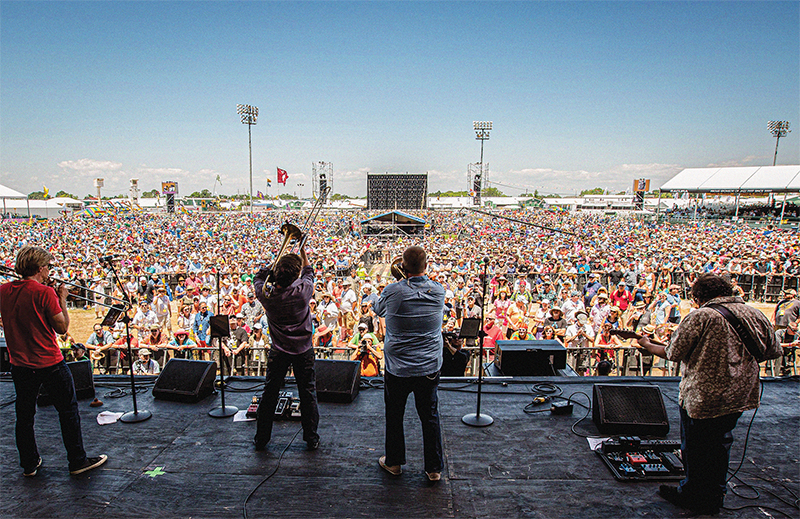 The New Orleans Jazz & Heritage Festival — with its dozen of stages and countless purveyors of art, crafts and yummy lunches — is just one of many music festivals around Louisiana throughout the year, but it is by far the biggest and best known around the globe. The dates are April 23-26 and April 30-May 3 (nojazzfest.com), and the performers number in the hundreds, from near and far but most with familiar names, including The Who, Lionel Richie, The Revivalists, Irma Thomas, Aaron Neville, The Beach Boys, BeauSoleil, Trombone Shorty and Lenny Kravitz. Imagine eight days of stage music and at least 10 all-nighters with band members scattering to join impromptu sessions at every club in town.
Louisiana is the home and even the launchpad of several historic music styles, many memorialized by landmarks and even by their own museums, meaning that beyond the festivals, we have the added pleasure of seeking out those very special spots. It can be habit-forming, and there's no better place to begin than New Orleans, especially during the 10 days of Jazz Fest.
Start in the French Quarter, where venues like Preservation Hall and the Famous Door are sprinkled among such points of interest as the State Museum's jazz collection (in the old U.S. Mint) and tiny Musical Legends Park (311 Bourbon St.) with its cluster of statues honoring greats like Pete Fountain, Al Hirt, Fats Domino, Louis Prima and Allen Toussaint. The best of the city's several Louis Armstrong statues stands in Armstrong Park/Congo Square, a stone's throw from the statue of legendary gospel singer Mahalia Jackson at the performing arts theatre that bears her name.
To find live music in town (irresistible gigs like Kermit Ruffins at the late Ernie K-Doe's Mother-in-Law Lounge), find daily "Livewire" schedules on WWOZ (90.7 FM) or at wwoz.org; and to seek out historic music landmarks, refer to the 22 tours and maps posted by OZ at acloserwalknola.com. Now, off the beaten path, an 1855 lighthouse on today's UNO campus marks the long-vanished 19th-century dancehalls of Milneburg, from which musicians and good-timers could also take Lake Pontchartrain schooners to Northshore jazz clubs like Mandeville's 1895 Dew Drop, still active in the spring and fall (dewdropjazzhall.com).
Louisiana is a complex of overlapping musical regions — most famously jazz, blues, country, rock, Cajun and zydeco — all of which are represented by performers now enshrined in the Delta Music Museum & Arcade Theatre in Ferriday (deltamusicmuseum.com). Word's out, now, and it has become routine for pilgrims on "Blues Highway" 61 to detour west on US 84 to see memorabilia of the hall's inductees, including a life-size diorama of famed Ferriday first cousins Jerry Lee Lewis, Mickey Gilley and Jimmy Swaggart singing around a piano.
Due north in Richland Parish is the I-20 town of Delhi, hometown of country superstar Tim McGraw, and near Jonesboro in Jackson Parish (just west of beautiful Jimmie Davis State Park), the Jimmie Davis Tabernacle stands in tribute to our double Hall of Fame "singing governor" ("You Are My Sunshine," "There's a New Moon Over My Shoulder," "It Makes No Difference Now"). Like many singers, he gained early recognition at the "Louisiana Hayride," the stage and radio show then presented at Shreveport's historic Municipal Auditorium, which remains an entertainment venue and offers occasional backstage tours (shreveportmunicipalauditorium.com). A few blocks east, near the Caddo Courthouse on Texas Street, stands a statue of prolific composer and 12-string guitarist Huddie "Lead Belly" Ledbetter ("Goodnight Irene," "Rock Island Line") born in Caddo in 1888.
Cajun music and folkways dominate three satellite exhibit areas of Lafitte National Park: the Acadian Cultural Center in Lafayette, Wetlands Cajun Cultural Center in Thibodaux and Prairie Acadian Cultural Center in Eunice (nps.gov/jela). The Eunice facility is actually part of a cluster of music-related attractions including the Cajun Music Museum with its extensive hall of fame (cajunfrenchmusic.org) and the 1927 Liberty Theatre where visitors gather 6-7:30 p.m. on Saturdays to enjoy the taping of Cajun radio shows. Just east of town, at 9 a.m. most Saturdays, visitors are also welcome to a casual Cajun jam session at the store and home of famed accordion maker Marc Savoy (4413 Hwy. 190, savoymusiccenter.com).
Ville Platte in Evangeline Parish is considered Louisiana's "Swamp Pop Capital" and houses the Swamp Pop Hall of Fame in a century-old railroad station filled with photos, vintage instruments and 45-rpm records (10 a.m. – 3 p.m. Friday and Saturday), and Opelousas in St. Landry is dubbed Zydeco Capital by virtue of being the 1925 birthplace of undisputed Zydeco King Clifton Chenier. That city's Heritage Park collection of museums includes a set of panels tracing the evolution of Cajun and zydeco from Creole "la la" beginnings, and the statue of an influential 1930s la la composer, Amédé Ardoin, stands nearby at the St. Landry Parish Visitor Center.
For a scenic circular trek linking most Cajun-zydeco landmarks, including special spots like beloved Fred's Lounge in Mamou and pioneer radio/recording studios like Jay D. Miller's in Crowley, visit byways.louisianatravel.com and consider the "Zydeco/Cajun Prairie Byway," complete with special signage and informative roadside kiosks provided by the State Office of Tourism.
---
Music Makers
Fests for the rest of the year
March 28-29. La. Cajun-Zydeco Fest. New Orleans.
April 16-19. French Quarter Fest. New Orleans
April 17-18. Grand Hoorah. Ville Platte.
April 22-26. Festivals International. Lafayette
April 23-May 3. Jazz & Heritage Fest. New Orleans.
May 15-16. Jazz and R&B Fest. Natchitoches.
May 23-24. Bunk Johnson Jazz Fest. New Iberia.
July 4. Arts and Music Fest and Parade. Marksville.
July 24-25. State Fiddle Championship. Natchitoches
July 31-Aug. 2. Satchmo Summer Fest. New Orleans
Sept., TBA. Cajun Music Fest. Mamou.
Sept. 4-5. Cane River Zydeco Fest. Cane River.
Sept. 4-5. S/W La. Zydeco Music Fest. Opelousas.
Sept. 19. Highland Jazz & Blues Fest. Shreveport.
Sept. 25-26. Blues & Heritage Fest. Bogalusa.
Oct., TBA. Tab Benoit's Voice of the Wetlands Fest. Houma.
Oct. 9-11. Festivals Acadiens et Creole. Lafayette.
---