Traveling Gourmet: All Dressed Up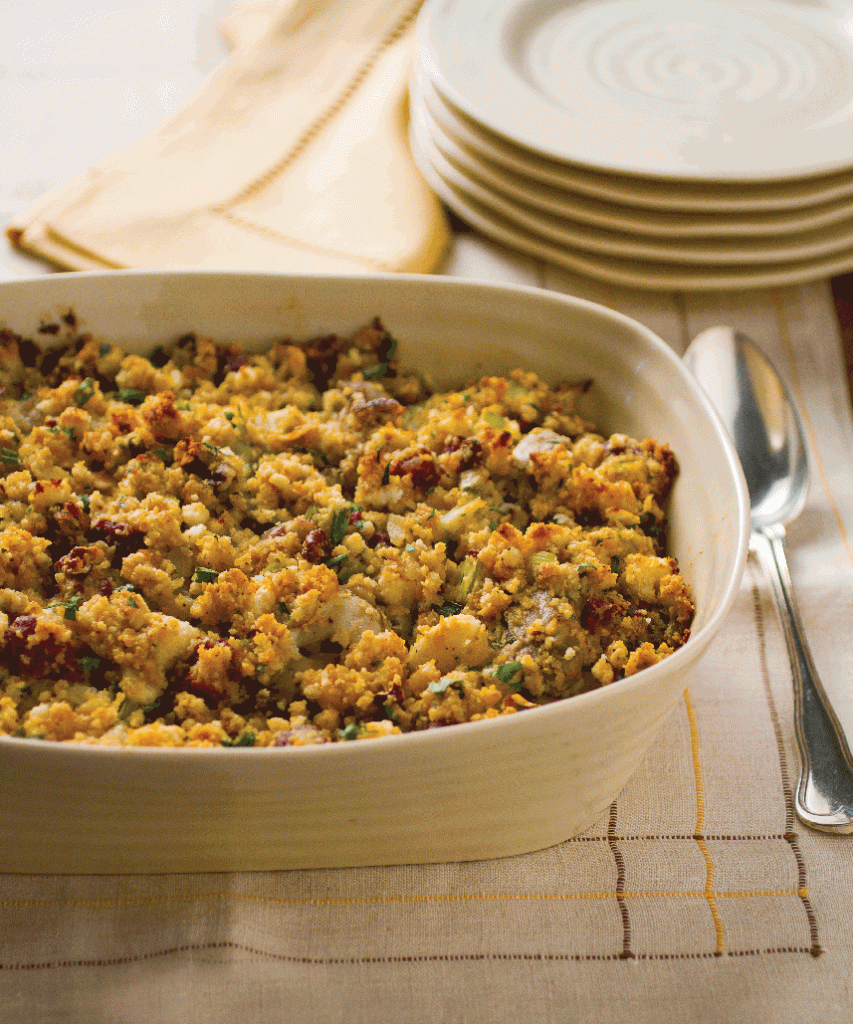 Before you know it, it will be the feasting season, when roast birds and dressing make an appearance on the holiday table. For some, particularly in South Louisiana, it will be rice dressing enriched with ground pork and giblets and seasoned with onions, garlic, bell peppers, cayenne, parsley and green onion tops. In North Louisiana, corn bread dressings tend to be the traditional accompaniment to the holiday bird. Throughout the state, particularly in urban areas, dressings made with French bread are often preferred.
But beyond those three basic types, the variations are endless. Sausage or bacon is sometimes added to corn bread or bread dressings. Various fruits, such as apples, currants or apricots, show up in some versions, particularly when game birds are being served. Wild rice dressings are another favorite to accompany wild birds. Pecans or chestnuts are often an ingredient in holiday dressings, and occasionally you'll find a recipe using other nuts, such as almonds or even Brazil nuts. Oysters are popular in all kinds of dressings, while shrimp or crawfish sometimes make an appearance in Louisiana recipes. Onions and celery are usually present, but seasonings vary greatly. For some, sage is the flavor they expect in a holiday dressing, but it is too assertive to use with oysters.
Dressings can be stuffed inside the bird before roasting, or they can be baked separately. The nomenclature gets a little odd in this regard. If a dressing is cooked inside a bird, it becomes a stuffing, but we still call it roast turkey with dressing, not roast turkey with stuffing or, even more curiously, stuffed turkey. Personally, I prefer to cook the dressing separately for gastronomic reasons, but doing so also avoids adding linguistic confusion to the holiday table.
The following recipe for oyster-and-andouille corn bread dressing is perhaps appropriate for an election year: In a spirit of unity, it gives a nod to both North and South Louisiana. The recipe is based on corn bread and biscuits, but it contains oysters from the Gulf, as well as andouille sausage and cayenne pepper from South Louisiana and pecans, which are found all over the state. It can be served with roast turkey, chicken, capon, Cornish hen, duck, goose or virtually any other bird. But this dressing will also be right at home with roast pork or venison – or even that current Louisiana favorite, fried turkey.
---
Oyster-and-Andouille Corn Bread Dressing

Ideally, make the corn bread and biscuits the day before and leave them uncovered to dry out. Alternately, crumble the corn bread and biscuits on a baking sheet and dry out in a 250 degree oven. Oysters are now sold packed in water, but if you shuck your own, by all means save the oyster liquor and add it to the dressing mixture in place of an equal amount of chicken stock.
Crusty corn bread (recipe follows)
Crusty biscuits (recipe follows)
2/3 cup toasted pecans (recipe follows)
1/2 pound andouille sausage
2 tablespoons butter
1 large onion, chopped
2 ribs celery, chopped
1 pint shucked oysters
1 to 1 1/3 cups chicken stock or broth
Coarse salt and freshly ground black pepper
Cayenne pepper
1/4 cup chopped parsley
1/2 cup chopped green onion tops
Preheat the oven to 350 degrees. Butter a 9-inch-by-13-inch baking dish. Crumble the corn bread and biscuits into a mixing bowl. Chop the toasted pecans, and add to the bowl.
Remove and discard the sausage casing; chop andouille. Melt the butter in a large skillet over medium heat, and cook the andouille, stirring occasionally, until browned. Add the onion and celery, and cook, stirring occasionally, until softened. Add the contents of the skillet to the mixing bowl, and stir to combine.
Drain the oysters, and check for shell fragments. Cut large oysters in half. Add the oysters to the mixing bowl, and stir to combine. Add chicken stock or broth in increments, stirring after each addition, until the mixture is moist but not soggy. Season to taste with salt, black pepper and cayenne. Add the parsley and onion tops, and stir to combine. Turn the mixture into the prepared baking dish, and bake in the preheated oven until nicely browned, about 30 minutes. Serves 8 or more.
Toasted Pecans
1 tablespoon butter
2/3 cup shelled pecans
Large pinch coarse salt
Melt the butter in a small skillet over medium heat; add the pecans; and cook, stirring frequently, until the pecans are fragrant and lightly toasted, about 4 to 5 minutes. Sprinkle with coarse salt.
Crusty Corn Bread
This skillet corn bread has a high ratio of crust to crumb, so its texture and flavor are ideal for making dressing. Actually, I also prefer this thin version, spread with butter, for everyday eating. As an added bonus, it bakes in only 10 minutes.
3/4 cup stone-ground white cornmeal
1/4 cup flour, preferably White Lily
1 teaspoon baking powder
1/2 teaspoon baking soda
1/2 teaspoon salt
1/2 teaspoon sugar
1 egg, beaten
3/4 cup buttermilk
2 tablespoons butter
Place a 12-inch cast-iron skillet in the oven, and preheat the oven to 450 degrees.
Place all dry ingredients in a mixing bowl, and whisk to combine. Add the beaten egg and buttermilk, and whisk to combine. Carefully remove the hot skillet from the oven. Add the butter to the pan, and, using a pot holder, tilt the pan to coat the bottom with the butter. Pour the melted butter into the batter, and whisk to combine. Pour the batter into the hot skillet, and return it to the oven. Bake until cooked through, about 10 minutes.
Crusty Biscuits
These biscuits also have a high ratio of crust to crumb. They're not my favorite version for breakfast, but they work well in dressing.
1 cup White Lily self-rising flour
2 tablespoons chilled butter
1/3 cup buttermilk
Preheat the oven to 450 degrees.
Measure flour into a small mixing bowl. Cut the butter into small pieces, and add to the bowl. Using a pastry cutter or two knives, cut the butter into the flour until the mixture resembles coarse cornmeal. Add the buttermilk, and stir to combine. Sprinkle the counter with a generous amount of flour. Turn the dough out onto the floured surface, and knead a few times with floured hands. Pat the dough out to a thickness of a quarter-inch, sprinkling the dough with additional flour as needed to prevent sticking. Using a floured biscuit cutter, glass or can, cut out rounds of dough. Piece together the remaining dough, pat it out, and cut more rounds. Place the biscuits a few inches apart on an ungreased baking sheet, and bake until well-browned, about 12 minutes.