Traveling Gourmet: In Praise of Persimmons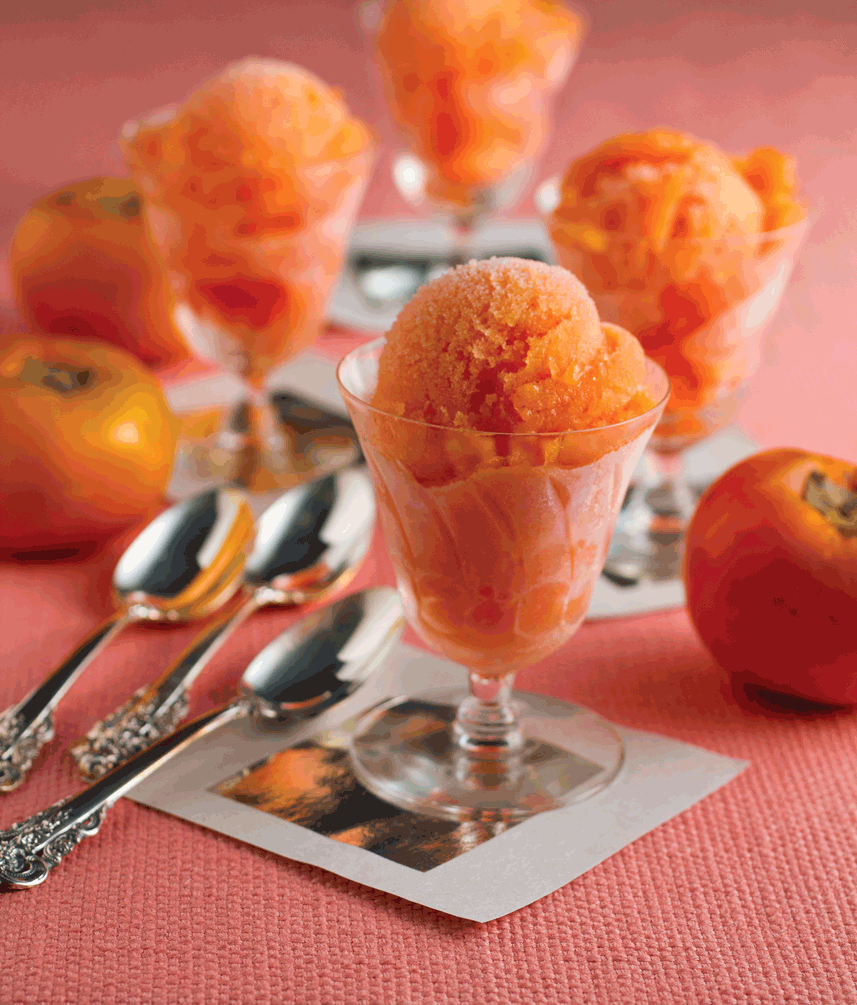 I suppose most everyone has a favorite fruit whose appearance in the market is eagerly anticipated. In my case, it's the persimmon, which comes into season this time of year. What a wonderfully succulent, decadent fruit it is, so soft and juicy, all delicate spice and sweetness on the tongue, utterly satisfying, possibly addictive.
For the most part, I eat persimmons in their natural state with no embellishments and with no cooking. Persimmon breads, puddings and such are good, but the fruit loses its principal charms when exposed to heat through cooking or baking. Dried persimmons are tasty, but, again, they're nothing like the fresh fruit.
Some years ago, on a trip to China, my eyes were opened to the possibility of enjoying persimmons beyond their short season. We were visiting a zoo on a hot, dry and dusty day when we came upon a snack bar that sold cold drinks, including the ubiquitous orange soda, nuts and such – and, miracle of miracles, frozen persimmons! A frozen persimmon is like the best Popsicle you ever had, or a sorbet on a stick, a true revelation. Since then, I've tried to save a few persimmons for the freezer. On a dreary February day, a persimmon for dessert is a welcome tonic for the soul.
Several years ago, I started experimenting with persimmons as a filling for fried pies, which are another passion of mine. In fact, I published a recipe for persimmon fried pies in this magazine, but the recipe has evolved since then and now barely resembles the original. Persimmons are too liquid to use "as is" in a fried pie, so the pulp has to be thickened. Cooking is one possibility, but that changes the character of the fruit too much. Gelatin works, sort of, but the best method I've found is to turn persimmons into jam, using instant pectin, the kind used for freezer jams that require no cooking.
More recently, I've begun freezing persimmon pulp during the season and working it into recipes during the year, trying to come up with ideas that will preserve the fruit's delicate character. For the most part, that means recipes that don't involve cooking. (Yes, fried pies are cooked, but briefly, and the filling retains its freshness.) In addition to persimmon jam, which is heavenly on hot buttermilk biscuits, I'm particularly fond of persimmon sorbet and persimmon cream, which is similar to a mousse.
---
Persimmon Sorbet
Of all the sorbets I have made, this has been the most popular with my band of tasters.
2 cups water
1 cup sugar
2 cups persimmon pulp
1/4 cup lemon juice
1/4 cup vodka
To make simple syrup, add water and sugar to a pan and stir to combine. Bring to a boil and boil for 5 minutes. Cool before proceeding with recipe. (Simple syrup can be made ahead of time and refrigerated.)
Combine simple syrup, persimmon pulp, lemon juice, and vodka in blender and process until thoroughly blended. Chill mixture. Process in ice cream maker according to manufacturer's instructions. Serve immediately, or transfer to container(s) and store in freezer. Makes a little more than 1 quart.
---
Persimmon Cream
Light as air, rich and satisfying, this is a quick and easy, no-cook dessert.
2 cups cold persimmon pulp
4 teaspoons lemon juice
1 cup heavy (whipping) cream
4 tablespoons powdered sugar
Combine persimmon pulp and lemon juice in blender and puree until smooth. In a mixing bowl, beat cream with powdered sugar until stiff. Using a rubber spatula, fold pureed persimmon into cream. Makes 4 servings.
---
Persimmon Jam
This recipe makes a very stiff jam to use as a filling for fried pies. If you want a softer jam to spread on biscuits or toast, use less pectin. Since the mixture isn't cooked, this jam needs to be refrigerated or frozen.
2 cups persimmon pulp
1 (1.59 ounces) packet Ball Instant Fruit Pectin
3/4 cup sugar
Place persimmon pulp in blender. In a small bowl, stir pectin and sugar to combine. Add pectin and sugar to blender and process on high until thoroughly mixed. Fill clean container(s) with jam. Cover and refrigerate for immediate use or freeze. Makes about 1 pint.
---
Persimmon Fried Pies
Fried pies can be made with either pie dough or biscuit dough. Each has its adherents. Pies made with pie dough have greater keeping qualities, while those made with biscuit dough are more tender; like biscuits, they should be eaten in short order. This recipe uses biscuit dough, but shelf life is not a problem, since the pies tend to disappear almost as soon as they come out of the skillet. Use a low-gluten flour, such as White Lily, and either a combination of butter and oil or clarified butter for frying.
2 cups White Lily self-rising flour
1 tablespoon sugar
3 tablespoons chilled butter
2 tablespoons chilled lard
1/2 cup plus 2 tablespoons milk
persimmon jam (preceding recipe)
all-purpose flour for rolling dough
butter for frying
vegetable oil for frying
powdered sugar
Combine self-rising flour and sugar in a mixing bowl. Cut butter into small pieces and add to bowl, along with lard. Using a pastry cutter or two knives, cut butter and lard into flour until mixture resembles coarse cornmeal. Add milk and combine quickly with a rubber spatula. Sprinkle counter with a generous amount of all-purpose flour. Turn dough out onto floured surface and knead a few times with floured hands. Dough should be a little stiffer than for biscuits. Roll dough out to a thickness of 1/4-inch, sprinkling dough with additional flour, as needed, to prevent sticking. Using a floured 4-inch biscuit cutter, glass, or can, cut rounds of dough. Piece together remaining dough, roll out and cut more rounds. You should have 12 4-inch rounds of dough.
To assemble: Line a sheet pan or cookie sheet with wax paper and sprinkle with all-purpose flour. Using a spoon (an iced-tea spoon is best), place a small mound of persimmon jam in the center of a round of dough. Moisten the bottom edge of dough with water, fold dough over to make a half-moon shape, and crimp to seal with your fingers. Transfer to floured wax paper. Repeat with remaining rounds of dough.
To cook: Add equal amounts of butter and oil (or clarified butter) to a depth of about 1/4-inch in a skillet and heat. When fat is sizzling, slide pies into skillet, being careful not to overcrowd. Fry on one side until browned, turn with a spatula, and brown the other side. Transfer to a tray lined with paper towels to drain. Repeat, adding more butter and oil as needed, until all the pies are cooked. Arrange pies on a platter and sprinkle with powdered sugar. Makes 12 pies.