Treasures in the Heart of the Rice Belt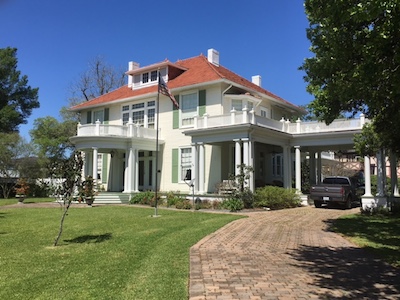 "Welcome to the Rice Capitol of America!" That's the proud title the prairie town of Crowley has aptly earned and, rest assured, almost everything here revolves around rice. Early pioneers harvested rice in Crowley with the intention of creating the town's economic dynasty and that's just what happened. The development of a 'choice' grain coupled with the ingenuity of a turn of the century irrigation system gave way to the proliferation of rice mills, and that equaled success for this one-of-a-kind southwest Louisiana town.
A visit to the fascinating Crystal Rice Plantation and Heritage Farm, a family rice farm since 1890, is a must for visitors to get a sense of this city's agricultural origins. It's at this site that Salman Lusk "Sol" Wright painstaking managed to develop a revolutionary rice seed that would both produce in the field and hold up in the milling process – this ultimately resuscitated the industry. (Fun Fact: The story of Wright's life was fictionalized in the novel "Blue Camellia" by Francis Parkinson Keyes. And many of Crowley's early parades celebrating rice honored Wright.) In addition to a tour of a restored 1848 Acadian/Creole cottage, visitors are shown how the rotation of rice and crawfish are harvested in the same ponds.
If you want more Crowley rice history, head to Kelly's Landing Agricultural Museum and Agriculture Tour to view farming tools from generations past, some of which were handmade. Need another option? The Rice Interpretive Center not only has exhibits of rice industry artifacts, but also gives visitors the step-by-step process of cultivating and harvesting rice. You will be awed by the meticulous management necessary to keep the agroeconomic crop growing every season.
While visiting Crowley, be sure to stop by one of several rice mills like Falcon Rice Mill, Louisiana Rice Mill and Supreme Rice Mill. But if you truly want to celebrate this prized crop, like the locals have done since rice carnivals began in the 1920s, be sure to attend the annual International Rice Festival held the third weekend of October. (Fun Fact: The Rice Festival is the oldest agricultural festival, has two parades and is one of the state's largest events.)
The fact that Crowley is a multi-cultural town surprises visitors who are expecting the Cajun/French influence to dominate this southwest Louisiana city. Crowley's cultural origins begins with the founders and developers, brothers W.W. Duson and C.C. Duson, who used their wits, determination and sources to develop a dream. W.W., the general manager of Southwest Louisiana Land Company, managed to persuade Irishman Patrick Crowley to move his railroad spur track and house depot to the prairie lands he'd purchased. Once the track was laid, non-stop development ensued at a fierce pace. (Fact: In honor of Crowley's decision, Duson promised to return the favor and name the town after Crowley.) Duson was also very successful in using newspaper advertisement to lure people from the Midwest and North who were seeking better lifestyles and agricultural opportunities.
The neat thing about Crowley is you can follow her speedy development through a plethora of well-documented photographs at the History of Crowley Museum. The town of Crowley was laid out by a grid plan with a square in the center for the courthouse; today that same grid remains as does many of the large Victorian-era homes that are well-preserved and on the national historic register. Take a driving or walking tour of the historic district to view the homes, many of which have been restored to their original grandeur. (Tip: Pick up a guide at the Crowley tourism office at City Hall and be sure to meet Charlotte Jeffers, the city's Tourism Coordinator who is chockfull of information and beyond passionate about her hometown.) Be sure to notice The Lawrence Home on East 2nd Street; this Colonial Revival home was built as a wedding president for the daughter of Crowley's founder, the aforementioned W. W. Duson. (Fun Fact: Mamie Duson Lawrence, W.W.'s daughter, requested coal burning fireplaces in all the rooms; today, there are nine in the home.)
While touring the historic district, relax under a shady oak tree in Levy Park, which is one of a handful of original parks Duson plotted and developed in the 1800s. (Tip: If you can attend Greetings from Levy Park, do so. This event is popular with locals, including the offspring of generations past who settled in the historic district and reside here. 'Greetings' offers live music, great food and art, and is held every other Friday evening in March and April.)
Right in the heart of the historic district is Frosto, an iconic burger and ice cream '50s diner, which has been serving patrons since 1956. This local favorite always has '50s era rock-and-roll music playing, and is dotted with memorabilia, including records and albums that have been melded into the table tops. Frosto is still owned and operated by the family of Lola Trahan, who has worked here since she was ten years old, and took over the business in the '60s. (Tip: For decades, two of the most popular menu items have been the homemade "old fashioned" hamburger and fresh soft serve low-fat ice milk.)
Perhaps one of the most historically interesting sections of town is the broad Parkerson Avenue, which runs through downtown Crowley and originally had a horse trough at its very center. It is along this avenue that you will find a hidden treasure, which to many is the pride and joy of Crowley. The Grand Opera House, built in 1901, is a phenomenal piece of architecture made of virgin Louisiana cypress, pine, and oak. Walking into this National Historical Landmark will certainly leave one awe-struck, and the likes of Clark Gable, Babe Ruth, Enrico Caruso and Huey P. Long took the stage here. (Fact: L.J. Gielen and his family bought the Grand Opera House in 2008, at which time the theater underwent a $4.5 million-dollar renovation.)
The original purple porcelain sign adorns the outside entry way and the first floor is a large open space used for events. It has a vast wooden bar, comfy sofas and chairs and there are large windows, which line two grand walls and offer breathtaking natural light. The Grand Opera House has featured an array of performances, from comedic acts to live music to school performances and much more. (Tip: Because of its slight elevation, any seat in the fourth row is the best seat in the house.) Before attending a performance, be sure to look inside the Opera Houses' museum, which has rare theater artifacts, photographs and costumes. (Tip: Ask to view the walls of autographs given by performers dating back to the early 1900s. You can also call ahead and arrange a tour with Kim (Gielen) Gattle.)
History really comes to life right next door at the Crowley City Hall, which is actually housed in a structure that was originally the Crowley Motor Company. Built in 1921, this historic structure not only contains municipal offices, but also has four fascinating museums that are crucial to telling Crowley's rich history.
Inside the Ford Automotive Museum are two 1923 Model T Fords, plus other artifacts and an award-winning short film on the Ford-Crowley connection. Save time for the History of Crowley Museum, which contains a fascinating display on Crowley's history and the founding Duson brothers. The oldest recording studio in continuous use in Louisiana, J.D. Miller Music Museum, is also here, as is The Rice Interpretative Center. (Tip: Be sure to watch the video that chronicles the history of J. D. Miller, his music, and the artists who recorded here.)
A few buildings down, right on the corner, stands Gremillion Drug Store, which has been in operation since 1934. If you look on the original floor, you can still see where the soda fountain stools once stood, and that's where a young "Tee" Rosenbaum would drink her cokes in the afternoon. Today, Rosenbaum is the owner of Gremillion's, her daughter is the pharmacist, and the store contains a plethora of pharmaceutical, medical and other antique pieces. (Tip: Mrs. Rosenbaum will be glad to open the case and pull out any piece you would like to see up close). While on Parkerson Avenue, take note of the restored Rice Theater, which opened in 1941 and today is used for events and performances; and look up at the seven-story First National Bank of Crowley, which opened in 1900. (Fun Fact: At the time it was built, the bank was the tallest building between Houston and New Orleans.)
In and around downtown Crowley you will find numerous historical churches representing a variety of religions. After all, the pioneers of Crowley, who came from different parts of the country, also brought their faiths with them and quickly intertwined with the Cajun/French Catholics of the time.
After all of this sightseeing, you will want to sink your teeth into some mouthwatering sweet treats, so head straight to the legendary Neesies Sweet Dough Pies, an institution and a longtime local favorite. The dough and its filling will melt in your mouth; fillings include sweet potato, coconut, strawberry cheesecake and lemon. Save some room for another bakery, Ruddock's Bakery, an Acadia Parish fixture, which stands in the downtown square right across the street from the historic courthouse. (Tip: Locals can't get enough of the chocolate-covered doughnuts, sprinkled cookies and fudge.) Be sure to say high to Ethel who has been satisfying sweet tooths for decades and will call you 'bebe'. (Fun Fact: Take a look at your receipt, which states at the top, "Thank You 'Cher'", the latter of which means 'baby' in Cajun French.)
If you want to eat lunch or dinner where the locals do, there are certainly options close by. Fezzo's Seafood, Steakhouse and Oyster Bar is known for its fried seafood, etouffees and seafood pasta, and flame-grilled steaks; the menu here is extensive, and be sure to finish things off with its bread pudding. (Tip: If you want to mingle with the locals, sit in the back room). Before or after dinner, take notice of the plethora of historic photographs of the city of Crowley and the notables who lived here. The Rice Palace Restaurant stands next door and is popular for its great buffet, delicious gumbo and crab and shrimp pasta. This restaurant also has a variety of great historic Crowley photographs on the walls.
After a day of delicious food, fun, and more history than one can handle, you will be ready for a good night's sleep at a Cajun country retreat. Le Village Bed and Breakfast, a century old farm house, is located on the Acadia Parish line and is just 17 miles outside Crowley. Felicia Wiggins is an awesome host and will even plan your itinerary. Be warned, once you taste her one-of-a-kind fresh Cajun breakfast you'll never forget it. Wiggins serves sumptuous homemade baked goods like pecan pie muffins and fig or blueberry homemade breads which you will only find in these parts. (Dietary Restriction Tip: Le Village also provides gluten-free items and, upon request, will meet any allergy specifications.)
The house oozes atmosphere and is full of antiques, reproduction pieces and lots of books. There are four amazing suites from which to choose, and while each is very different from the others, an eclectic and cozy atmosphere is a universal theme throughout. (Tip: The Acadia Suite has two bedrooms, one with a queen-sized bed and the other with two custom extra-long twin beds with iron headboards, plus a daybed, and is great for a small group or family.) Be sure to relax in one of two big swings or comfortable rockers on the large wrap-around porch; and there's no need to worry about the summertime heat and mosquitoes because the ceiling fans will help keep you nice and comfortable as you sip a glass of refreshing homemade lemonade or ice tea under the moonlight or the Cajun blue skies.
This family-friendly bed and breakfast sits on more than three acres and is surrounded by gorgeous flowers and trees. Le Village is also a great home base for all the Cajun music and culture you can find in Acadia Parish because it is located almost mid-way between Crowley and Mamou. (Tip: Before you arrive, you can send Felicia a grocery list of items, which will be waiting for you upon arrival.)
For more information: www.crowley-la.com, www.acadiatourism.org, www.crystalrice.com, www.ricefestival.com, www.thegrandoperahouse.org, www.fezzos.com, www.ricepalace.com, www.levillagehouse.com