Tribal Legacy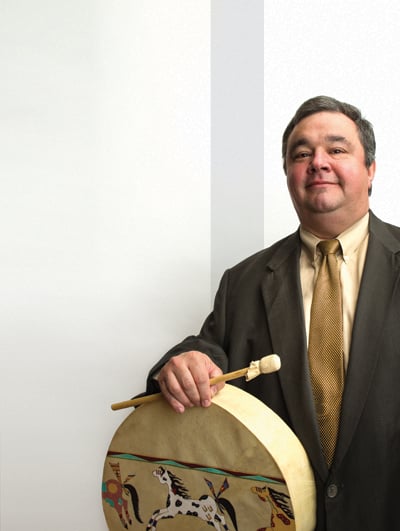 While most Louisianans trace their ancestors' arrival to the Gulf South via ship or airplane, John Barbry traces his across the Bering land bridge, the ancient connection thought to have been the conduit for the earliest populations that settled in the United States.
Barbry, who hails from Marksville, is the director of development and programming for the Tunica-Biloxi tribe of central Louisiana. Barbry's main project is a language and culture revitalization program he hopes will help his tribe's heritage endure for current and future generations.
Barbry remembers visiting his grandparents on the Tunica-Biloxi reservation as a teenager, and recalls his grandmother singing songs in the Tunica language, but admits his appreciation wasn't always as high then as it is now.
After graduating college with a degree in music education, Barbry landed an internship at the Smithsonian's National Museum of American History in Washington, DC, working in the American Indian sector.
"As I was seeing how other tribes fit into modern life in America, I began to think about how the Tunica-Biloxi tribe fit into all of that," he says.
Next, he worked for an archaeology firm to catalog artifacts of the recently repatriated "Tunica Treasure," a collection of 18th-century artifacts stolen from an ancestral gravesite in West Feliciana Parish in the 1960s. Stints at the Historic New Orleans Collection and then at the Smithsonian's National Museum of the American Indian in New York set Barbry up well to lead the charge in preserving his tribe's heritage. He helped start the Tunica-Biloxi Pow-Wow, which is celebrating its 22nd event and is now managing a Department of Education grant to assist struggling students.
At a time when languages are disappearing, he's implementing programs to help preserve and teach the Tunica language — which has no fluent speakers today — along with traditional crafts and sports.
"There are a lot of subtleties in the language that you need to know to really understand the culture," Barbry says. "In teaching other traditions, we always try to tie it back to the language to help it have more of a presence in the community."
---
Q&A

Favorite Louisiana tradition?
– Cochon de lait au camp
Best local restaurant?
– Big Daddy E's Oyster Bar & Restaurant (at Paragon Casino Resort)
Top weekend activity:
– Hanging at a friend's camp on Old River at Mansura