Troy "Trombone Shorty" Andrews – Louisianian of the Year – Music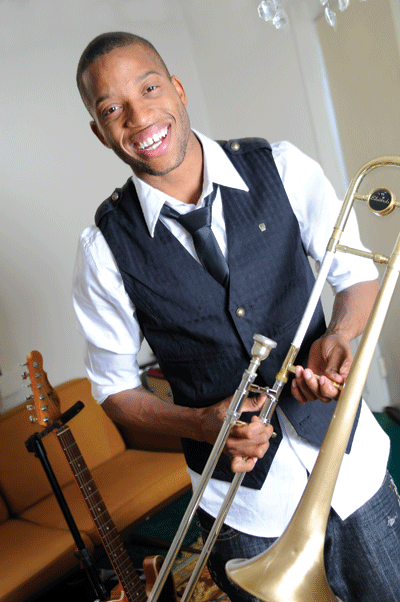 We present here our first class of Louisianians of the Year. In doing so we defined some key categories: Conservationist, Visual Artist, Civic Activist, Educator, Celebrity, Chef, Musician and Entrepreneur. There are other important, higher profile categories that we could have looked at – politics and sports being among them – but these chosen eight represent to us an impressive cross-section of local creativity. Thanks to all of them for their good works; thanks to all of you for providing an active state in which those works can be appreciated.
Music
Troy "Trombone Shorty" Andrews
Musician / New Orleans
The real New Orleans deal, 'for true.'
In a city as musical as New Orleans, young talent does not easily rise to the top. Up against scores of outstanding musicians who live and perform just down the street, young hopefuls need a special combination of skill, style, ambition and energy just to get noticed.
Troy Andrews has the goods. The 26-year-old started blowing a horn at the age of 4, and like some other prodigies born in the cradle of jazz, he started playing early on with neighbors and friends who were among the best.
"I've been around a lot of older musicians my entire life, playing and being a part of it for real," he said in a recent interview before a performance at One Eyed Jacks in New Orleans. "They didn't look at me as a child star. … I was just learning the real deal at a very young age."
So well did he learn it that the boy, dubbed Shorty as a child, quickly grew into a performance phenomenon who is making waves in the recording business, as well.
His 2010 album, Backatown, snagged a Grammy nomination and established a multifaceted signature sound that Shorty calls "supafunkrock."
On his recently released album, For True, Shorty was joined by guests including English guitar legend Jeff Beck, rocker-rapper Kid Rock and Grammy-winning musician Lenny Kravitz, along with renowned hometowners Ivan and Cyril Neville and the Rebirth Brass Band. Shorty recently was a featured guest musician on a release by Eric Clapton.
Kravitz, a New Yorker who has a long history of living and performing in New Orleans, gets credit for "discovering" Shorty in 2005 and taking him on tour with his own band, setting the stage for Shorty to launch on his own.
Today, on albums, local stages and tours that take Shorty and his Orleans Avenue band around the world, the group delivers high-energy performances that feature an unusual mix of rock, funk, jazz, hip-hop and soul, with many of the compositions written by Shorty.
His rising star got a big lift from the HBO television series Treme, in which Shorty played himself in a recurring role, and from countless appearances ranging from the world's biggest jazz, blues and rock festivals to guest slots with TV big guys David Letterman, Jay Leno, Jimmy Kimmel and Tavis Smiley.
While Shorty seems to take his fame somewhat in stride, he's not taking it for granted.
"I was given an instrument at 4 years old," he says. "The city and my neighborhood and the great musicians I grew up under gave me a platform and a foundation. Now it's about me taking what they've given me and making it the best I can."