Turning the Tables
Chapeaux Chapman transformed a space that once housed a whites-only restaurant into a celebration of Black excellence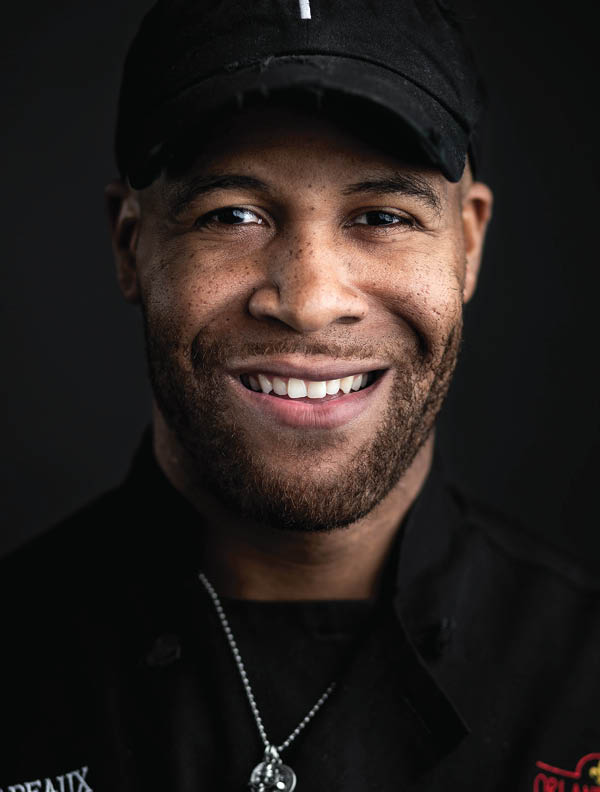 Culinary
Occupation: Restaurateur – Hometown: Shreveport

Chapeaux Chapman
Thirty years before Chapeaux Chapman was born, his grandfather, Willie "Brother" Chapman, went to work as a cook at Smith's Cross Lake Inn in Shreveport.
Opened in 1954 on a hilltop overlooking Cross Lake, Smith's Cross Lake Inn was a toney, two-storey restaurant and nightspot — complete with a second-floor ballroom — where Shreveport's elite danced and dined dockside, sometimes arriving by boat to enjoy steaks, Gulf seafood and fried Cross Lake catfish.
Brother Chapman wouldn't have been allowed to sit in the dining room during his years of employment at Smith's Cross Lake Inn; like many Shreveport restaurants in the '50s, Smith's served only white patrons. Throughout the life of the restaurant, which closed in 2006, the dining room at Smith's Cross Lake Inn had been overseen by a waitstaff which mostly consisted of older Black men whom patrons often called by their first names. If the 60-year legacy of the sprawling venue at 5301 South Lakeshore Drive can be said to have celebrated certain aspects of the "Old South," that legacy ended when Chapeaux Chapman bought the building in late 2021.
These days a framed portrait of Brother Chapman greets crowds that gather in the restaurant's foyer. Brother's portrait is flanked by photos of five generations of Chapman family members who dedicated their lives to the local restaurant industry. In a case near the hostess station, guests can view menus and other artifacts from restaurants operated by four generations of Chapeaux's ancestors.
Knowing the history of the building made it satisfying to watch as Chapeaux unlocked the front doors of Orlandeaux's Cross Lake Café, named in honor of his late father, on a crisp Friday morning this past October. As the crowd of eager patrons who'd gathered outside the doors filed into the restaurant, one was heard to observe that Chapeaux looked "just like his dad." Orlando Chapman, Chapeaux's father, suffered a fatal heart attack in 2013. Chapeaux left his career in engineering to renovate and re-launch his father's restaurant, which he renamed Orlandeaux's Café in 2018.
"He comes out in stuff that I say, sometimes. Even when I'm in the kitchen cooking, he's there with me," Chapeaux said of his father.
If there were doubts as to whether Chapeaux could successfully follow in the footsteps of his ancestors despite his young age (Chapman took over the restaurant at age 29; he is currently 33 years old), the Southern University grad's accomplishments in the past year ought to have erased them. Not only did Orlandeaux's Cross Lake Café survive the challenges presented by COVID-19, it emerged from 2022 having tripled sales year-over-year, moved into a much larger building, and grown to employ more than 70 workers.
"I could have had a different mindset, but I didn't," Chapeaux said. "With a rich heritage like this, you can't let it die. I have to give it my all. This restaurant is my purpose."