Upcoming Free Programs in April & Open Call: Zine Project at LSU Museum of Art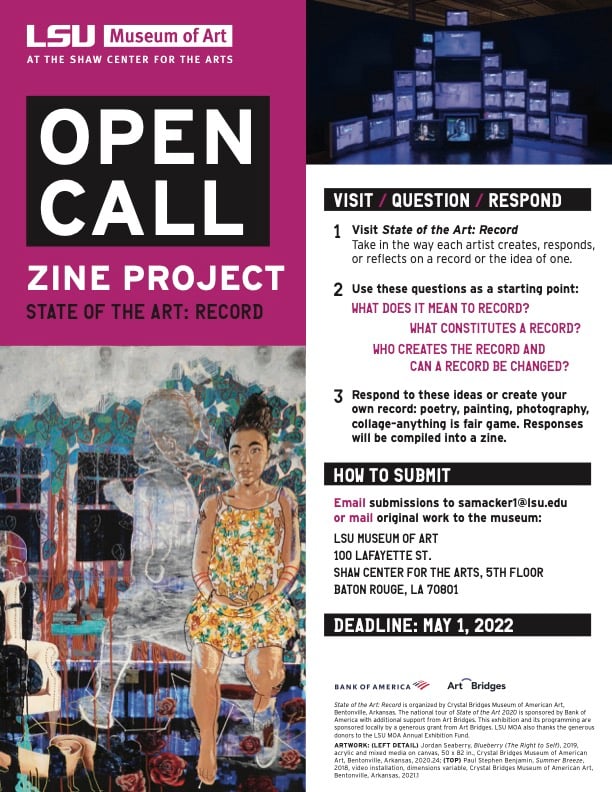 BATON ROUGE, La (press release) – Free First Sunday Tour of State of the Art: Record on Sunday, April 3 at 2 p.m. 
Tour and learn more about the works and artists featured in State of the Art: Record with LSU Museum of Art (LSU MOA) Curatorial Fellow, Clarke Brown on Sunday, April 3 at 2 p.m. This exhibition features objects and installations by 20 artists interpreting how information is recorded. Free admission from 1–5 p.m. during Free First Sundays at LSU MOA.
Collection Response Artworks & Lecture by Vincent Darré on Tuesday, April 5 at 5 p.m.
Learn about the career of French interior/fashion designer and decorative arts extraordinaire, Vincent Darré during this lecture. Darré is known for creating timeless spaces and whimsical works filled with extravagant creativity. As part of the H. Parrott Bacot series, Vincent Darré has studied selected decorative art works from the LSU Museum of Art permanent collection to create three response pieces. Inspired by these works, Darré has added his unique vision to ceramic works produced by the LSU School of Art to be added to the permanent collection. See what he has created during this program! Location: 3rd floor of the Shaw Center for the Arts. Free to attend.
Free Gallery Talk for Eugene Martin: The Creative Act on Friday, April 8 at 6 p.m.
Learn more about Eugene Martin's creative process and works featured in this exhibition during this gallery talk with LSU MOA Registrar and Curator of Eugene Martin: The Creative Act, Olivia Peltier. Attend to receive a coupon to Capital City Grill to enjoy during this evening. Free admission from 5–8 PM every Friday night at LSU MOA. Eugene Martin: The Creative Act will be on view at LSU MOA April 7–October 2, 2022. Click here to learn more about the exhibition.
OPEN CALL: State of the Art: Record Zine Project / Deadline for submissions is May 1, 2022
Visit State of the Art: Record at LSU Museum of Art and take in the way each artist creates, responds, or reflects on a record or the idea of one. Use these questions as a starting point: What does it mean to record? What constitutes a record? Who creates the record and can a record be changed? Respond to these ideas or create your own record in any form you desire. Poetry, painting, photography, collage–anything is fair game. Responses will be compiled into a zine to be released before the exhibition closes.
How to Submit: Email samacker1@lsu.edu (Sarah Amacker, LSU MOA Communications and Marketing Specialist) or mail original work to the museum:
LSU Museum of Art, 100 Lafayette St., Shaw Center for the Arts, 5th floor, Baton Rouge, LA 70801. Submission Deadline is May 1, 2022