Upstate Louisiana Wonders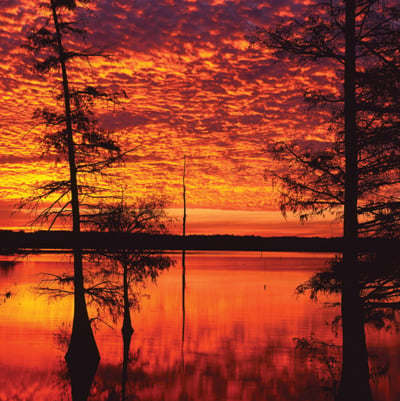 Louisiana is known for its natural treasures, but much emphasis has been placed on the southern portion of the state. My mission is to inspire individuals to appreciate the incredible beauty that is abundant in the northeastern region. Spending time on the banks of a bayou filled with cypress trees or hiking through a woodland trail can be comparable to visiting the magnificent cathedrals in Europe or listening to a concert by an outstanding orchestra.
We must recognize before it is too late that more than half of our original ecosystems have been totally destroyed or are greatly altered. At this time, there is precious little public funding designated to preserving the environment. As individuals we must become aware of the urgency for action that this situation requires.
By photographing natural landscapes, I am trying to preserve this pristine beauty in some small way with the hope that those who view my images will wish to do whatever they can to conserve our very special scenic heritage.
There are myriad areas throughout the state that deserve our appreciation and protection. Northeast Louisiana is one of them and should be recognized as a jewel among the numerous scenic sites for which our Sportsman's Paradise is known.
Established in 1975,
D'Arbonne National Wildlife Refuge
is a paradise for viewing the wonders of nature. Thirteen miles of Bayou D'Arbonne course through the 17,000-acre refuge. The flora of the area includes magnificent stands of American cypresses and rare species of hardwood trees. It offers a sanctuary for many types of wildlife, including alligators, bald eagles and red-cockaded woodpeckers. During the wet season, the refuge becomes an overflow area for the Ouachita River, creating a surreal landscape when it recedes.
Lake D'Arbonne State Park
is in Union Parish on the western side of the lake. A staggering array of wildlife can be found here, along with towering pines and cypress trees. Hiking trails weave for miles within the park, allowing for close interaction with the area. Each of the four trails is color-coded to make a visitor's time in the park both enjoyable and safe. Five piers extend over the lake, providing outstanding fishing and a place to view glorious sunsets.

Cheniere Brake Park
is located in West Ouachita Parish and boasts some of the densest stands of bald cypress in this part of the state. Draped with Spanish moss, the trees jut from the water, turning the park into a fantasyland of unimaginable
shapes and forms. But when early morning mist rises, the lake takes on the appearance of being enchanted .
Black Bayou Lake National Wildlife Refuge
is a few miles north of Monroe near Highway 165. It is one of five refuges in North Louisiana. Established in 1997, the 4,500-acre site includes Black Bayou
Lake, which is more than 1,600 acres. Trails meander through the site, and there is a photo blind from which migratory birds and other wildlife may be observed. Bald cypress, Tupelo gums, various hardwood trees and majestic pines are found within the boundaries of the refuge. Lotus flowers and water hyacinths push through masses of lily pads around the edges of the lake.
Tensas River National Wildlife Refuge
encompasses an area of privately owned bottomland forests. The almost-80,000-acre refuge is home to more than 400 species of mammals, birds, reptiles and fish. The state's largest population of endangered Louisiana black bear are often seen frolicking here. The refuge contains one of the largest stands of hardwood trees remaining in the Mississippi Delta. In autumn, the leaves create a spectacular display of color.
These five natural treasures are but a few of the many wonderful sites that can be found in Northeast Louisiana. As a nature photographer, I have traveled to most of the states in the union and have observed magnificent scenery everywhere I go. However, there is nothing more dear to my heart or more spectacular and unique than what is to be seen here. Anyone who appreciates the beauty of nature should spend as much time as possible in this part of Louisiana. The rewards include not only the stunning visuals but also the unforgettable experience of visiting a spectacular landscape that one day may vanish.